Products
Changes coming for ISO26262
By Juergen Schloeffel – Mentor, A Siemens Business
The second version of ISO 26262, the guiding standard for functional safety for road vehicles, now includes guidelines for semiconductors.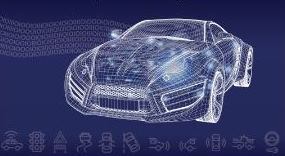 The ISO 26262 standard was first introduced in November 2011 to define functional safety for automotive electrical/electronic equipment. Having to meet ISO standards is new to many of the suppliers of semiconductors targeted to automotive applications, and it can be a harsh learning curve. Fortunately, there are tools and services to help both established companies and new players meet this entry bar to the automotive electronics market. As the electronic content of cars continues to expand, covering everything from the infotainment system to LIDAR to braking, ISO 26262 now rolls smoothly off the tongue of every player in the automotive electronic supply chain.
ISO 26262 defines the entire production process with the goal of minimizing the risk of malfunction in electronic safety-related systems. It also details requirements for supporting processes—including software tools used in the design, test, and manufacture of semiconductors. And while it includes a section (part 5) on hardware development, the standard had no specific guidelines for semiconductors themselves.
So, in the upcoming second edition of ISO 26262, expected in early 2018, you'll find an entirely new section (part 11) for semiconductor and silicon IP suppliers that support the existing part 5. The section includes tips, recommendations, and examples for creating ISO 26262 compliant ICs and IP, and includes information on failure rates, transient faults, and diagnostic coverage. While it doesn't cover every aspect of design and test for high quality and reliability, it offers important guidelines. Some aspects of creating high quality and high-reliability ICs and IP, such as improving test and diagnosis of the analog components, is still up to the savvy IC design team.
The update has numerous other changes, including sections on improving cybersecurity functional safety and extensions to cover trucks, buses, and motorcycles. To learn more about the second edition of ISO 26262 and what it means for DFT, test, and diagnosis of ICs, download our whitepaper – ISO 26262 second edition: What's new for semiconductor test?

This article first appeared on the Siemens Digital Industries Software blog at https://blogs.sw.siemens.com/tessent/2017/11/08/changes-coming-for-iso26262/