Plant Simulation AMERICAS User Meeting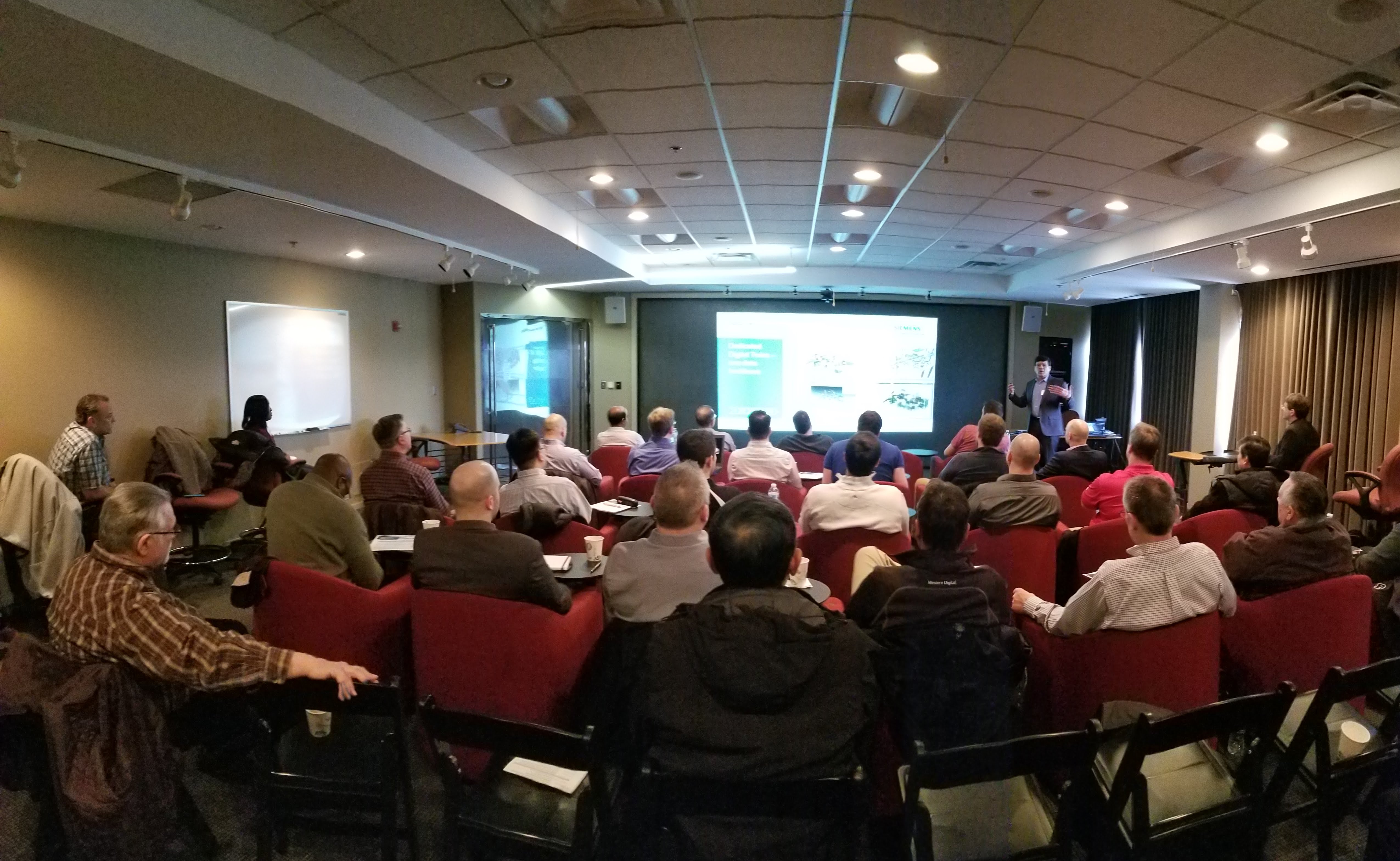 Plant Simulation Americas User Meeting
Back by popular demand! Siemens PLM Software will host the Plant Simulation AMERICAS User Meeting, Tuesday, May 14 and Wednesday, May 15, 2019, at our Innovation Center in Livonia, Michigan.
The free, two-day event offers you the opportunity to learn about the latest features in Plant Simulation software, meet Georg Piepenbrock, Plant Simulation Product Manager, and learn about the roadmap for future versions.
We will discuss exciting new additions like Cost and enhancements to features like AGV Simulation. We will have discussion sessions on emerging topics, such as Virtual Reality, and interactive hands-on sessions will be available.
Georg presenting at the 2018 Plant Simulation Worldwide User Conference
Agenda
Tuesday, May 14
The conference officially commences with presentations from customers, partners, and Siemens, including a deep dive into Plant Simulation software features.
Continental breakfast, lunch and dinner will be provided.
Wednesday, May 15
The conference will continue with presentations from customers, partners, and Siemens.
Continental breakfast and lunch will be provided.
The complete agenda will be published in April.

Location
Siemens PLM Software – Livonia
Innovation Center
38695 Seven Mile, Ste. 300
Livonia, MI 48152
Phone: +1-734-953-3800
Language
The conference language will be English.
Participants
The Plant Simulation Americas User Meeting is for users, including customers, partners and Siemens employees.
Call for Presenters
User Presentations generated live discussions among participants and ranked the highest among last year's presentations. We would like to encourage you to share your Plant Simulation experience at the meeting. As a presenter, your spot at the event is guaranteed. Please contact Noam Ribon noam.ribon@siemens.com for details about User's Presentations.
Conference Fee
The two-day meeting is free of charge. However, the number of participants is limited. Please kindly understand, in the event of overbooking, that we may need to limit the number of participants per company.
Why should you attend the Plant Simulation Americas User Meeting?


Meet other experts and get inspired from their huge experience


Learn about Plant Simulation business cases and industry applications


Familiarize yourself with a network of product experts


Get together with partners and community members


Identify opportunities for business and technology cooperation


See innovative ways to address daily challenges


Discover time saving tips and tricks for your own work


Learn about new features and enhancements


Directly influence the future development of Plant Simulation


Hotels in Livonia
Courtyard Marriott
Laurel Park
Livonia, MI
+1-734-462-2000
Marriott
Laurel Park
Livonia, MI
+1-734-462-3100
Embassy Suites
19523 Victor Parkway
Livonia, MI
+1-734-462-6000
Transportation
Directions from Detroit Metro Airport. Take I-275 North, (or I-94 West to I-275 North), towards Flint. Take the 7 Mile Road West exit. Continue west on 7 Mile, cross over the highway, and make a left into the 7 Mile Crossing complex. Andiamo's Restaurant sits in front of the 3 office buildings. Siemens PLM is in the building closest to the I-275 highway.
Registration for this event has closed. Thank you for your interest.
For information about the Plant Simulation WORLDWIDE User Meeting, October 2019, in Stuttgart, Germany, follow this link.
Noam Ribon presenting at the 2018 Plant Simulation Americas User Meeting
This article first appeared on the Siemens Digital Industries Software blog at https://blogs.sw.siemens.com/tecnomatix/plant-simulation-americas-user-meeting/