Products
Collaboration is key at 1st Plant Simulation Americas User Conference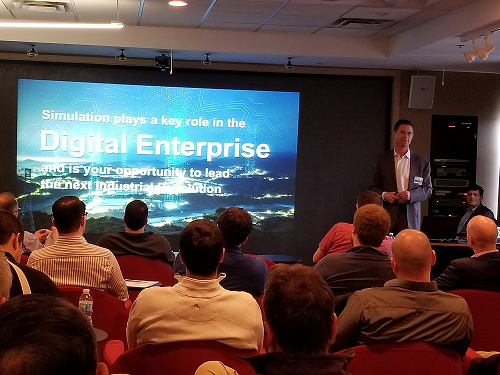 By Stephanie Aldrete and Noam Ribon, Siemens PLM Software
Last month Siemens hosted its first Plant Simulation Americas User Conference at our Innovation Center in Livonia, Michigan.Our hope was to somehow replicate, for our North America-based customers, the Plant Simulation Worldwide User Conference held annually in Stuttgart, Germany.We're very happy to reportthat ourtwo-day event was well attended (we met our attendance goal) and, according to our post-conference survey, delivered the kind of high quality, engaging content that our customers have learned to expect from us.
The attendees were treated to presentations delivered by expert users, partners, and the Siemens Plant Simulation software development team. The user meeting gave our customers the opportunity to learn more about the latest features in Plant Simulation and the roadmap for current and future versions.Several customers also shared their unique business case stories about how Plant Simulation has been used to grow their businesses and how others can leverage those techniques.

Here are some of the highlights of the user conference
First and foremost, as mentioned above, the highlight of the conference were the users' presentations. We will list the titles below, in order of presentation, just to impress upon you the depth and breadth of the topics:
Ryan Pritchett, Fiat Chrysler Automobiles (FCA US LLC):
Modeling Rejects in Closed Loop Manufacturing Lines for Plant Simulation
Curtis Desaele, Geometric Solutions:
Improving Food Packaging and Automotive Parts Warehousing
Carlos Ortega, Eng USA:
Optimizing Oil Rig Allocations around the World Using Genetic Algorithms
Attila Lengyel, Western Digital Corporation:
Automated Modeling and Simulation of Wafer FABs using Plant Simulation
Auke Nieuwenhuis MSc., cards PLM Solutions:
The butterfly effect in Material handling
Robert Van Til, Ph.D., Oakland University:
How Oakland University Prepares Engineers for Industry 4.0 Using Plant Simulation
Brian Barr & Michael Swenson, Design Systems, Inc.:
Simulation to Virtual Commissioning
What was even more exciting to watch, were the live discussions, Q&A, and interactions among the users themselves each of those presentations prompted. Discussions and networking ensued during breaks, lunches and over dinner at the beautiful Bahama Breeze restaurant.
From the Siemens side, Doug Fish kicked off the event with his keynote: 'Simulation – The Key to Realizing the Digital Enterprise,' which set the tone for the remainder of the event. We demonstrated advanced technologies such as Virtual Commissioning, and Point Cloud, and Ryan Diehl set up a station were users experienced Virtual Reality with Plant Simulation.
To top it off, our Worldwide Plant Simulation Guru, Matthias Heinicke, delivered hours of live demonstrations, interacting with the users, exchanging ideas how to model this or that, and in general, just have fun. Those who were still up to it after the morning and afternoon sessions, took a hands on training class with Matthias in our training room.
No highlights would be complete without thanking our event staff who worked hard on every little detail, behind the scenes, and up front, before, during and after the event, Trevor Bengtsson and Maria Mack. Mike Rouman provided guidance and advice.
We would like to thank all of this year's attendees and guest speakers. It was our pleasure to host this important event to help you maximize your knowledge and experience with our software and help to expand your network of Plant Simulation experts.
If you missed the Americas conference, consider attending the 2018 Plant Simulation Worldwide User Conference in Stuttgart, Germany, in October. Follow this link to the information page.
Americas User Conference in 2019
We plan to host another Americas User Conference next year. If you attend, you will be able to meet and get inspired by a network of Plant Simulation software experts while learning about Plant Simulation success stories from around the world, the newest software features and enhancements, and many time saving tips and tricks to apply to your business.Subscribe to this blog to get notified when we publish the "save the date" news.
We look forward to seeing you soon at one of our user conferences!
This article first appeared on the Siemens Digital Industries Software blog at https://blogs.sw.siemens.com/tecnomatix/collaboration-is-key-at-1st-plant-simulation-americas-user-conference/