Products
What's New in Teamcenter and Active Workspace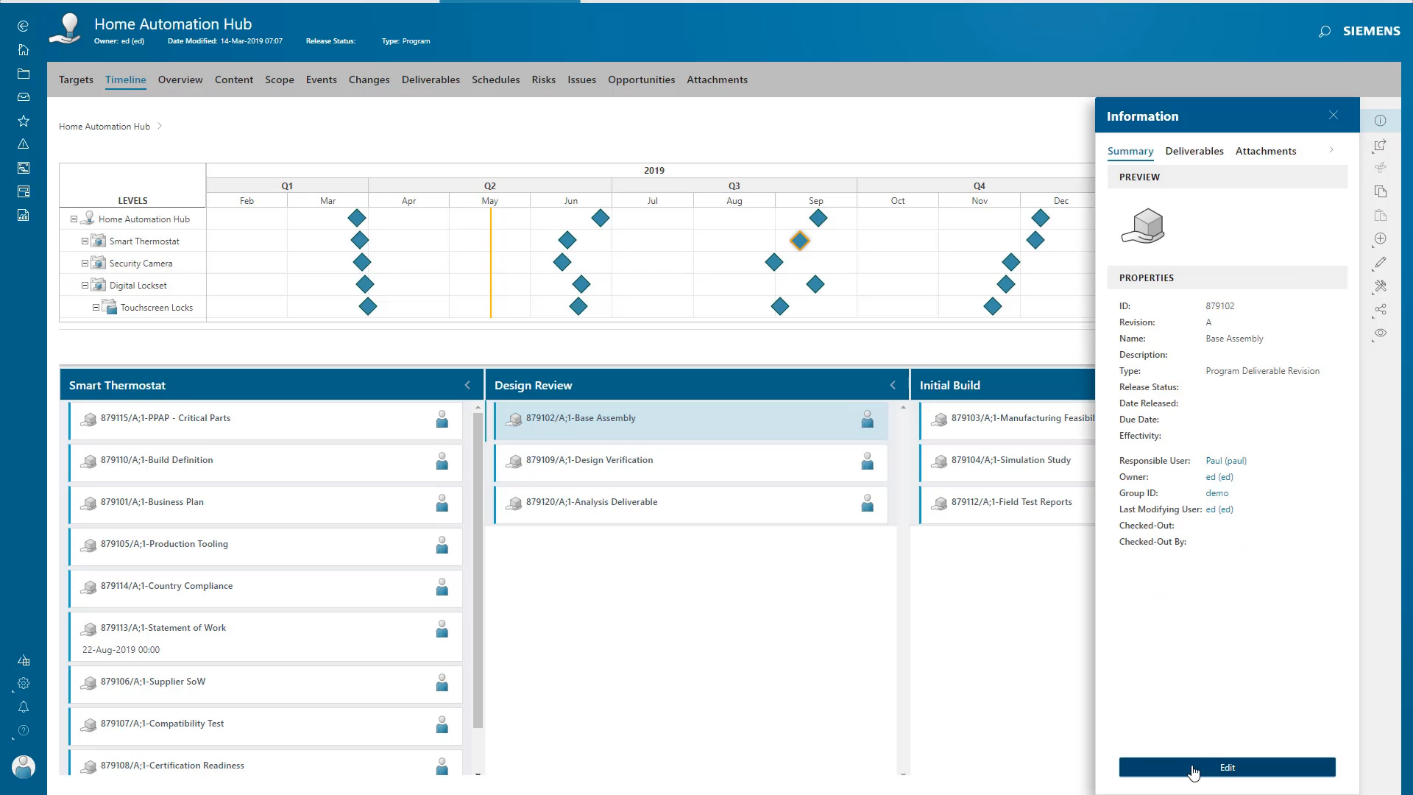 Learn about the latest release of Teamcenter 12.2, Active Workspace 4.2, and Product Cost Management 8.5!
It's time to take a look at what's new in our latest release, Teamcenter 12.2, Active Workspace 4.2, and Product Cost Management 8.5. New and enhanced solutions extend the technical depth and business-solution breadth of the Teamcenter PLM portfolio.
As you read through the portfolio updates, you will see that more widespread functionality is available through the Active Workspace user interface for an improved user experience, along with our commitment to continuous innovation and development for the future. We continue to focus on how to deliver complete solutions that you can manage and maintain at a reduced cost of ownership, whether you choose on-premises or cloud deployment.
Best-in-Class Usability and User Experience
Active Workspace within Siemens' NX and any other mechanical or electronic/electrical design environment makes it easy to use visualization and markup capabilities.
Productivity and Performance Improvements
To deliver an even richer user experience, our last release unveiled a new look for Active Workspace. (To see it for yourself, watch the Active Workspace 4.1 guided tour.) Active Workspace is the preferred user interface for Teamcenter because it combines web accessibility with ease-of-use. In Active Workspace 4.2, you will see new layout and styling updates that make it even easier to find commands, understand required fields and more. The Rich Client styling is also updated to align with Active Workspace. This consistency helps to minimize training between clients.
Active Workspace 4.2 introduces many new usability enhancements that make the user interaction more intuitive, more consistent, and easier to personalize. You will see improvements in:
How users interact with tables including visual indicators for values
More drag and drop capabilities
Simplified multi-select and one step deletion of files and folders
Navigation that does not require users to understand the underlying data model
You will also experience significant performance improvements for Active Workspace. The new tree table renders faster and significantly improves the responsiveness and interaction while viewing and navigating structures. Summary page loading time is 20 percent faster!
Advanced Search and Analytics
With Active Workspace 4.2, it's even easier to execute and work using advanced search. You can save advanced searches, filter your saved searches, tag an advanced search as preferred, and more. You can also export advanced search results in Microsoft Excel to make it easier to consume and share search data.
Improved Active Workspace Administration
Besides the end-user usability, Active Workspace's configurability makes it easier for IT to tailor the client to business requirements … including security. With Active Workspace 4.2, preference manager is improved to display the organization tree so you can quickly and easily locate, define, and modify preferences.
Leading the Industry with 3D Visualization
Immersive Virtual Reality (VR)
With our JT format, we've set the standard for CAD-neutral visualization. We're continuing to lead the industry with the application of advanced visualization technology to deliver an immersive virtual reality (VR) environment. The Teamcenter 12.2 release introduces visualization enhancements to immersive usability and dynamic collision detection for path planning.
Improved Usability and Performance in Active Workspace
For visualization in Active Workspace, you will see improved usability and performance. Instead of loading all the individual parts in a sub-assembly, you can now display a monolithic JT file for sub-assemblies. Active Workspace now supports viewing and working with packed components more effectively, handing selection and visibility changes to packed lines in the structure tree.
Load sub-assemblies faster as monolithic JT files using Active Workspace 4.2.
Own the Bill of Material (BOM) and All its Variations
Improved Usability for BOM Management
With this release, you can use Active Workspace for most BOM management tasks. You can split your screen for a side-by-side view of related structures for comparison and editing. You can more easily see content when there are many instances of the same element, for example pack and unpack. And for our Aerospace and Defense customers and other companies with the need for effectivity configuration, we have exposed effectivity groups to configure structures by managed ranges of units.
Variant Matrix
With this release, we introduce a new grid-based variant matrix that provides a very visual way to work with product configurations. Simply fill in the quantity for each part on the parts list to quickly create unique variants of your products.
The variant matrix provides a simpler way to create new parts that go into several product variations or to add a variant to a product line.
Multi-Domain Variability
Teamcenter has always been the leader in planning and defining product variability, and we've continued to make it even more powerful. Now with Teamcenter Product Configurator, we are extending our capability beyond just mechanical and into downstream domains. When defining the product variability in Teamcenter, we can now use that variability in Mentor, so electrical engineers can define variable wire harnesses in Mentor Capital totally synchronized with Teamcenter Product Configurator.
Product Configurator
We've also added an important capability to drive BOM line attributes with the Product Configurator. This can be used, for example, to set a quantity of a non-geometric part to a quantity calculated by the Product Configurator. This capability can be used for driving any kind of property and reduce the need of multiplying BOM lines.
Integrated Systems Digitalization to Unite Engineering Domains
Requirements Engineering
Integrated requirements usability and features continue to be enhanced including simpler requirement authoring, document import preview, round trip editing with standard MS Office, requirement markup/comment, requirement history and comparison, as well as improved generation and link creation/editing from trace matrix—all integrated with Teamcenter to support continuous requirement compliance.
Visualize the change history for requirements.
System Modeling Workbench for Cross-domain Design Collaboration
An integrated product architecture is required to support today's complex, multi-domain products–providing the 'blueprints' for the entire cross-domain product development effort. Teamcenter System Modeling Workbench introduces a number of new usability features to Teamcenter's integrated product architecture including carrying '1-click-away' navigation forward into architecture modeling to quickly get to the information and relationships needed to make better design decisions, introduce system model libraries, and add search and filtering in system diagrams. Once created, the integrated architecture establishes the cross-product relationships needed for cross-product collaboration and optimization.
Global Parameter Management
Teamcenter 12.2 and Active Workspace 4.2 introduces a new Parameter Management capability that allows organizations to define, organize, and manage reusable parameters such as temperature, pressure, or torque for use in a variety of applications such as simulations, with CAD or other models, or test execution. Since parameters are 1st class objects they can participate in all the standard Teamcenter services like classification, configuration rules and variation, change, workflows, and more, as well as participate in simulations, measurable attributes, requirement content, and more—meaning you can now include, control, and reuse a consistent set of parameters that go with the control simulations, CAx, and other models critical to you product success.
PLM Solutions with Engineering Depth and Business Breadth
Collaborative Authoring for Document Management
A major enhancement in the Microsoft Office integration for this release is the ability to collaboratively author Office Online files. You can choose Teamcenter users to collaborate with and co-author Microsoft files concurrently, watching each other's changes as you work. Changes are saved as you edit and made immediately available to your team. When all authors have completed the edits, the document is automatically checked in to Teamcenter.
Automated Change Impact Analysis
With the new automated impact analysis capability, users are able to quickly assess the potential impact of their change. Teamcenter will automatically suggest potential areas of impact, allowing the user to quickly and easily process their changes.
eCl@ss Data Management
With this release, we have introduced a new product, Teamcenter for eCl@ss Data Management. The eCl@ss Standard is used for capturing data and classification definitions for the product in entirety. The standard ensures the same data semantics with a standardized format using unambiguous terminology for data exchange of product information throughout the extended enterprise. Product release capabilities include importing the eCl@ss hierarchy and class definitions into Teamcenter, storing and managing the eCl@ss taxonomy, author, import, and export classification data into the eCl@ss hierarchy, and administering your custom taxonomy using eCl@ss artifacts (e.g. properties, aspects, etc.) for creating and modifying your custom classification hierarchies.
Kanban Boards for Program Planning and Schedule Manager
Kanban boards can now be used in Program Planning and Schedule Manager solutions to maximize work efficiency. With simple drag and drop actions, users can quickly manage the status of tasks across a program or project. Schedule users can visualize, organize, and update their tasks to reduce rework and stay on track with tasks.

Aerospace and Defense
New features are available to support the Aerospace and Defense industry users on Active Workspace 4.2, helping users work more efficiently. Users can now attach and remove finishes and finish groups to part occurrences in Structure Manager for better accuracy. Also, a filtered list of notes to attach to parts underneath a technical document is now available to help avoid rework and ensure that notes attached to parts in a technical document are a subset of notes attached to the parent technical document. A new column "Submittal Start Date" has been added to the event table which is populated by the system to help users with the accuracy of the first submittal start date. A new naming convention is added to the generated submittal schedule for easier identification during scheduled searches.
Medical Device
The Medical Device solution capabilities found in the Rich Client are now available in Active Workspace 4.2. This release also includes new Submission Management capabilities to allow an easy and fast way to compile required deliverables to complete a submission dossier. Updated Submission Management features provide an additional view of Regulatory Affairs for better usability.
Consumer Products and Retail
Within the Consumer Products and Retail Industry, we continue to focus on increasing user productivity.
For Consumer Packaged Goods: Enhancements to support reuse of digital assets and configurations help to carry forward products for replenishment or refresh. Packaging and artwork development enhancements enable seamless collaboration between design studios and service providers.
For Retail Footwear and Apparel: Enhancements were added to dynamic cost rollup to include product country of manufacture and destinations for better global brands process insight. Also, users may now tailor the user interface specific to their requirements, which supports a more productive user experience.
IMDS Integration for Automotive
With enhancements to the International Material Data System (IMDS) integration to Teamcenter, which helps Automotive industry users automate their supplier disclosure process, users can now view the hierarchy of vendor parts that make up a single supplied part, giving the users a more granular and complete definition of the part. With a complete view of vendor parts, environmental compliance initiatives can be met. Another update is that we now include a view of the component breakdown as part of the import from IMDS for better visibility into imports.
Product Cost Management
NX Feature2Cost
With the Product Cost Management 8.5 release, tooling manufacturers can automatically and accurately determine tooling production costs using the module NX Feature2Cost, which identifies features on molds or stamped parts using our robust feature recognition capability. Since the geometric parameters and features are major cost drivers for tool costs, we improved NX Feature2Cost for molds by introducing a facet-based feature recognition to increase accuracy and performance. We also improved the algorithm for undercut recognition and slider direction to reduce faulty detection and decrease manual post-processing.
Read about our further improvements introduced in Teamcenter Product Cost Management version 8.5.
Summary
As you grow your PLM deployment, Teamcenter 12.2, Active Workspace 4.2, and Product Cost Management 8.5 deliver PLM agility and enhanced applications throughout the portfolio to help you improve your products … and your business. To catch up on highlights of earlier releases, read our blogs on Teamcenter 12.1, 12, 11.6, 11.3, 11.2.3, 11.2.2, 10.1.7, 10.1.6, and 10.1.5!
About the Author:
Bill Lewis is the Director of Marketing for Teamcenter within Siemens Digital Industries Software. With over 20 years in the PLM industry, Bill has held numerous roles helping customers achieve their own success with PLM. Bill has guided customers on their own PLM journeys, helping customers identify problems where PLM can bring value to their organization, illustrating how PLM can solve those problems, all the way through to implementing PLM successfully.
This article first appeared on the Siemens Digital Industries Software blog at https://blogs.sw.siemens.com/teamcenter/whats-new-in-teamcenter-and-active-workspace/