Multi-CAD Support for 4GD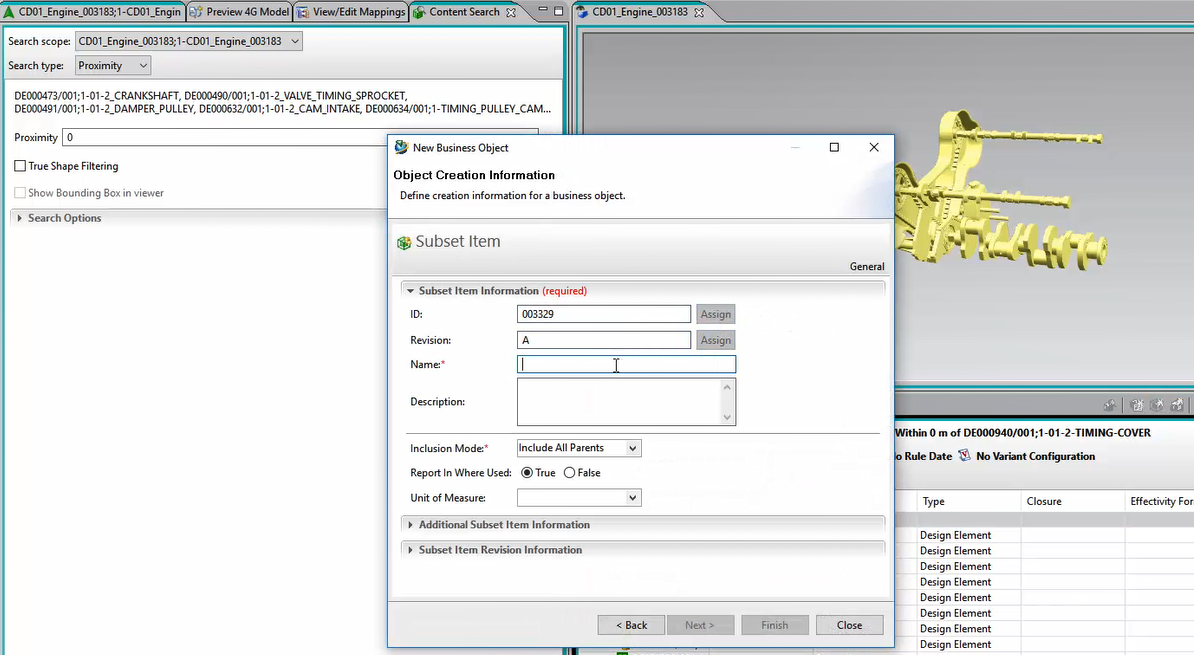 We know how important it is for you to have the accessibility to 4GD in any tool.
We previously introduced five basic concepts in our solution concept for managing design data through a newly introduced application called 4GD in a blog called Next Generation Design Paradigm for the world's most massive and complex products. The five main basic concepts that were described in that blog were:


Collaboration Design – container for all product related information


Design Elements – members of a collaboration design containing positioning and design documents


Partitions – one or more schemes of organizing product data


Subsets – A container for collecting subset of design data based on recipe


Worksets – object to manage data for a work session in CAD tools or other external applications for carrying out design/analysis of a product. Worksets contain one or more subsets from one collaboration design or more.


4GD works seamlessly with NX design applications using worksets. However, the questions that we face include if 4GD is also supported by all other CAD tools that Teamcenter traditionally supports. Today we are discussing the topic of multi-CAD support for 4GD.
We know how important it is for you to have the accessibility to 4GD in any tool.The following steps walk you through how 4GD data can be sent for review, design changes, or analysis to Catia or any other CAD tool:
Step 1: Open product data in 4GD:
Step 2: Identify parts that need to be modified or reviewed by performing a search in context of entire product using a recipe:
Step 3: the example above identified fenders on rear wheels to be modified. Add reference parts that may be needed to facilitate the change process:
Step 4: Create Subset Item and save it to contain design elements identified by the recipe from a product CD and send it to Structure Manager:
Step 5: As shown above, the bomlines corresponding to what was selected in 4GD are automatically create and expanded to in Structure Manager. The selected bomlines are partially expanded that corresponds to design element that were added to subset item.
The subset item is a subclass of an item and it contains both the recipe, design elements, and mapped occurrences for the design elements under its bom view revision. They can be sent to Catia or NX or any other tool that understands the standard item/item revision/occurrence model today.
Following pictures shows subset item being opened in Catia:
Subset items can map design components in full edit mode where a component which is in part of some higher level assembly and if the assembly was realized in 4GD. Then it will map entire assembly with the knowledge of which specific components are required by the recipe. The assembly will only show the components that map to design elements added in it.
Subset items can also map design components as a flat list where the occurrences added below subset item will bring all of their absolute properties in context of an entire product. This is useful if data is being sent as a reference for manufacturing or for facilitating design changes.
One or more subset items can be added to regular item as its children which can then be loaded in CAD tools. This will simplify user's workflow where a change affects more than one product context or if a change has to be separately evaluated in context more than one fully configured product (e.g. Sports Model vs Luxury model or ship # 1 vs Ship # 2).
As always, the conversation is never ending surrounding 4GD.Would you like to see a step by step video? Any questions or comments? Let us know by posting a comment below!
About the blogger: Kaushik Amin is a product manager for Teamcenter 4GD and 4G foundation with over 25 years of experience in product development for CAD, CAM, Product Structure Management and Manufacturing Planning applications.
This article first appeared on the Siemens Digital Industries Software blog at https://blogs.sw.siemens.com/teamcenter/multi-cad-support-for-4gd/