Products
Digital Product Development is a Gift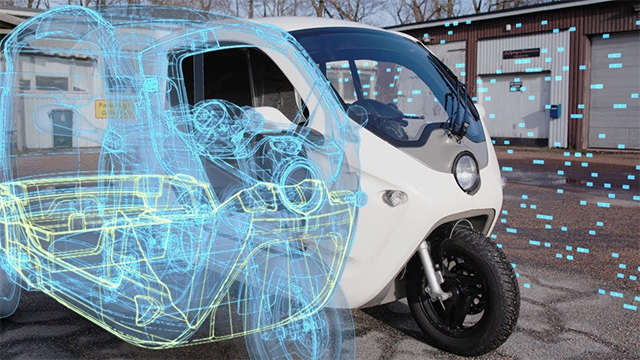 Digital product development is one reason that your favorite gadgets you use every day are available. Throughout this holiday season, take a moment to imagine how all the toys, tech, and gifts were made. Each product needs to go through the stages of product strategy, idea generation, concept testing, business analysis, product development, market testing, and commercialization. Thinking about this really puts things into perspective and helps us to realize how important the process of digital product development is. These tools help to design and create the product your customers have dreamed of, reduce costs, and reduce time to market — which is key in producing a great ROI.
Digital tools make a difference in product design. The design of any product is always critical and the analysis of the product needs to be completed thoroughly. Real greatness is created when the use of digital product creation can disrupt innovation.
Injecting disruptive innovation
A great example of digital product development using Siemens software is the success story of Clean Motion.
Clean Motion was founded in 2010 in Lerum, Sweden with the idea of developing a vehicle somewhere between a conventional car and scooter that was sustainable and affordable for a large majority of the world. Göran Folkesson, the chief executive officer (CEO) of Clean Motion and the visionary behind the electric composite pod knows everything about innovation. His philosophy of the Zbee is based on reinventing every part of the product with multifunctional design, simplification, and a lightweight approach.
"We wanted to focus on creating an efficient product development process and digitalizing the manufacturing process, so we looked at existing solutions and saw Siemens and thought, 'Well, this is very interesting."

Niklas Ankarkrona, Chairman, Clean Motion
Zbee Arrival with help from Digital Tools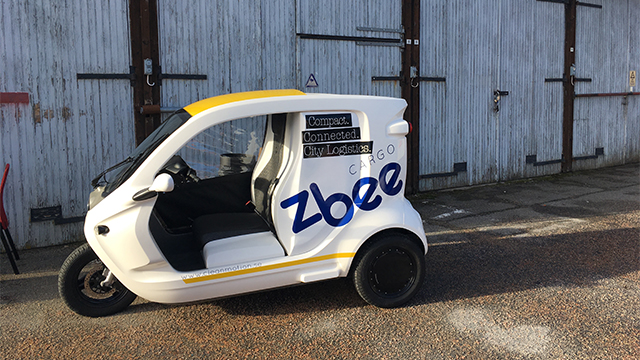 Coming from automotive and product lifecycle backgrounds, Folkesson and Niklas Ankarkrona, the chairman of Clean Motion, realized early on the advantages of centralizing the entire development process on Teamcenter software and NX software, CAD module, part of the Siemens Digital Industries Software portfolio.
There are about 400 Zbees on the streets, including a successful taxi pool in Stockholm, Sweden and a growing fleet business in New Delhi, India. Many global daily users have already combined to trim a total of 4.5 tons of carbon dioxide (CO2) pollution off their carbon footprint.
"From birth, we have been digital," says Folkesson. "This has been a core advantage. We could have never achieved this working in traditional ways."

Göran Folkesson, CEO, Clean Motion
But it wasn't always easy. Read on to learn about the story behind Clean Motion and the creation of the Zbee.
Business Challenges
Clean Motion came to Siemens Digital Industry software with some key problems they needed to solve:
Design something much more energy-efficient than a traditional car
Engineer a lighter, cleaner and affordable three-wheeler
Design optimal digital factory layouts for efficient, globally adjustable manufacturing
Keys to Success
After addressing these issues, they knew they needed to:
Use Siemens' digital tools across the board from the start
Create an efficient product development process based on advanced digital twins
Digitalize the manufacturing process into a micro-factory concept
Results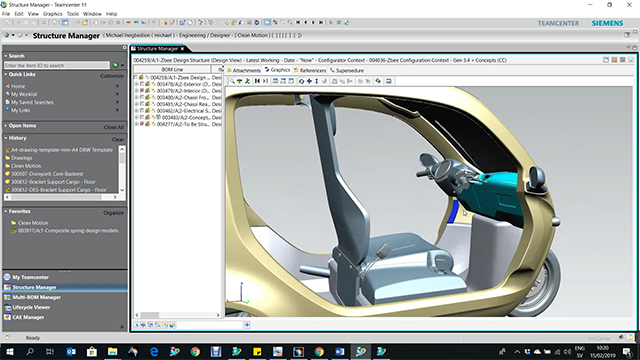 Clean Motion implemented digital tools to help them resolve their issues. They came out better and stronger with some impressive results:
Produced a road-ready vehicle with a small team in three years
Developed a micro-factory business model that enables a social and economic empowerment
Developed composite-based electric three-wheeler that is easy to use and maintain
Simplified design with 270 parts that weigh 280 kilograms
"There is a seamless connection from your first design in NX to storing your data in Teamcenter to doing your analysis in Simcenter. It looks like one software."

Michael Inegbedion, Analysis and CAD engineer, Clean Motion
Digital Product Development sustains the Journey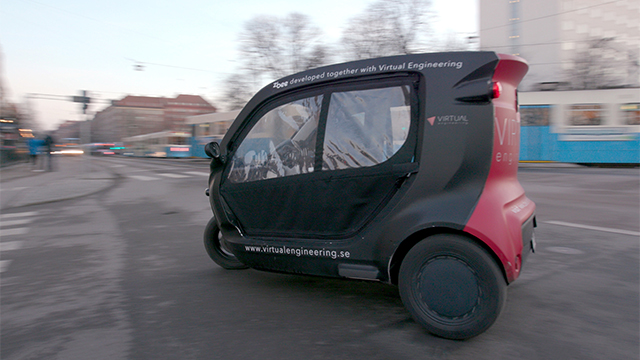 The journey is just starting and Clean Motion has a lot of ideas in the pipeline, including an energy-autonomous solar Zbee, which Folkesson calls a "killer product," and a standardized battery swapping program. Given the company's early success, don't bet against these ideas coming to fruition.
Clean Motion is a great example of how digital tools can help your business succeed. Are you using them to their best potential?
Read the entire Clean Motion customer success story for more details.
Take a look at other Teamcenter blogs and Teamcenter customer case studies to see how customers are optimizing our digital product development tools to have a successful business.
This article first appeared on the Siemens Digital Industries Software blog at https://blogs.sw.siemens.com/teamcenter/digital-product-development-is-a-gift/