Products
Digital Transformation in Heavy Equipment with Closed-Loop Manufacturing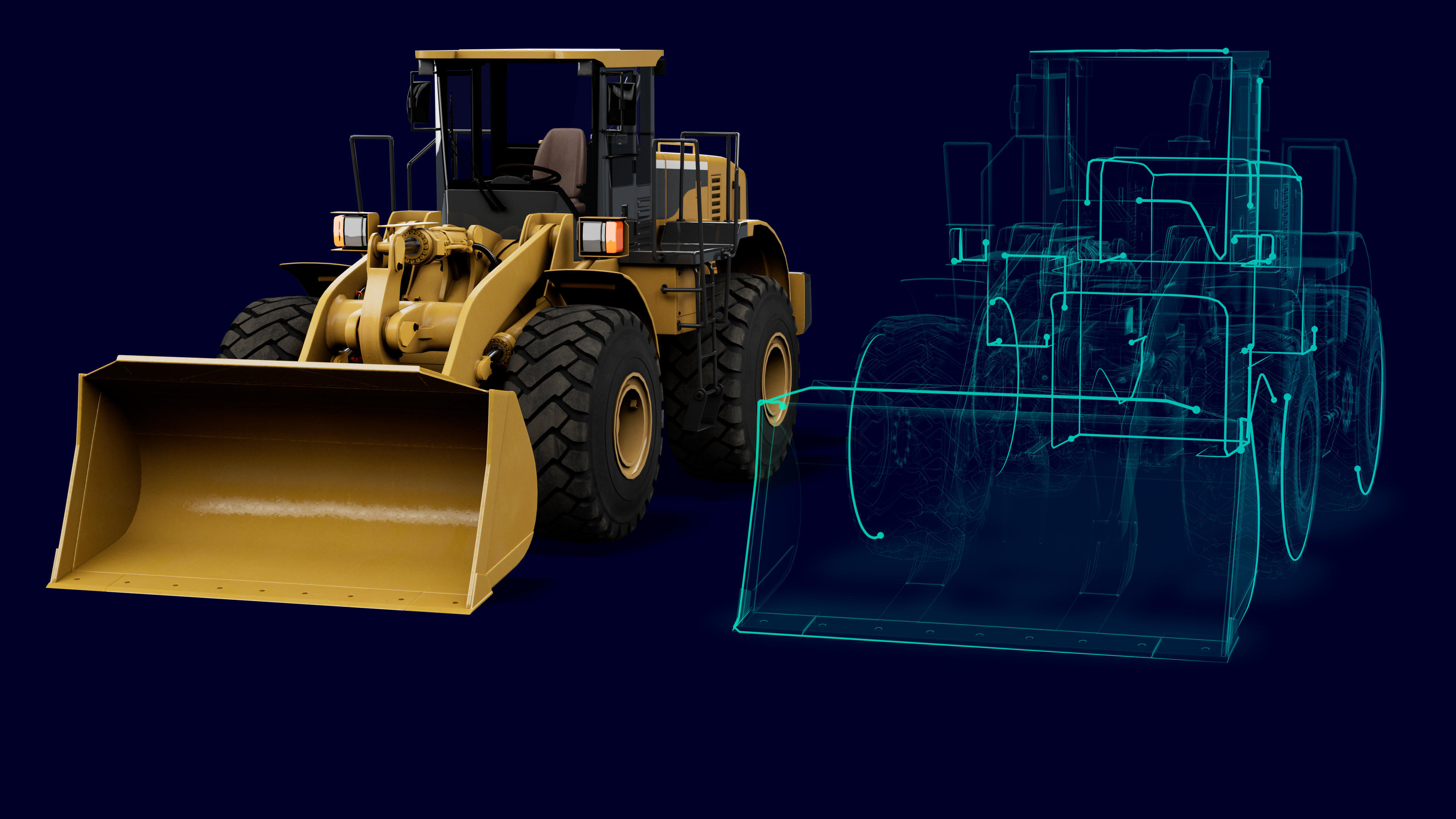 Learn how closed-loop manufacturing on an integrated platform accelerates digital transformation.
I've been working in manufacturing in various industries with Siemens for almost 20 years, and the changes within the last few have been more dramatic than ever. The pace of digital transformation has accelerated as manufacturers realize that having integrated systems is quickly becoming an essential requirement.
In the heavy equipment industry, which I've focused on for the last several years, there are some interesting business dynamics and market trends that are driving investment in digital transformation.
Market challenges in heavy equipment manufacturing
The heavy equipment industry is largely a configure to order (CTO) model, with customers ordering from a large number of product variants and feature choices. Production volume is low, as compared to the automotive industry, and cycle times are much longer. Each piece of equipment is expensive and requires large capital outlays and demand is highly susceptible to market dynamics (recession and investment cycles). Heavy equipment manufacturers serve cyclical demand from the construction, agriculture, and mining segments of the industry. In addition, the margin from the original product sale is quite low.
From the manufacturing infrastructure perspective, these dynamics intensify the need for efficiently managing order configurations. Because each order is different, operators are highly reliant on work instructions, which may be applicable to only a few pieces of equipment with a specific configuration each year. Add to that the slim production margins, and you have an environment where there is little room for error. They need to build it right the first time.
As mentioned in my previous blog on collaborative manufacturing, technology trends are also adding to the pressure. Autonomous equipment is becoming more prevalent in this industry. For example, in agriculture, a tractor may be working in a large open field, which lends itself to autonomous technology. We are also starting to see the push towards electrification, although this technology is currently being applied primarily to smaller pieces of equipment, such as mini excavators. New technology means new production techniques and larger part proliferation, which increases the complexity of an already highly variable manufacturing process.
Digital transformation priorities for heavy equipment manufacturing
So, what does this mean for digital transformation in heavy equipment? This environment requires a close connection between sales orders, manufacturing planning, and production execution. The systems involved in these functions are Enterprise Resource Planning (ERP) systems, Product Lifecycle Management (PLM) systems, and Manufacturing Operations Management (MOM) systems.
Heavy equipment companies must be able to configure a specific customer order (coming from ERP) from a 150% manufacturing bill of materials (mBOM), meaning the BOM contains all available options with all the buildable combinations. That order must be converted to a production order in the MOM system, and a corresponding bill of process (BOP) and additional manufacturing planning data must be received from PLM, so the manufacturing execution system can orchestrate production. The correct work instructions, authored in PLM, must be displayed to the shop floor operators at the right station and at the right time through the MOM system.
Data must be exchanged between the MOM and PLM systems in both directions. Additionally, ERP, often SAP in this industry, is critical in day-to-day manufacturing operations and also requires bi-directional data exchange with both MOM and PLM. This type of environment is what is required for profitable, high-quality heavy equipment manufacturing.
Digital transformation for heavy equipment manufacturers
Years ago, the integration of these domains was not necessarily a hot topic across the heavy equipment industry. Many companies developed homegrown systems over many years. These systems were highly customized for each function, and not integrated with the other enterprise domains.
Often companies simply used Microsoft Office applications (ex: Word and Excel documents) and emails instead of a PLM system, introducing multiple points of duplicate data entry and potential for human error. Printed work instructions on the shop floor were at risk of becoming out of date as changes in design or process occurred in engineering.
As these highly manual systems have become harder and harder to maintain and enhance over time, they simply can no longer keep up with the complexity and pace at which the industry is moving. The cost escalation and risk of disruption from antiquated, siloed systems is posing both financial and quality issues.
Heavy equipment manufacturers are now turning to out-of-the-box type solutions to create a modern manufacturing infrastructure that drives higher margins and quality. Electronic work instructions that are delivered and updated automatically from PLM are always correct and typically include 3D renderings to further instruct the operator in an intuitive way.
These digital manufacturing solutions provide a single source of truth from product design to manufacturing planning and on through to production. Verification and traceability are dramatically improved, with clear definition of which master data resides in which system, and with immediate access to that data. Duplicate data entry and the associated introduction of human errors are therefore minimized. Change management can be integrated across PLM, MOM, and ERP, enabling manufacturers to see the impact across all three domains.
With digital manufacturing, we are also able to shift left, allowing us to design for manufacturability. We can simulate and test product designs in the digital world before we spend money on physical prototypes. The impact on quality and cost can be dramatic.
Siemens accelerates digital transformation in heavy equipment manufacturing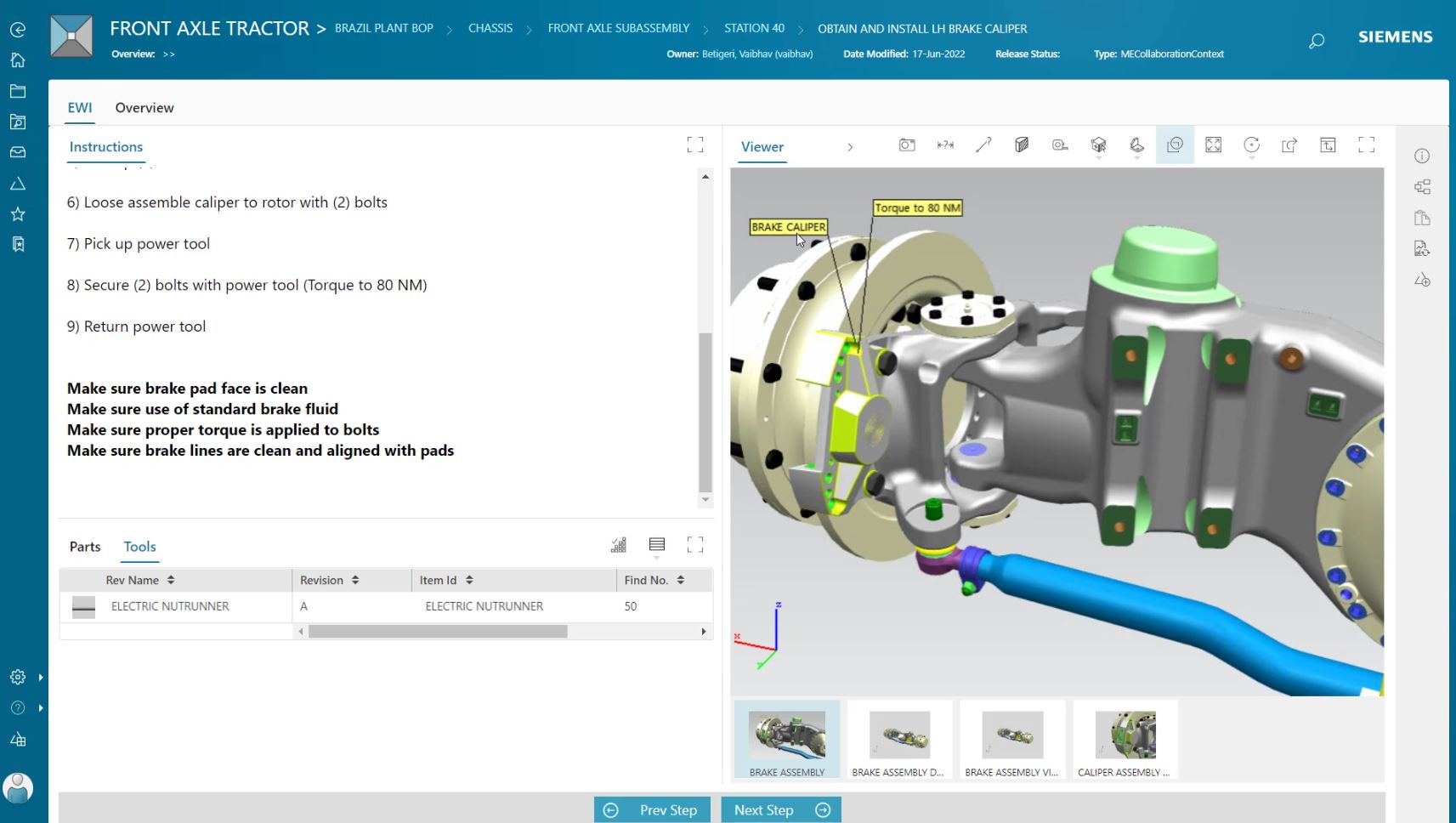 The Siemens' Xcelerator portfolio is our open digital business platform built to accelerate digital transformation. It enables bi-directional exchange of information and collaboration across functional domains, helping manufacturers work smarter and more efficiently. The Xcelerator portfolio's digital manufacturing solutions are unique in their support of closed-loop manufacturing (CLM), delivering integrated planning, simulation & validation, and production execution in a completely connected digital environment.
Teamcenter is the broadest and deepest PLM system available, providing a platform and digital thread that connects people and processes across design, manufacturing engineering, and production. With Teamcenter Easy Plan for manufacturing process planning, manufacturers can create and manage the manufacturing bill of materials (MBOM), reconcile the MBOM with the design engineering BOM (EBOM), manage and create the bill of process (BOP), author and share work instructions for the shop floor, perform detailed time analysis, and balance production lines – all to capture "what to make" and "how to make it". Manufacturers using Teamcenter Easy Plan are able to standardize and re-use assembly processes across multiple plants, saving time and money, while reducing errors and improving quality.
As I mentioned earlier, the heavy equipment industry is largely a configure to order process model, and Teamcenter Easy Plan supports this model with a CTO specific user experience. This helps manufacturers get a faster return on their investment, as their users are able to get started quickly to perform their tasks, with minimal training.
Closed-loop manufacturing on a single, integrated platform
The efficiency of this seamless platform makes it possible to return huge time savings and minimize human error. For example, if someone is planning to simulate a specific shop floor operation, traditionally the simulation engineer may spend up to 40% of their time looking for the right data and importing it into the simulation environment. This time is heavily reduced using Teamcenter, because the planning data can be leveraged directly into the integrated simulation environment.
For instance, Process Simulate, a simulation tool offered from the Xcelerator Portfolio, is integrated with Teamcenter Easy Plan, providing validation of the process plans created in Easy Plan. The seamless integration between planning and simulation differentiates our solutions from others on the market, as it provides a single platform for engineers to effectively evaluate the process feasibility, understand ergonomic conditions, and perform robotics simulation & off-line programming (OLP). What-if analysis can be done with our Plant Simulation tool, revealing expected throughput of different model mixes based on offered products. All this analysis is possible through a digital twin of the production model, connected through a digital thread with Teamcenter.
Siemens Opcenter Execution Discrete is the MOM system for heavy equipment manufacturers to manage the production execution on the shop floor. The MOM creates production orders from the ERP customer orders, displays the electronic work instructions (authored in Teamcenter Easy Plan) on the operator terminals, controls the production flow, and manages defects. Another part of the MOM portfolio, Advanced Planning and Scheduling (APS) also plays a big role in production and resource efficiency by providing high-level capacity and production planning, as well as monthly, weekly, and daily scheduling of production orders.
ERP, which could be SAP or another system, is integrated with Teamcenter and Opcenter using pre-defined integration gateways to exchange data. This completes the fully digital manufacturing environment across the three domains, enabling a CLM process with integrated feedback loops for continuous optimization.
Closed-loop quality (CLQ) goes hand in hand with CLM. Teamcenter and Opcenter quality solutions support CLQ, including defect management and root cause analysis. Opcenter collects quality data from the shop floor and records quality gates at different stages of production to validate the build. Further, these systems enable closed-loop non-conformance and quality management for production events, with real-time production impact analysis. With a seamless digital infrastructure, quality planning and verification processes are connected. So, you can't have CLQ without CLM. It is a prerequisite to get to higher quality.
---
Learn more about Teamcenter Easy Plan
Visit siemens.com/easyplan to learn more about task-based solutions for Manufacturing Process Planning
Try Teamcenter Easy Plan today, with a free-30 day software trial
See a demonstration of Manufacturing Process Planning with Teamcenter Easy Plan 6.0
This article first appeared on the Siemens Digital Industries Software blog at https://blogs.sw.siemens.com/teamcenter-manufacturing/2022/09/01/digital-transformation-in-heavy-equipment-manufacturing/