Stuff to do at SEU: ParTAYYY!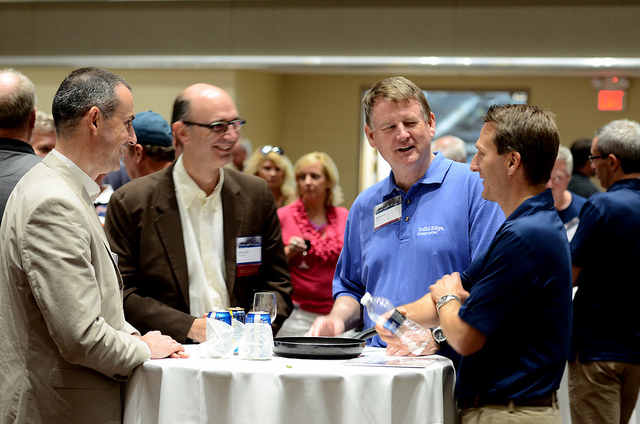 Alright, so if you tell your boss you're going to a party in Indy, he's not likely to give you the money to go. So don't tell him that. But at SEU there are two parties that you don't want to miss.
The first is the opening reception at 6 pm on Tuesday. This is one of my favorite events every year. This is the time you get to see who has arrived, and chat with big wigs informally. At this event you can literally walk up to a guy like Mike Payne ( a leading figure in early PTC, SolidWorks, Space Claim, among others) and ask him what he's working on now. Or maybe you want to talk one on one with Ken Versprille, the inventor of NURBS and ask what's going to be the next big thing that replaces NURBS. Or talk to Brad Holtz about current trends in PLM for mid-size companies. You get the idea. Lots of industry big wigs are at this reception, and this may be the only chance regular joes/janes get to talk to these people casually. I'll bet you've got a question or two about the industry that someone in that room will be uniquely suited to answer. Or if you're a shy engineer, maybe you know someone like me who can introduce you to Dan Staples, or Jeff Walker, or Art Patrick. Or maybe you always wanted to meet Wayne Mahan face-to-face instead of on the phone. You gotta come to SEU's Welcome Reception to get all of this.
The second party that you just can't miss at SEU is the offsite event. This year, the offsite event is at the Indiana State Museum. A private party in a museum has got to be a cool thing.
Every year, I use the offsite event to spend more time with people I've met in the first two days of the conference. The relationships I build at SEU are generally ones that I maintain throughout the year. Sitting here in my office I can talk to people I've met face to face, where ever they are on the globe, and whether they've moved to new companies or positions. It's important for your career to have all of these connections with people that you can create at Solid Edge University events.
This article first appeared on the Siemens Digital Industries Software blog at https://blogs.sw.siemens.com/solidedge/stuff-to-do-at-seu-partayyy/