Products
ST7: Material Table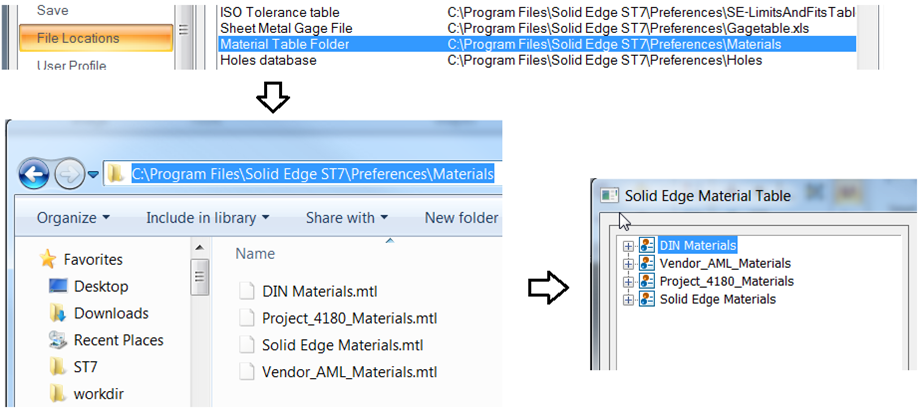 The Material Table received a lot of attention in ST7. As a result, I think you will find materials in general much easier to deal with and a more complete solution than previously. You still access the table through the Application Menu > Properties > Material Table, but many of the functions and much of the interface are new. Here is a general list of the enhancements you'll find in ST7's Material Table:


Multiple library support


New and improved UI


Grouping/categorization support


Custom material property support


Import and Export


Import from MatWeb.com


Favorite and recent materials


Rename , Cut/Copy-Paste


Let's go through some of these in detail.
User Interface enhancements
The interface for the Material Table has improved significantly in ST7. You can see multiple libraries at the same time, and the material types are grouped together. Visual styles, cross hatch (fill style) and mechanical properties are assigned when you assign a material to a part.
You can copy and paste within this interface to create new or altered materials. Right click on an existing material to access the Add Custom Property option based on an existing material. This interface will make managing and applying large numbers of materials much easier.
Favorite and Recent Materials
The new interface has a tab for Favorites and Recent Materials. This makes applying the same set of materials of different types multiple times easier
Multiple Library Support
Solid Edge Options > File Locations > Material Table Folder enables you to set a folder to hold your material libraries, which by default is C:Program FilesSolid Edge ST7PreferencesMaterials. Materials files use the extenstion *.mtl.
Import Export
You can import and export material files using Excel format. When importing, you have to use the same format, so it might be a good idea to export one first, check out the format, then match the format when you import. This functionality will allow you to get material information from just about anywhere, including Matweb.
Summary
This goes a long way to update one of the areas that was starting to look a bit dated in Solid Edge, as well as adding a lot of very helpful and convenient new tools. Join me in a round of applause for the development guys!
This article first appeared on the Siemens Digital Industries Software blog at https://blogs.sw.siemens.com/solidedge/st7-material-table/