Products
Spotlight on Laura Watson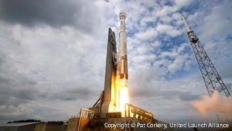 Recently Eric Spiegel, the President and CEO of Siemens USA wrote a brief article about Laura Watson. Laura is the head of Solid Edge Technical Operations (and my boss) in Huntsville, and had just won a Siemens sponsored trip to see an Atlas V rocket launch at Cape Canaveral, Florida. She was very excited, and as part of the trip, she was also asked to participate in a new Employee Spotlight Series for the Siemens USA blog.
I've republished the blog here below.
===================================================================
Innovating Our Future: Introducing an Employee Spotlight Series
How STEM Helps Deliver Mission Success
Monday, February 23, 2015
I often get asked, "What is it that Siemens does?" Well, besides being one of the oldest and largest companies in the world, Siemens is a global technology company that has helped to advance innovations and inventions across the world for decades.
The U.S. continues to thrive as a software and technology leader. And for more than 167 years, Siemens has continued to invest in the U.S. as a driver of global innovation. With nearly 50,000 employees throughout all 50 states and Puerto Rico, Siemens has invested more than $30 billion over the last decade in the U.S., including $11 billion in the last year alone. As a company, the U.S. is our largest market, an extremely vital production location, one of our most important research centers, and a key base from which we export to the rest of the world.
Our employees here in the U.S. make up a large piece of this story. At Siemens, we are proud of how our employees are helping to make real what matters.
That is why I am pleased to introduce a series of blog posts over the next several months featuring our U.S. employees who help to fuel this innovation leveraging Siemens' engineering prowess coupled with our software and technology expertise.
To kick this series off, let me first introduce Laura Watson, Director of Technical Operations for Solid Edge, a 3D CAD Siemens PLM (Product Lifecycle Management) Software product, in Huntsville, Ala. She started working on version one of the software over 20 years ago. With technology constantly changing, she loves to be at the cutting edge of what's next. Today, she is working on the 28th release of the product.
Understanding the need to innovate the future, she's a proponent of STEM (science, technology, engineering and math) education. Laura is actively involved in the global Greenpower Electric Car Challenge. Greenpower is a project-based learning initiative where students design (using Siemens PLM Software) and build a single-seat electric car. Teams can compete in head-to-head races. To date, over 10,000 students globally (ages 9-25) participate in this rapidly growing engineering and technology project, applying STEM at all levels of education.
With an affinity for math, her catch phrase is "math isn't something you need to accept, but something you can prove," and also visits local schools to conduct STEM outreach and show students how to apply what they learn to real-life situations.
And, what's a more applicable real-life situation than designing innovative software that helps support the U.S. space program? Laura recently attended one of United Launch Alliance's (ULA) rocket launches and is pictured below in front of a product that utilizes Siemens PLM engineering analysis and simulation software– the Atlas V rocket. Watch how ULA uses Siemens software to construct and test rockets virtually.
This article first appeared on the Siemens Digital Industries Software blog at https://blogs.sw.siemens.com/solidedge/spotlight-on-laura-watson/