Products
Solid Edge Startup Spotlight: Flying through virtual worlds with a chair – Patrik Künzler from Limbic Life
During his time at the MIT Media Lab, Patrik Künzler came up with the idea of developing a chair that should convey absolute weightlessness, freedom and lightness to the user. With its new design approach based on brain research and medicine, the Limbic Chair was developed, which optimally implements the interplay between body, emotions and the "thinking" brain.
With the help of Solid Edge, Künzler and his team developed a chair that, in addition to a perfectly balanced sitting experience, is also used in virtual reality and medicine.
Read the interview with Patrik Künzler, founder and creator of the Limbic Chair, originally recorded for the podcast "Startup Hacks" by Bernhard Kalhammer, presented by Solid Edge.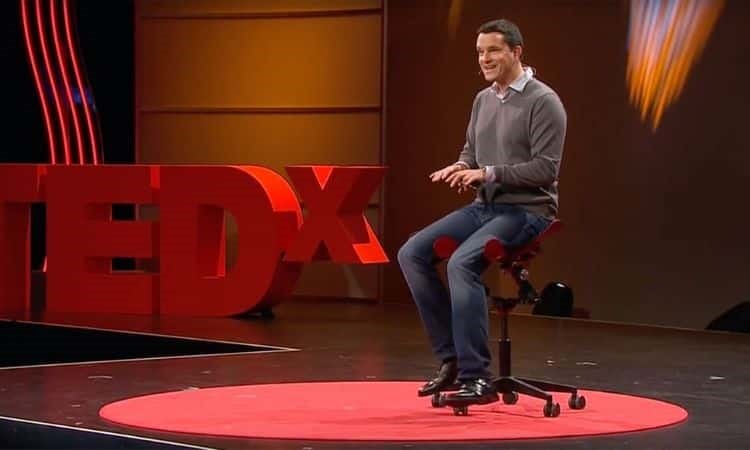 Bernhard Kalhammer: Patrik, it's an absolute pleasure to have you here today. Introduce yourself and tell us how Limbic Life and the Limbic Chair came about. What is the story behind it?
Patrik Künzler: Hello Bernhard and thank you very much for the invitation. My story began several years ago, I received my medical doctorate from the University of Zurich. Afterwards I joined the Nobel laureate Dr. Susumu Tonegawa at MIT in Cambridge, to do post-doctorate research on the limbic system. I then joined the Smart Cities group at the MIT Media Lab. The focus was, "Can we design from emotions and use touch and movement to create emotional states that help us in our daily lives and make us feel more comfortable". This is how the story of the Limbic Chair began.
Bernhard Kalhammer: Tell us more about your product, the Limbic Chair. How did it come to its invention, why did it end up being a chair and what is it about the limbic system?
Patrik Künzler: At the MIT Media Lab, I was in a group that was working on making cars that are good for the city. As a car freak, I applied for the project, which was done in co-operation with Frank Gary and General Motors. "Form follows function" is a principle associated with late 19th; my professor and I asked ourselves, can we take a new approach to design by optimizing the use of brain- and body-intelligence to create objects that work better, from a functional and emotional point of view.
We asked a group of students which object of daily life annoys and constricts them the most, and that's when the chair came up. We then asked what their favorite feeling, or activity was, and sex came up. We also asked them about the second-best feeling, and that was the feeling of being high and of weightlessness. So, we had our mission: To develop a chair in which you feel weightless.
We analyzed what kind of touch and movement it takes to feel weightlessness without inducing any chemicals to the body. If we look at evolution and the development of children, we know that babies feel touch at a very early age. This sense is deeply coded in evolution and happens much earlier than facial expression and speech development and is therefore very powerful.
The limbic system is derived from the Greek word "Limbos" and means border. It is a collection of brain regions that together produce and manage emotions and are the link between emotions, the body, and the thinking brain. This can concern positive things, such as when you are in a new environment and the limbic system tells you that this is something new and you are therefore memorizing everything a little better.
The limbic system also influences our memory, like if you are almost run over by a truck, you remember this for the rest of your life because the limbic system has reported that you almost died, it is a strong memory.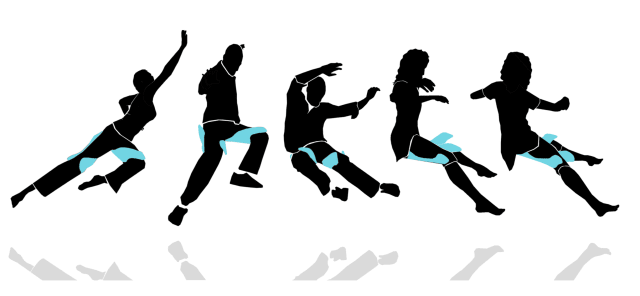 Bernhard Kalhammer: The Limbic Chair is not just a chair but has various uses and different applications. At the end of the day, it is actually an input device that is used for virtual reality, in the medical field. Please tell us about a few of the Limbic Chair's applications, where and especially how it is used.
Patrik Künzler: The Limbic Chair is designed in such a way that you automatically sit straight and weightless. There is a shell that supports the left thigh and left buttock and one that supports the right thigh and right buttock.
Physically for our back, it is like walking slowly or standing. At the same time, there is huge freedom of movement for the legs, and we have fitted the shells with sensors to record leg movement. With our scientific background in neuroscience and medicine, we designed the Limbic Chair VR based on how the brain and body's nervous system best work together. We researched how navigation works in real life, particularly how it is possible that we can walk, even run, while typing on our smart phones or looking left and right without really having to focus on where exactly we are stepping most of the time.
With the Limbic Chair, we use the neurological fact that we can do two things at once. For example, we use the body, in this case the thighs, to navigate zooming in on an object in CAD by opening the knees and zooming it out by closing the knees. You can also fly through the object, which worked very well in our tests because people can do that automatically. The same is true for virtual reality, except that here people don't have to walk around the room and watch out not to hurt their colleagues, but rather can just take a seat in the Limbic Chair, have their keyboard, and continue working. In virtual reality, they can control with their legs, just as nature intended. It works great because we developed it with people over 70.
Bernhard Kalhammer: Patrik, today's podcast was created in cooperation with Siemens, more precisely with Solid Edge. You have this software that you used to develop your product and to further develop it. More precisely, it helped you bring the product to an end, is that right?
Patrik Künzler: Yes, that is correct. Our supplier, development partner, and manufacturer, namely Schätti Metallbau in Glarus, in the Swiss mountains, has long been using Solid Edge. Solid Edge is an easy-to-learn, easy-to-use software that addresses all aspects of the product development process – design and rendering, simulation, electrical design, manufacturing, data management, and more. This means that we, as a very small team, can develop a new product with great efficiency and without making it too complicated. Technical challenges come from making an engineering product, and making it feel right. This was fun for the engineers, to create a solution that looks nice and works well, but also feels good for the person. Solid Edge is a very powerful platform for this.
Bernhard Kalhammer: Patrik, what was the collaboration with Siemens & Solid Edge like and how did it all feel? I can imagine that the cooperation between a young start-up and a big corporation is not always that smooth. What are your experiences with Siemens?
Patrik Künzler: It all went very well with Siemens. We were a bit surprised because in a big company you usually have technicians, politicians, etc., and everybody wants to defend their territory. But with Siemens, it was really easy. We have been keynote-speakers at two Siemens events and have made demos with positive feedback. Cooperation with Siemens works very well for us. We were pleasantly surprised.
Bernhard Kalhammer: I think this is in the DNA of Siemens. Now a large corporation, but even a large corporation once started small. If you keep this mindset in the individual departments and do not lose agility, especially in software development, as well as stay on the same level by working with young start-ups, then something like this works great. I think it's great that so much is being done for young companies, with the opportunity to be given Solid Edge software, without having to pay huge license fees. There are real advantages to using Solid Edge.
But back to the Limbic Chair and the medical use: I saw in the video that was sent to me that an ophthalmologist who operates on the open eye uses the Limbic Chair. How should we imagine that?
Patrik Künzler: The Limbic Chair is a universal input device. You can use it to zoom through excel sheets, you can zoom and rotate in Photoshop, you can scroll through the internet, whatever you want.
For example, an Ophthalmologist makes micro-laser scans of the eye, if there is a tumor. This is accurate to the millimeter and is displayed in virtual reality. With the Limbic Chair, he can fly through that image, hands-free to take a closer look at everything before the operation. The goal is to use the Limbic Chair as a control device for medical operations. Imagine this: If a surgeon stands next to the operating table and bends forward a little, his shoulders and hands are a little further forward as well and he can do whatever he needs.
However, nowadays with robotic surgery with DaVinci, etc., you must change the joystick, again and again, switch over and so on. The hands are therefore overloaded and must do things that the feet could do better. With the Limbic Chair, we want to give people the opportunity to do with their legs what legs are there for, namely to move around in space, to move objects around in space.
We also have a radiologist who uses the Limbic Chair to zoom in and out through his MRI. This is a great relief for him because he had a dictation machine in his left hand and a six-fold mouse in his right hand. All this work was a great strain on his hands. We placed a Limbic Chair with sensors on his desk and now he maneuvers the image with his legs.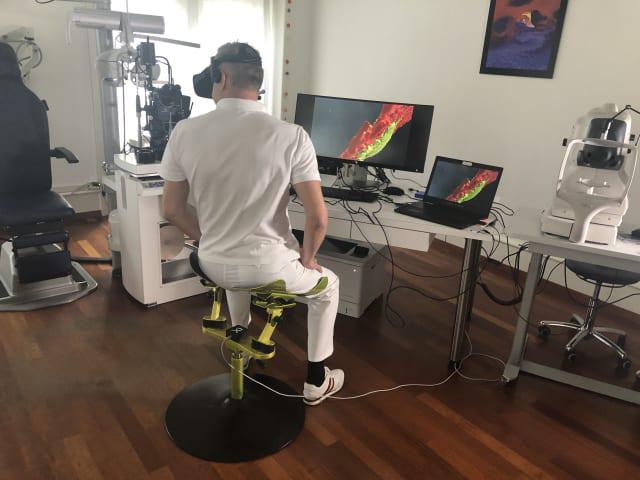 Bernhard Kalhammer: How long did it take you to get to the summit cross? How long did it take from the idea to the first, finished prototype?
Patrik Künzler: In the USA it took about two years until we had it. I remember one student, 17-year-old Amy, who came running in one morning and said: "Oh my God, Patrik, it's like I'm flying and haven't smoked anything yet today, I think". That was the breakthrough, that's when we knew we were on the right track. It took another year until we were able to make several prototypes, with the electronics in them to control games, back in Switzerland. And we are now working on developing a mass product for about another two years. Emotional engineering and neuro-engineering are very hard.
Bernhard Kalhammer: It sounds like that. This is an amazing journey that you have already completed.
Start-up Hacks is always about growth tips, i.e. the hacks that have really brought a company forward. What was the biggest growth hack on your journey with Limbic Life?
Patrik Künzler: Pretty much what you said: Don't listen to experts, don't listen to others. When I came back from the USA after twelve years, I was very naïve and thought I would just go to all the chair companies and they would love it. Because we make sitting healthy, which is a huge hack. We make the body happy, which is one more dimension and so useful because our mission is to give people back their bodies.
Since the office revolution, we only use our face and our hands, the rest of the body is unhappy and can have back pain, etc. So, the biggest hack was not listening to all the experts. It was like when the iPhone came out, with the app strategy. We showed the chair to different people and everyone came up with their own idea of what they wanted to use the chair for. We are now developing an app system so that we and our partners can make apps for the chair. We have built our own new ecosystem around the Limbic Chair so that every customer can choose what they want to do with the chair.
Just like Apple, we will open the system when the new Limbic Chair is launched. We are negotiating with various parties to develop apps for the chair and with that make their own product more attractive for the customer.
Bernhard Kalhammer: I find that extremely exciting. How much does the chair cost now? I can imagine that it is relatively expensive because mass production hasn't started yet. What is your goal, where should the price be at the end, so that it also appeals to the masses?
Patrik Künzler: Yes, I can tell you that. The price now is CHF 5'000 without electronics and CHF 6'500 with them. That's about 4'000 and 5'500 in Euro. I expect the price to go below CHF 3'000 / USD 3'000, which is somewhere just over 2'000€.* This will be the chair with electronics, with certain apps, and fully connected.
We have already sold several hundred copies of the carbon chair and our customers are mainly highly qualified, busy office workers. They work long hours and 30% of our customers have back problems. In Switzerland, health insurance companies have already paid for the chair because of the good results, with people who are working again or can work longer, etc. We also have many dentists as customers. In the field of virtual reality, you can currently find high-resolution glasses that cost 3'000-5'000 € so in this market, we have a very competitive price.
The second field is the one of medical applications, CAD applications. We have shown the chair with Solid Edge at various trade shows and engineers are telling us that you learn this much faster than the 3D mouse. It doesn't replace the 3D mouse as such, because it has other functions, but that the chair can do certain things better, and it is healthier to do so.
Bernhard Kalhammer: You have convinced me, and I am curious to see what happens with mass production. Anyway, I must sit in the Limbic Chair in the near future. I will gladly take on the trip to Switzerland for that.
We are slowly coming to the end of the interview and as always, we will keep the last question short and crisp: What was the best advice you ever received as an entrepreneur?
Patrik Künzler: Listen to your gut feeling.
Bernhard Kalhammer: Patrik, it was a great pleasure having you here.
Patrik Künzler Thank you very much for the invitation and the interview.
*Due to COVID-19 related delays, Limbic Life has started a pre-order campaign for the new Limbic Chair II, where you can purchase the new Limbic Chair (with sensors) for CHF 2'250.- instead of its future retail price of 2'950.- at www.limbic-chair.com
If you want to hear the complete episode in German, recorded on December 13th, 2020, visit https://startuphacks.de/startup-hacks-podcast-91-mit-einem-stuhl-durch-virtuelle-welten-fliegen-dr-med-patrik-kuenzler-von-limbic-life/
To learn more about the Solid Edge Startup Program click here.
To apply for the Solid Edge Startup Program click here.
This article first appeared on the Siemens Digital Industries Software blog at https://blogs.sw.siemens.com/solidedge/solid-edge-startup-spotlight-flying-through-virtual-worlds-with-a-chair-patrik-kunzler-from-limbic-life/