Products
Solid Edge 2021 Feature Highlights: Free CAD Models for Solid Edge Users

All the features you want. All the value you need.
Solid Edge 2021 has been launched and with it comes a vast array of new capabilities and features for users! In this blog series, we will be highlighting a new capability every other week, allowing you to become familiar with the software and learn what Solid Edge 2021 has to offer.
This week's blog post will be covering 3Dfindit.com, powered by CADENAS. 3Dfindit.com, an online visual search engine, streamlines the process of finding 3D models using advanced search functions such as classifications, geometry, filters, sketches and much more to allow you to significantly reduce technical search times and increase design efficiency.
3Dfindit.com for Solid Edge
3Dfindit.com for Solid Edge gives engineers like you a wide variety of intuitive search methods, making it easy to find the exact part you are looking for. You can create a rough model in Solid Edge and initiate a geometric search in 3Dfindit.com to find parts that are similar to that specific model. With millions of 2D and 3D CAD files verified by component manufacturers to choose from, you can easily select and configure the components that match your needs. Once the proper part is located, a single click places it directly into your active Solid Edge assembly.
CAD files of requested parts are automatically generated on the fly, ready to use in Solid Edge. Depending on the catalog, the digital parts are enriched with extensive metadata such as kinematics information to test motion sequences, centers of mass, material, environmental protection standards, order numbers, etc. This saves time by enabling engineers to find and deploy approved parts instead of manually creating them.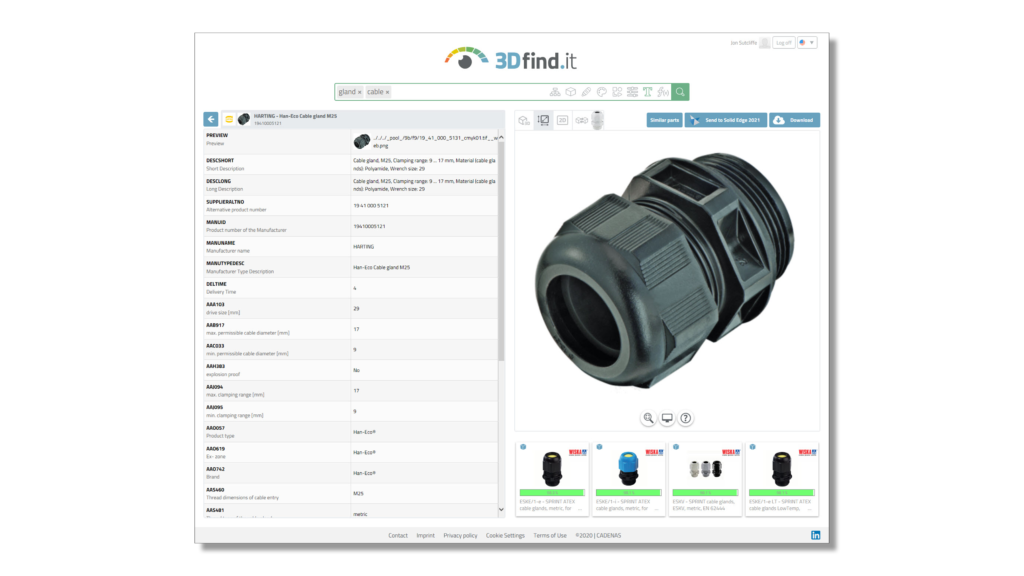 Learn more
For more information about the new 3Dfindit.com capabilities for Solid Edge, check out these resources:
To learn more about Solid Edge solutions, you can visit our website or simply download a free trial of Solid Edge to give our solutions a try for yourself.
This article first appeared on the Siemens Digital Industries Software blog at https://blogs.sw.siemens.com/solidedge/solid-edge-2021-feature-highlights-free-cad-models-for-solid-edge-users/