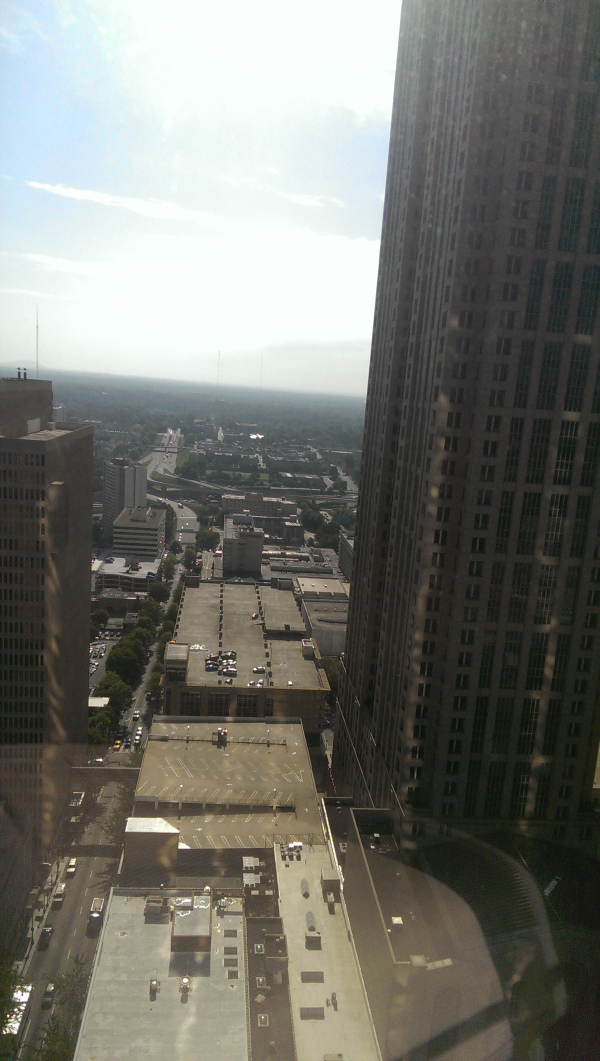 SEU14 has officially begun with the Monday night reception. Lots of familiar faces here, and lots of new ones too. I had the chance to talk with a lot of Siemens employees that I don't get to see every day and a lot of users that I might only interact with here on the community. Plus, I got to meet someone you might never see outside of an event like Solid Edge University. Ali Kermani. He's the keynote speaker for tomorrow, and the star of the
"Ken Box" video I featured in an earlier blog post. I had to watch the video several times, the whole thing was so cool.
Here I caught Ken (Ali) out of his box with John Gaioni (and Dan Staples over John's left shoulder). The point is you might just run into anybody at Solid Edge University, even a bigshot keynote speaker, or guys like John or Dan. Regular ol' every day people can just talk to these guys. That's the kind of access you missed out on if you're home going to a graduation or something like that. I've heard several people comment on how big the crowd looked. Not that we had all gained weight, just that there were a lot of people there.
Aside from rubbing shoulders with all these head-turning personalities, the real star of the show for me tonight was this chocolate desert. Call it a weakness.
The big controversy this year so far has been the Solid Edge employee shirt color. Some suggested it might diminish your manhood to wear a sky blue polo around in public. But I found it kind of
"beachy". I couldn't get anyone to agree to pose for this, so I had to get creative with a selfie. The important thing was that the afore-mentioned chocolate desert was not on the shirt at this point in time. I give the color a thumbs up. Nice aquatic look. What do you think?
Anyway, Atlanta has been a great city to host this event. I took the MARTA train from the airport to the hotel for $3. And got to ride the longest escalator I've ever seen for free. The hotel has been fabulous so far. Great view from my 40th floor room, and situated in a nice part of town next to some serviceable restaurant chains.
I actually ran into Rick Mason on the way to the hotel from the train. Imagine running into one of the few Austrailians you know by sight right there on the Atlanta sidewalk.
The excitement and level of expectation for this year's event have been high. We are missing some of the expected regulars this year for various reasons, but others have shown up.
Tomorrow the real fun begins, with the keynotes and the ST7 reveal. Keep your ear to twitter #seu14 for the headlines, and then come back to this blog for a more in-depth look at the new features over the course of the coming weeks and months.
On-line community is great, but you never feel the pulse so much as when you talk to folks face to face. If you're missing the event this year, don't let the same thing happen next year.
This article first appeared on the Siemens Digital Industries Software blog at https://blogs.sw.siemens.com/solidedge/seu14-begins/