New webinars : Machining, and Buckling and Thermal Analysis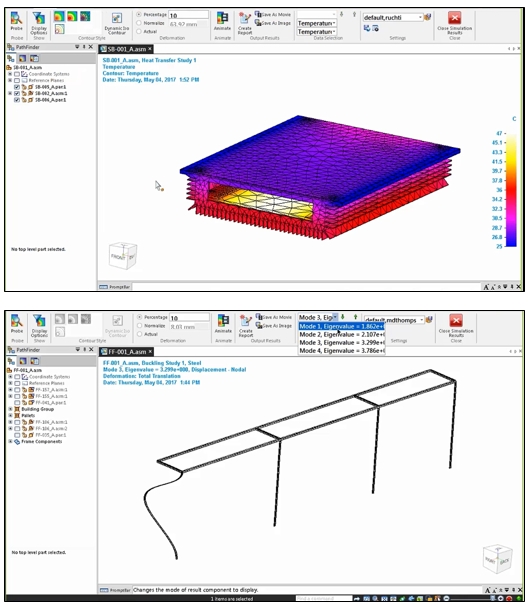 Two new webinar replays are now available focusing on CAM and Simulation. These short webinars are in our comprehensive Solid Edge Portfolio Digital Transformation series. You can register here to access the 5 replays we have published so far, and also have access to upcoming webinars.
Creating machining instructions for your Solid Edge models is described in our CAM Express webinarThe CAM for Designers webinar provides a great introduction to how Solid Edge users can take advantage of CAM Express to program their CNC machine tools. The toolpaths you create are associative to your Solid Edge models, so if you make a design change the toolpath can be easily updated. For engineers who need access to both 3D CAD and CAM software, for example tool designers, there is an excellent entry level bundle of Solid Edge together with the 2 ½ axis machining module of CAM Express.
We have now posted two webinars that focus on using Solid Edge Simulation. The first focused on basic stress analysis, the second focuses on steady state thermal analysis and buckling analysis, both of these analysis types are supported by Solid Edge Simulation. More comprehensive fluid flow and heat transfer analysis is available using Solid Edge Flow Simulation.
See demonstrations of buckling and thermal analysis using Solid Edge Simulation in this webinar replay
Let us know what you think about this webinar series – and any subjects you would like to see covered that are not on our current schedule.
This article first appeared on the Siemens Digital Industries Software blog at https://blogs.sw.siemens.com/solidedge/new-webinars-machining-and-buckling-and-thermal-analysis/