Products
Latest Solid Edge User Meet Brings Companies Together in Pune, India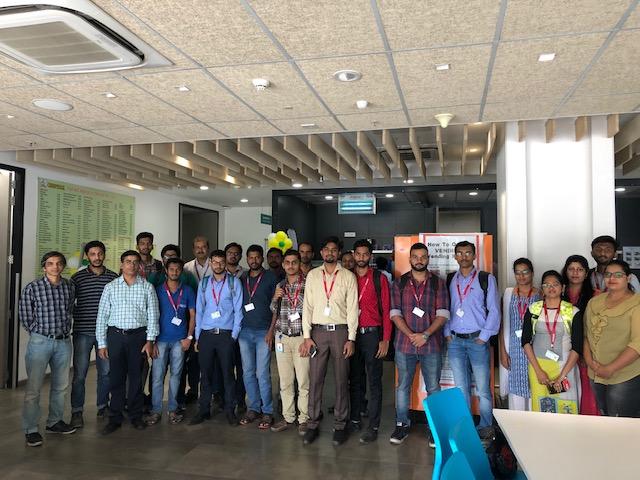 Solid Edge User Meetings provide Solid Edge users with an opportunity to come together to learn from one another and share their knowledge about Solid Edge. Attendees discuss everything from use cases and workflows, to automation and product usage, and more. The meetings are held on a regular basis in locations around the world, and usually last for a couple of hours to accommodate for traditional working schedules.
I would like to share my experience after having the opportunity to attend the most recent Solid Edge User Meet on September 27, 2019 in Pune, India . Solid Edge users from 13 different companies attended the meet.
Auto Apps Engineering Solutions Pvt Ltd.
Innovation Filter System Pvt Ltd.
Dipesh Engineering Pvt Ltd.
Sukrut Electric Company Pvt Ltd.
Losma India Pvt Ltd.
Shrikrishna Agro Equipment Pvt Ltd.
Future Mining Tools Pvt Ltd.
Ahead Technology
Shree Precision Pvt Ltd.
Cybernetik India Pvt Ltd.
Sadgurukrupa Engg
Kolhe Agro
Future Mining
Coming Together with a Shared Goal: Solid Edge Mastery
Many enthusiastic users attended this user meetup. That said, we'd like to highlight specifically the users from Dipesh Engineering Pvt Ltd who traveled all the way from Mumbai to Pune – a 3-hour (150 km) trip – just to attend the user meet. All attendees came prepared lists of challenges that they face on a daily basis while using Solid Edge, ready to learn from others at the meeting how to properly address them.
Users from different industrial backgrounds attended the meetup and helped each other to resolve complex challenges. The R&D team from Siemens Digital Industries Software was also in attendance to answer questions from attendees wherever needed.
During the meet, attendees came to know about new ways to use the powerful software tools in Solid Edge more efficiently, ultimately increasing our productivity. This is what makes these meetings so valuable. Only a few questions remained unanswered, all of which specific to a single user who plans to report their challenges, providing the accompanying data required for further investigation by Solid Edge's technical team.
Here are some examples of challenges that were discussed at the meetup:
Maintaining the link between and Excel file and a SE file
Configuring standard parts with Solid Edge
Running simulations on complex geometries
3D sketching in Solid Edge
Spiral in Solid Edge
Overall, the meetup was a great opportunity to meet Solid Edge users from diverse backgrounds, all of whom are industrial experts and working in areas with the potential to learn from each other on how to more efficiently and effectively use Solid Edge. It's all about getting better, together.
What's New: An Introduction to Solid Edge PCB Design
The meetup also featured a presentation about PCB Design in Solid Edge, a capabilities recently introduced with the release of Solid Edge 2020.
During the meet, attendees learned how Solid Edge PCB Design provides schematic capture and PCB layout tools for sketch routing, hierarchical 2D/3D planning and placement, and ECAD-MCAD collaboration.
After the presentation, attendees concluded the meeting with some fantastic snacks at the Siemens cafeteria. Altogether, it was a wonderful experience.
Last but not the least, I would like to give a special thanks to AR Tech who helped users, not only to buy a Solid Edge license, but also to arrange the entire user meet.
I highly recommend that you consider registering for a future Solid Edge User Meet near you, whenever and wherever you get a chance to do it. I have vast experience working with CAD software, but I've never seen such a fantastic knowledge sharing session like this before.
This article first appeared on the Siemens Digital Industries Software blog at https://blogs.sw.siemens.com/solidedge/latest-solid-edge-user-meet-brings-companies-together-in-pune-india/