Thought Leadership
Top 10 FloTHERM V10 Features – #9: Data Center Simulation
FloVENT, FloTHERM's sister product aimed at 3D CFD simulation of the built environment, has for many years been able to simulate the thermal behaviour of a data center. After all a data center is a built environment, albeit more for servers and the like than humans. We've not changed this capability of FloVENT but we have copied the relevant data centric features over to FloTHERM, extending the positioning to cover electronics thermal management from the chip to the room.
---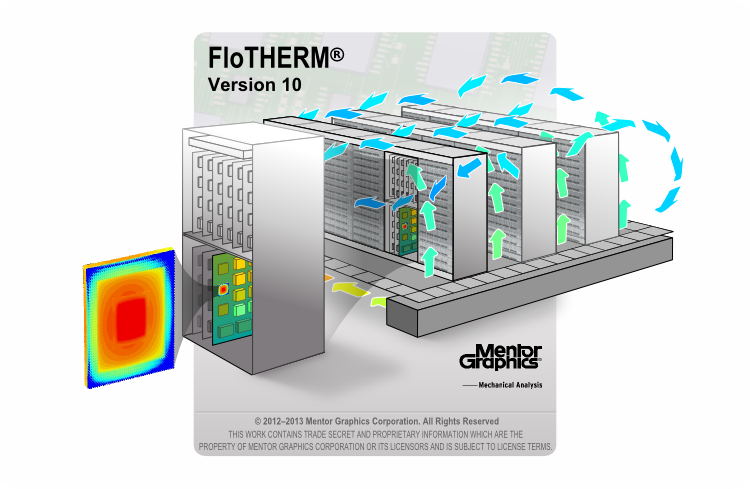 The electronics thermal supply chain is linked together with the desire on one side, and the obligation on the other, of assuring thermal compliance in the customer's application. Thermal performance of the equipment in the data center is a function of density, layout, cooling architecture and operation. Now I don't know exactly what % of all PCBs designed and manufactured end up in a data center, likely not that many. However I assume that nearly all of the bytes communicated in this IoT age are routed through such rooms.
Pushing bytes around the net needs energy. Bytes don't have much kinetic energy themselves, which is why that energy ends up being dissipated as heat. Leave that heat lying around unattended and things will get too hot and stop working. Ever wondered what a world full of teenagers lamenting the loss of Facebook, Twitter and SnapChat might sound like? Ouch.
FloTHERM's Rack and Cooler SmartParts allow for the quick and easy definition of these common data center items. That coupled, with FloTHERM's renowned ease of use and rapid simulation performance, enables the thermal performance of a given data center configuration to be rapidly determined. Check out this video for a look at the typical output from such a simulation.
4th September 2014, Ross-onWye
This article first appeared on the Siemens Digital Industries Software blog at https://blogs.sw.siemens.com/simulating-the-real-world/2014/09/04/top-10-flotherm-v10-features-9-data-center-simulation/