CFD – Colourful Friday Distractions
By way of an apology for the more verbose blogs I've been issuing recently I'd like to present you with a blog that serves no other purpose than to show a pretty picture. CFD as an acronym has quite a few different interpretations. Contracts for Difference if you're into your financials. Colour For Directors if you're in marketing. Cheats, Frauds and Deceivers if you're feeling very cynical. Computational Fluid Dynamics if you're an engineer. Whilst most real engineering work involves simulation of one or two key numeric parameters, there is fun to be had in the creation of pictures. To either brighten your day or to encourage others to take your simulation based proposed design modifications seriously.
Arrgghhh, like a monologuing evil movie villain I've been waffling on too much. Here's a picture of a surface mounted TO263, showing heat flux ribbons going from the die, through the package and PCB and into an oncoming air stream. The plane plot is a clipped distribution of the hotter temperatures. All simulated with FloTHERM.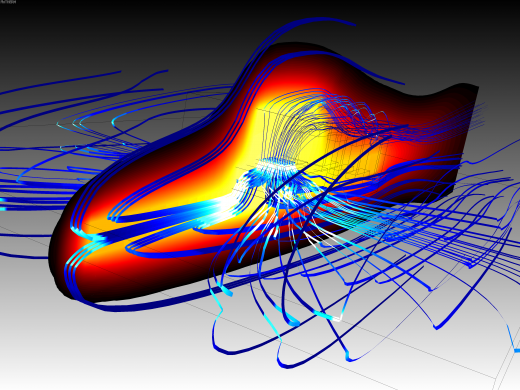 Click on the picture to get a high rez image. Good for desktop backgrounds or even recreation rooms like the one just installed in the Mentor Graphics Hampton Court (UK) office:
5th April 2013 Ross-on-Wye
This article first appeared on the Siemens Digital Industries Software blog at https://blogs.sw.siemens.com/simulating-the-real-world/2013/04/05/cfd-colourful-friday-distractions/