Products
The only way forward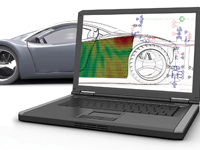 Focused on product and process innovation, the automotive industry is still one of the most thriving industries to work in. The list of challenges keeps on growing. Fuel economy and other environmental regulations, including vehicle pass-by-noise, continue to become stricter. And meeting government regulations while staying competitive with core brand performance traits requires the right balance of key attributes. In addition to these major drivers, the industry is moving from platform-based processes toward modular system-of-systems approaches. This is a massive change in development.
"The product and process innovation needed to address these challenges is increasingly happening at intersections", says Jan Leuridan, Senior Vice President for LMS Simulation and Testing Solutions. "For example, subsystems have become mechatronic systems that derive their overall performance by combining mechanics and controls, and the various subsystems work together to deliver the total product performance. It doesn't stop here, either. Today, with the Internet of Things, cars need to interact with the surrounding infrastructure. This is opening the industry to an entire new set of challenges, from driverless cars to smart highways and intelligent, active systems."
Managing these interactions is critical in today's innovation race. Model-based development and systems engineering or systems-driven product development during all development stages is crucial in this regard. Companies that are actively involved in this transformation right now are developing a true competitive advantage to realize innovation.
"These new approaches raise the bar for our LMS solutions for simulation and testing as well", confirms Leuridan. "Our customers must be able to verify and validate the convergence of a new product design to their requirements during all stages of the development process, from the first concept to final product validation on the proving ground. We refer to this as closed-loop systems-driven product development. It is a central driver for our forward strategy."
Customers like General Motors (GM), Hyundai and Lamborgini are using LMS Imagine.Lab software for model-based systems enginering, supporting tighter integration between controls enginereing and mechanical design to help manage mechatronic system optimization.
"We complement the evolution of our simulation technology by continuing to support upfront engineering with new evolutions in testing", he adds. "One example is our new Siemens Vehicle Energy Management (VEM) Test Center in Lyon, France, where engineers can count on our advanced testing and simulation expertise to help balance vehicle attributes."
Other examples include our continued commitment to develop advanced capabilities in automotive engineering areas, like noise, vibration and harshness (NVH) and durability. For example, Ralf Lehmann and his team at Daimler use LMS Testing solutions to tackle modern-day NVH challenges in vehicle engineering.
"We are also seeing more synergies within Siemens PLM Software. In composites, we are working together to create value by combining the Fibersim portfolio for composites engineering, LMS Samtech Samcef Composites software and LMS Virtual.Lab software."
Yes, we move forward with the industry.
This article first appeared on the Siemens Digital Industries Software blog at https://blogs.sw.siemens.com/simcenter/the-only-way-forward/