Products
Simulation Solutions for Today, Tomorrow, the Future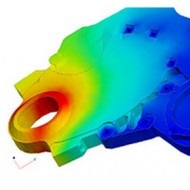 Simulation solutions aren't limited to CAE experts anymore. Gone are the days when their use was cut off from the rest of the product development team. Those days have given way to a new era, one in which simulation is accessible—in every sense of the word—to more industries, companies, and even people.
NX continues to integrate CAD and CAE further, while also building up the capabilities of NX CAE as a standalone application even the most expert simulation analyst would be proud to call theirs.
So where do we stand today, and what does the future look like? Today, we look at the answers to those questions with insights from the Analysis, Simulation, and Systems Engineering Summit (ASSESS), a meeting of the minds from some of the biggest and best simulation companies out there, including our very own Siemens PLM Software.
They determined 10 issues to be most impactful to CAE and the future of simulation. Today we look at five of those that NX CAE already works to address. Enjoy.







For more information, be sure to check out the ENGINEERING.com article this post is based on!
This article first appeared on the Siemens Digital Industries Software blog at https://blogs.sw.siemens.com/simcenter/simulation-solutions-for-today-tomorrow-the-future/