Don't Miss The Polarion Experience At Realize LIVE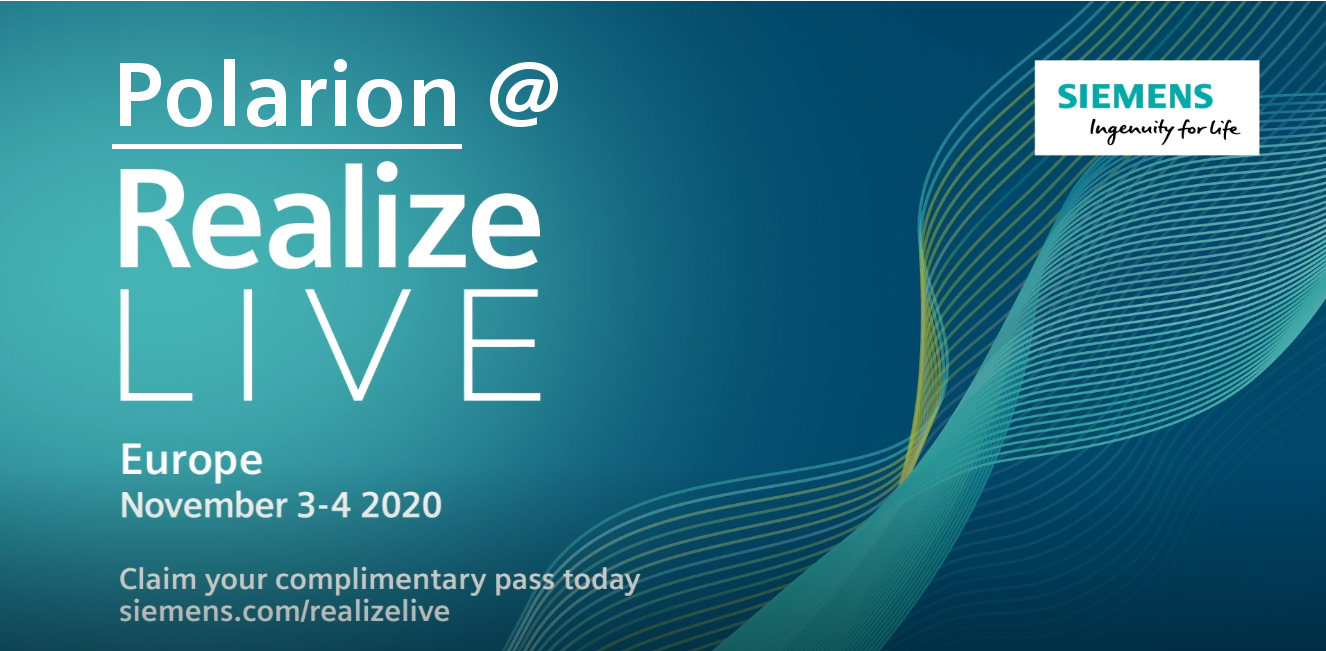 Don't miss out
Join us on the Polarion Experience, November 3 and 4 for the two-day Polarion track at Realize LIVE Europe virtual event, where you'll discover how a human-centered, digitally-powered approach to innovation will enable you to make the world a better place — and better your business, too.
What to expect from the Polarion Experience @ Realize LIVE?
Within the Polarion experience, sessions are designed to share new techniques and best practices. You can expect sessions to share practical knowledge from not only Siemens experts, but from partners and customers.
Agenda
*Schedule is based on GMT +1 timezone
Day 1 – Tuesday November 3rd, 2020
2:45pm – How Polarion Supports and Integrates SW/EE Development Process with PLM in Heavy Equipment – Ashish Agarwal, AGCO Corp.
3:10pm – Save Your Time, Money and Resources with Streamlined Product Development – Jessica Slater, Sterling PLM
3:35pm – From Customer through Verification: A Complete Requirements Management Flow – Brian Craw, Cypress Semiconductor
Day 2 – Wednesday November 4th, 2020
10:20am – Polarion Tomorrow – Zdenek Fiedler, Siemens Digital Industry Software
10:45am – Introduction to Polarion X – Martin Popelak, Siemens Digital Industry Software
11:10am – Using Polarion to Comply with Medical Regulations – Sven Wittorf, Medsoto GmbH
11:35am – Making Life a Bit More Beautiful: Digitizing Your Medical Device Engineering Process – Susan Faust, Siemens Digital Industries Software
12:00pm – Painless Requirements Usage Across Different Products – Lutz Dornbusch, Sonova AG
12:25pm – Traceability and Compliance Analysis in Highly Regulated Industries Made Easy – Todd Wohling, Intech AS
1:15pm – How Polarion Supports Systems & Software Engineering For Avionics – Anne-Perrine Porte, Safran Aerosystems
1:40pm – Enabling the Digital Thread: Practical Examples Using Polarion ALM-PLM Integrations – Guillaume Piliere, EB Solutions
2:05pm – Autonomous Braking Behavior – Are You Still Developing or Already Simulating? – Susan Faust, Siemens Digital Industries Software
2:45pm – Ensure Functional Safety With Polarion – Guido Lange, CIP Alpha
3:10pm – Using Polarion as Validation Tool in Medical Device and Pharma Industries – Stephen Cook & Sarat Chandra, Compliance Group
3:35pm – Scale Agile With Polarion and SAFe – Maxim Damm, Siemens Digital Industries Software
Don't Miss Out!
To learn more the sessions check out the detailed Polarion agenda, and register today! We'll see you in Detroit on June 10th.
This article first appeared on the Siemens Digital Industries Software blog at https://blogs.sw.siemens.com/polarion/polarion-realize-live-europe/