New tutorial video: Word Round-trip
We have a new 5-minute video tutorial that demonstrates the basics of working with Polarion 2011's Round-trip for Microsoft Word (a.k.a. "Word Round-trip") feature. You can find the video at www.polarion.com/video/tutorials/wordroundtrip/ (you'll find the full list of tutorial videos at www.polarion.com/tutorials/)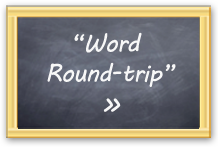 Word Round-trip facilitates collaboration on requirements or other specifications with external people who don't have access to your Polarion portal. You export a Polarion LiveDoc document, specifying one of several levels of change you allow the recipient. Your recipient reads and edits the document in Microsoft Word. When you get it back, you import the edited Word document into Polarion, updating your LiveDoc document, including its History.
Round-trip can also be handy if you want to work on the content of a LiveDoc document off-line on that next train or plane trip.
Keep in mind that although it's possible for the Word user to change some Work Item data field values, Word Round-trip isn't intended as a substitute for Polarion's Work Item management tools. It's mainly a feature aimed at collaboration on content. So check out the video and see how Word Round-trip can help you collaborate better with your clients, customers, or others who use Word, but not Polarion.

This article first appeared on the Siemens Digital Industries Software blog at https://blogs.sw.siemens.com/polarion/new-tutorial-video-word-round-trip/