Products
Improve Product and Software Development by Integrating ALM and PLM (Part 3 of 4)
In Part 1 and Part 2 of this series, I talked about the fast-blurring boundary between Product Development (PD) and Software Development (SD), which is quickly making it essential for complex development organizations to begin integrating the management of their product and software development, and I shared some of the business benefits of such integration cited by OVUM Principal Analyst, Michael Azoff.
In this 3rd article in the series, we'll get into the "nuts and bolts" of what you need to know about ALM-PLM integration.
5 levels of ALM-PLM integration
We'll touch briefly on these 5 main integration levels:



Link and Trace


Change and Propagate


Act and Communicate


Align and Unify


Collaborate and Report


Level 1: Link & Trace
At this level we answer the basic question: "where are my data assets?" The core mission of PLM is to provide a consistent and reliable environment to store and manage Product Data Assets. Now, software assets must appear there as well by means of copies or, better, links to the ALM environment where software code is created, managed and stored. At the same time, PLM components must also be linked to software assets.
We identify as "Link" the capability of creating a physical or logical relationship between ALM and PLM data assets. "Trace" is how we name the ability to automatically navigate this relationship. It is important to mention that using the same part number in disparate ALM and PLM solutions and then searching for it in both environments does not constitute automated navigation of the logical link.

Level 2: Change & Propagate
At this level we manage the impact of changes. Changes happen and we need to ensure that they are properly managed. Typical questions that we answer at this level are related to the ability to assess the impact of any change in design down the development and production chain, and vice-versa also run back from a failure to the related hardware or software components that could cause such failure.
Level 3: Act & Communicate
After data is available in both environments, connected and traceable, and change can be governed, we need to be able to orchestrate the different activities in Product and Software Development. In other words, at this level we achieve the integration of
processes
. Examples of this integration will be task assignment, progress control, and project management scenarios.
Level 4: Align & Unify
At level 4 we address the need of aligning product versions, configurations and variants to software versions, configurations and variants. In complex product development, a product is declined in different versions. Each version can be produced into different variants and into thousands of different configurations allowed by the possible combinations of options.
Software concepts like releases, branches, baselines and parameters have to be aligned to product-specific variants, configurations and versions. Such alignment of concepts allows the unification of Hardware and Software parts into unique configurations. The result is a single snapshot containing all the hardware and software data assets of each single item that is produced.

In this step we also pave the way to the unification of the User Experience (UX). A good usability can be achieved by eliminating the need for users to switch from one tool to another. An example of the unification of the user experience at this level is the 'Delegated User Interface'. With a Delegated UI, specific ALM panels will appear in the PLM toolset and vice versa allowing, for example, to edit a software requirement directly in the PLM tool, or changing the status of a part without leaving the ALM interface.
Level 5: Collaborate & Report
At this last level, Software and Product Engineers will be able to collaborate (joining their skills in creating a solution), the toolset will embed the process knowledge, and process improvements will happen by means of re-configuring the tool instead of changing the habits of people.
The alignment of concepts and the unification of the UX at this level are complete. Users will access every software and product artifact through the same User Interface.
Process improvement will be driven by analytical unique dashboards that, beside providing status reports on projects, will allow the identification of process bottlenecks, shortfalls etc.

In the 4th and final part of this series, I'll drill down yet further, and we'll explore the actual use cases involved in these levels. This will sort out the timid and the brave on this mountain climb. But if you stay the course, you will have a pretty good foundation to begin analyzing and planning how the integration of ALM and PLM can happen in your own organization.
Next…
After the last article in this series, we'll package everything into a handy eBook that you'll be able to download for free, and keep handy as you begin your own climb up the mountain. And we won't mind if you share it with colleagues who might find it helpful.
---
You might also be interested in: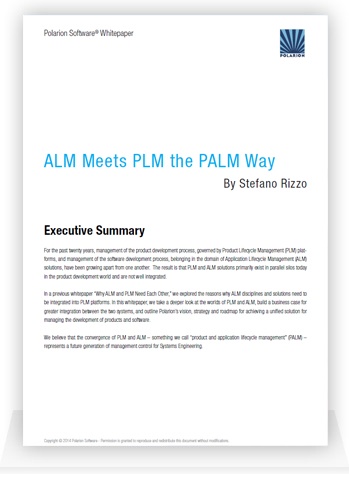 FREE WHITEPAPER:
ALM Meets PLM the PALM Way
This article first appeared on the Siemens Digital Industries Software blog at https://blogs.sw.siemens.com/polarion/improve-product-and-software-development-by-integrating-alm-and-plm-part-3-of-4/