Faulty Ignition Switch Issue – Cause of Multiple Deaths and a $2.6M GM Recall – is Getting Personal
According to an online posting by the New York Times last Thursday, the General Motors engineer often identified as responsible for the faulty ignition switch linked to as many as 32 deaths said "I did my job the best I could" in his first public comments since GM recalled 2.6 million cars to address the defect early this year. I can't help thinking that yes, he probably did… but his tools were probably just not up to the demands of today's complex, software-embedded cars.
Raymond DeGiorgio is the GM engineer who finds himself at the center of accusations that the company covered up a deadly defect. During U.S. Congressional investigative hearings last spring, lawmakers accused DeGiorgio of lying. So far, neither DeGiorgio nor anyone else at GM has been implicated in any criminal charges.
After numerous hearings and lawsuits, and negative publicity, GM agreed to compensate victims or their surviving families with a fund administered by attorney Ken Feinberg. As of the date of the Times post, the fund had received 202 claims for deaths and 1,649 claims for injuries. Of those, 32 death claims and 35 injury claims had been approved, and litigation was still pending in federal courts in the U.S.
GM's ignition-switch/airbag crisis has ushered in a new era of safety emphasis by the global auto industry. In 2014, GM alone has issued 77 recalls covering 26.6 million vehicles in the United States. Most other automakers have issued major recalls as well, including about 17 million vehicles supplied to multiple companies around the world by Japan's Takata Corp.
It has all become very personal, not only for those close to the deceased, but also for Raymond DeGiorgio, who in his congressional hearing earlier this year appeared "genuinely upset" about the deaths and about his inability to connect the ignition switch problem with the failure of air bags to deploy (emphasis mine).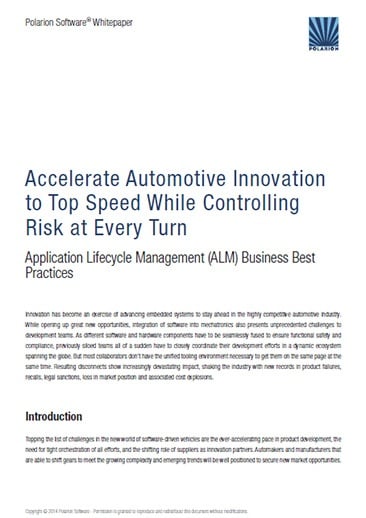 It doesn't have to be this way. Had GM been using tools like Polarion ALM, workflows could have been set up in a such a way that critical steps could not have been bypassed. What's more, all actually conducted activities would have been automatically tracked without fail, critical relationships would have been transparent and visible to design and engineering teams, and failures could have been easily traced to the source of the issue and all implications such as the air bag issue quickly. Consequently, and most importantly, lives might have been saved, and the staggering fallout that is yet to come to a conclusion might have not come to pass in the first place.
No tool or system can eliminate every risk in a complex design. But a solution like Polarion's, with it's workflow control, visibility and transparency of information, and automated forensic traceability, plus easy integration with PLM tools like MATLAB® Simulink®, can significantly reduce the chances of a catastrophic product failure that kills.
If your work is in any way connected with the automotive industry, we have a wealth of free resources with practical information, gleaned from real-world practice, that can help you and your company minimize the possibility of becoming embroiled a crisis like the one GM and other automakers have experienced this past year.

This article first appeared on the Siemens Digital Industries Software blog at https://blogs.sw.siemens.com/polarion/faulty-ignition-switch-issue-cause-of-multiple-deaths-and-a-2-6m-gm-recall-is-getting-personal/