A short video about the Collections capabilities in Polarion 20R2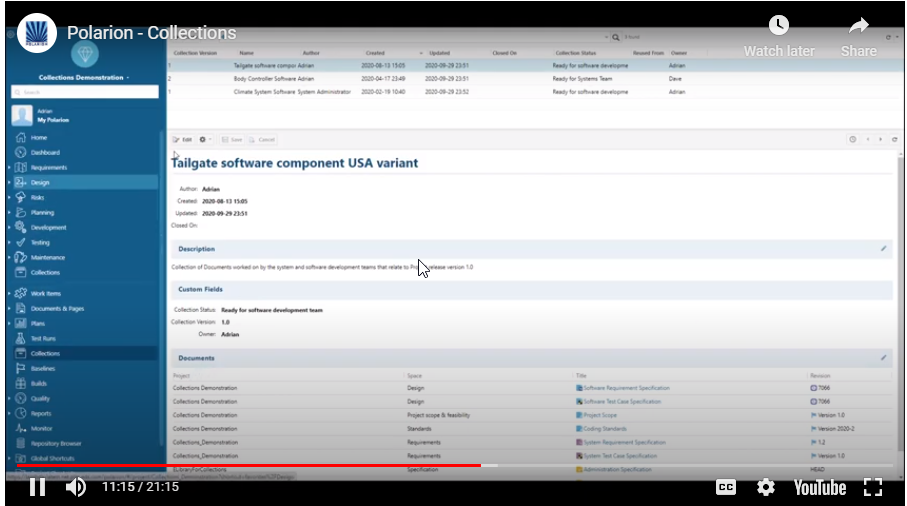 Back in May, I wrote a article which described the new Collection capability introduced in Polarion 20R1. As a reminder Collections are a new capability in Polarion that supports two primary use cases:
Collections provide a super easy way of creating sets of document revisions, where a document revision can be reused in multiple collections if desired. When used in this manner collections are appropriate for audit and regulatory compliance needs.
Collections can also be used to work inside of, with a mix of current and historic document revisions or baselines. Collections allow you to remain within a context and make it very easy to create links between document and work-item revisions. When the work is complete on the current collection, it can be closed and frozen. When used in this manner collections are appropriate to support parallel or concurrent development activities within the V-lifecycle.
For Polarion 20R2, we have further expanded the Collection capabilities.
Supports adding documents to Collections from other projects.
Collection enabled search
Provides the ability to create Baselines for Collections
Reuse (include & duplicate operations)
For this blog, I decided to record a short video that showcases the new functionality. You can watch it here.
If you're entirely new to Polarion and reading this blog post, why not consider giving Polarion a trial and see if it might work for you on your next project. Its very easy to download and get started quickly or you can use one of the hosted options too – just by following this link. https://polarion.plm.automation.siemens.com/products/alm/demo
On behalf of everyone on the Polarion Product Management Team,
Regards,
Adrian Whitfield.
This article first appeared on the Siemens Digital Industries Software blog at https://blogs.sw.siemens.com/polarion/a-short-video-about-the-collections-capabilities-in-polarion-20r2/