SIMATIC IT R&D Suite 7.2 is now available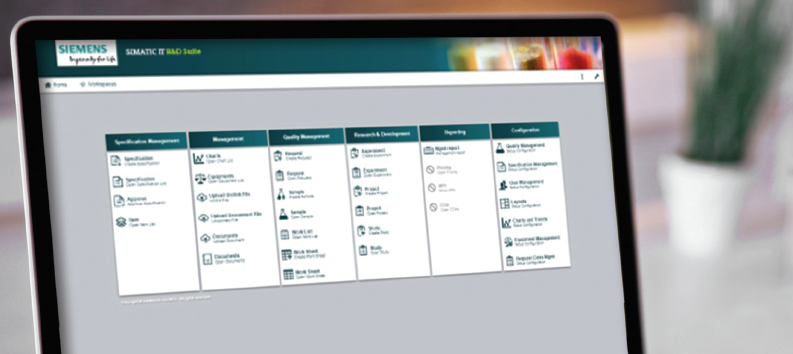 Version 7.2 is now available. SIMATIC IT R&D Suite V7.2 is the third version of the next-generation platform for the SIMATIC IT R&D Suite. The release focuses on quality functionalities (LIMS), but also introduces the required building blocks to support formulated product design and specification management in future releases.
With SIMATIC IT R&D Suite V7.2 you can now leverage even more:


Out-of-the-box capabilities




The applied best practices bundle supports common business processes and common ways of working in laboratories.


The info card and info field may be assigned on an operational level.


Graphical navigating may be facilitated between requests in parent-child relations in the new contextual Mind Map.


The data localization application supports storing user data input in multiple languages. Data is displayed in the selected data language throughout the application.


Allows user to evaluate measurement ranges to take into account the physical and practical limitations of the lab instruments used for analytical determination.


New info fields container is available for files and images. Images can be displayed in full size or in thumbnails.


Supports the standard operating procedure (SOP), which enables a side-by-side display of the analysis (method) to guide execution.









Usability




Dynamic launch pad, which, depending on your access rights, licenses and configurations, will give you access to the available modules.


Context is provided in Mind Map, which makes it easy to navigate between objects.


Configurable action bar allows users to choose which buttons to display in the action bar by drag-and-drop.


Improvements to docking panels enable you to more freely arrange the panels on the screen.









Configurability




Layout manager enables users to define different types of layouts to display data as needed.


Enhanced tasks to support date intervals and nested properties within tasks.


Ability to configure calculation for info fields.









Technology support




Provide support for the latest technologies, such as Windows 2016, Microsoft SQL Server 2016 and the Microsoft Edge browser.


Cloud readiness, product architecture and installation procedure are improved so you can easily deploy SIMATIC IT R&D Suite on Amazon Web Services (AWS).







Find out more about the SIMATIC IT R&D SUITE.
This article first appeared on the Siemens Digital Industries Software blog at https://blogs.sw.siemens.com/opcenter/simatic-it-rd-suite-7-2-is-now-available/