Now Available: Siemens QMS Professional Version 10.05 has been released!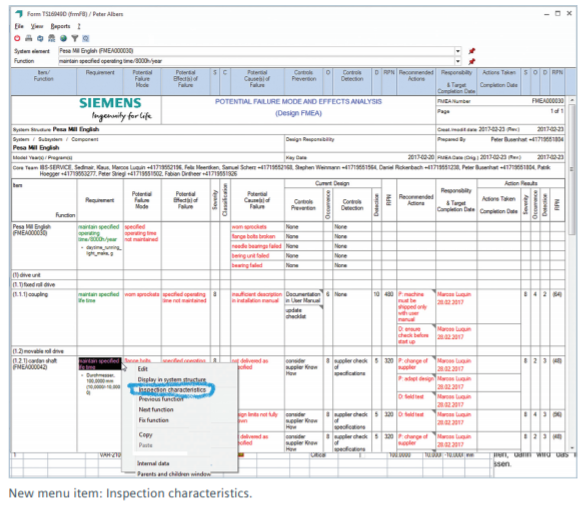 We are excited to announce the latest version of Siemens QMS Professional version has been released! Version 10.05 is now available.
QMS Professional is a multi-lingual, cross-industry computer-aided quality (CAQ) solution that complies with the international quality standards, including DIN EN ISO 9000, ITAF 16949:2016, Q101 and VDA 6.1. QMS Professional is a process-oriented, modular system that supports the closed-loop quality product lifecycle, managing complexities for planning, control and monitoring of processes and corporate quality.
This latest version of QMS Professional version enables the following capabilities:


Perform simple modification of nominal values for fitting tolerances without re-assignment of the fitting


Specify which Cgk value to use for the capability assessment of test equipment when evaluating according to method 1 -> 1, 33 or 1


Optimize inspection protocol


Search checklist groups using company and/or article numbers


Predefine a standard escalation profile when defining a checklist


Differentiate between FMEA classifications and classifications of features assigned to a function can be detected


Edit inspection characteristics in the form sheet and the system structure


Call documents attached to an article directly from the inspection plan


Use an additional revision for guided information related to the inspection plan in the SPC acquisition


Already using Siemens QMS? Find out what's new in Professional Version 10.05
Looking for a process-oriented, modular Quality Management System which can be fully integrated into your digital enterprise? Siemens QMS is designed to enable customer-specific applications to provide quality assurance independent of vertical integration, production processes/models and stage in the supply chain.
For quality management that does much more than merely support inspection routines and documentation, learn more today.
This article first appeared on the Siemens Digital Industries Software blog at https://blogs.sw.siemens.com/opcenter/now-available-siemens-qms-professional-version-10-05-has-been-released/