Products
VERICUT Offers Seamless Integration with Siemens Software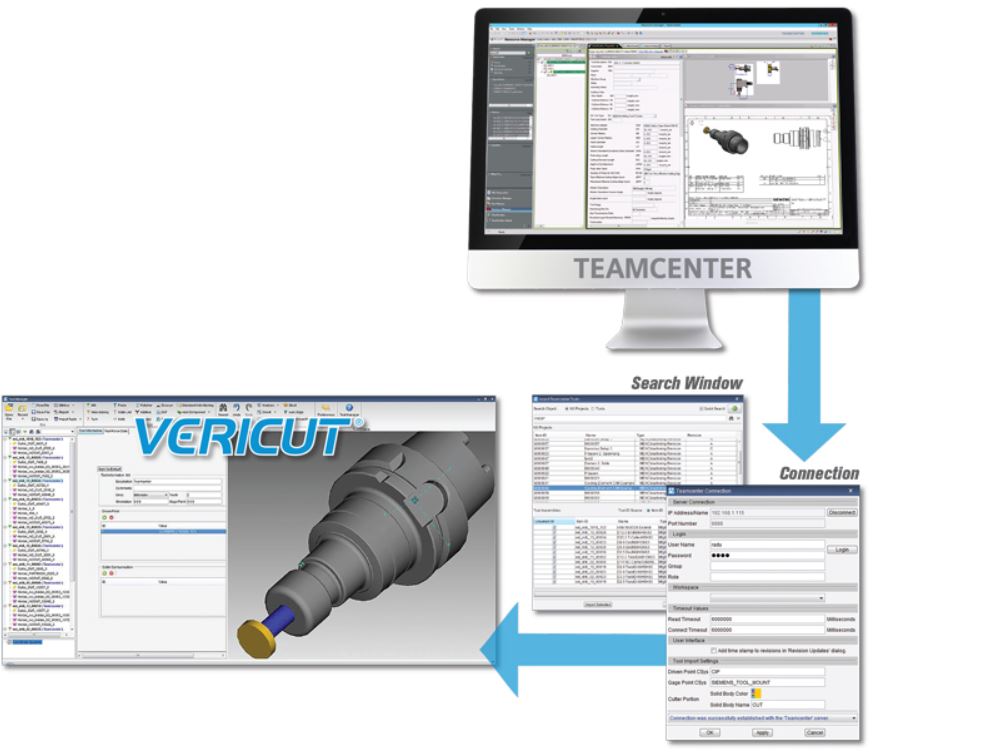 CG Tech's VERICUT, an industry standard for simulating CNC machining in order to detect errors, potential collisions, or areas of inefficiency, and the Siemens Teamcenter interface run independently from Teamcenter and NX allowing work to be done simultaneously in two programs.
Teamcenter now enables CG Tech's VERICUT's Tool Manager to access 3D cutting tool assemblies directly from Teamcenter software. These 3D cutting tool assemblies can be created in Siemens' NX software with the Manufacturing Resource Library (MRL) This integration allows users to search for tools in NX CAM software project files, or for 3D cutting tool model assemblies, and read them into VERICUT's Tool Manager. There is no need for any modifications and the tools are ready for the simulation.
Watch the VERICUT demonstration video:
Integration with Teamcenter avoids the need to export local copies of 3D tool assemblies since they are directly accessed from Teamcenter, and also ensures tools are up to the latest revision available in Teamcenter. This integration is particularly useful for customers who cannot have external, uncontrolled copies of models (including cutting tools) outside of their PLM system due to ISO restrictions. The user's same Teamcenter login credentials are used to log into the Teamcenter Interface.
Key Benefits & Features:


In the case of an NX CAM software project that uses multiple cutting tool assemblies, all 3D models can be read at one time


Search capability within the Teamcenter Interface allows a user to query for an individual 3D cutting tool assembly or an NX CAM software project that references multiple 3D cutting tool assemblies


Uses existing Teamcenter login and password for access


The integration will work with the Manufacturing Resource Library, a Teamcenter application.


Teamcenter performs checks to ensure the user is using the correct revision of the cutting tool assembly


This article first appeared on the Siemens Digital Industries Software blog at https://blogs.sw.siemens.com/nx-manufacturing/vericut-offers-seamless-integration-with-siemens-software/