Products
Siemens' Digital Machine Shop Showcase A Big Hit at IMTS 2016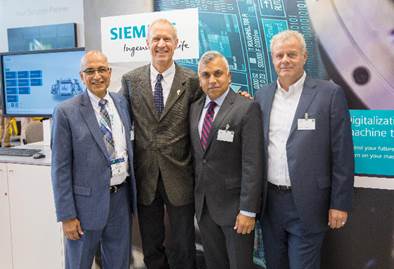 The International Manufacturing Technology Show (IMTS) in Chicago was a tremendous success this year for Siemens.The Digital Machine Shop Showcase was one of the key features of the exhibit and was well received by hundreds of visitors. The Digital Machine Shop Showcase combines physical equipment, customer use cases and Siemens hardware and software solutions to put all the pieces together and clearly define a digital machine shop.
If you are not familiar with the digital machine shop, it is smart, flexible and connected. At its heart is a digital twin – a digital twin of the product, production system and its performance. And, a digital thread is woven through every step of the manufacturing process and closes the loop between the virtual and real worlds of production.
A digital machine shop transforms business by providing unique and powerful advantages:


It's an adaptive system that continuously learns and improves.


It's a data-driven environment that connects every aspect of the manufacturing operation – from idea to production.


It's a powerful system that drives revolutionary technologies like additive manufacturing, advanced robots, and automation equipment.


Stay tuned for our series of four thought leadership videos about Siemens' Digital Machine Shop.
In the series you will learn more about advanced manufacturing and digitalization, and how to apply these technologies to your business.
View the highlights of Siemens at IMTS 2016 :Digitalization in Machine Tool Manufacturing
From L to R: Motion Control BU Lead Arun Jain, Illinois Gov. Bruce Rauner, DF Country Division Lead Raj Batra and Matthias Leinberger of Siemens PLM at the International Manufacturing Technology Show (IMTS).
This article first appeared on the Siemens Digital Industries Software blog at https://blogs.sw.siemens.com/nx-manufacturing/siemens-digital-machine-shop-showcase-a-big-hit-at-imts-2016/