Sciaky to adopt Siemens multi-axis deposit technology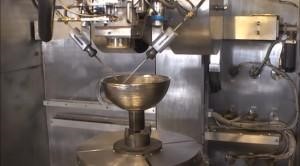 Sciaky to adopt Siemens technology to support its industry-leading Electron Beam Additive Manufacturing (EBAM®) solution.
Chicago-based metal additive manufacturing solutions provider Sciaky, Inc., which is a subsidiary of Phillips Service Industries, Inc. (PSI), introduced its innovative metal Electron Beam Additive Manufacturing(EBAM) process back in 2009, and made its EBAM machines available to large companies a few years later. Now Sciaky has announced that it will join the Siemens PLM Software Solution Partner Program, in order to support its industry-leading solution.
Vynce Paradise, the Director of Advanced Part Manufacturing for Siemens PLM Software, said, "Siemens PLM Software is committed to creating partnerships that can add value to the business of our customers. We are pleased to work with Sciaky as they use the latest multi-axis deposition technology we have developed within NX software to support their EBAM 3D metal printing systems."
EBAM offers a highly scalable metal 3D printing envelope, and Sciaky notes that it is the fastest deposition process on the market, able to reduce lead times and material costs by up to 80%. Sciacky's EBAM machines can print parts from 8 inches to 19 feet in length, and its gross deposition rates range from 7 to 20 pounds of metal an hour.
By becoming a Software and Technology partner, Sciaky will adopt Siemens' product lifecycle management (PLM) software, in order to offer its existing and future customers in the metal 3D printing market a quality additive manufacturing software solution which integrates with technology that companies worldwide use to not only make better products, but also augment their product development decision-making.
"Sciaky is excited to join Siemens PLM Software's partner community. The strength of our two organizations working together will deliver significant value to our customers," said Bob Phillips, the Vice President of Marketing at Sciaky.
Follow this link to learn more about Siemens additive manufacturing solutions.
This article first appeared on the Siemens Digital Industries Software blog at https://blogs.sw.siemens.com/nx-manufacturing/sciaky-to-adopt-siemens-multi-axis-deposit-technology/