New end-to-end additive manufacturing solutions to revolutionize product development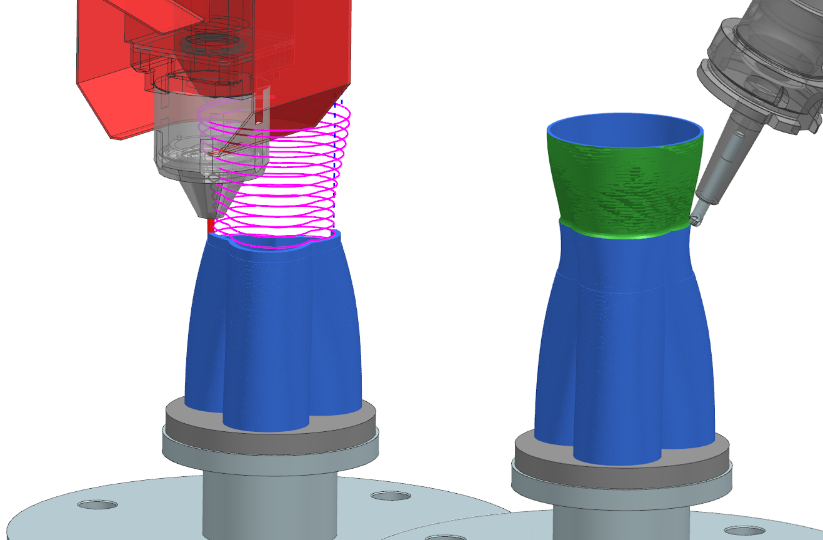 Today we have announced a major advancement in our goal to industrialize additive manufacturing. We are introducing the world's first, end-to-end solutions, which will be rolled out in phases starting in January 2017, that integrate the entire additive manufacturing process from automated performance-driven design optimization to advanced 3D printing.
Additive manufacturing, also known as 3D Printing, is bringing about an industrial revolution in manufacturing that is allowing business in industries such as automotive, aerospace, heavy equipment and medical devices to use 3D printing to realize creativity and innovation in product development. New technologies are giving engineers a greater level of design freedom, customization and speed. As Siemens has said many times, companies will be able to develop products that perform better with less weight and more strength. They will be able to print assembly components as one part with varying characteristic, saving time and money.
Watch the Demonstration Video:Additive Manufacturing Reshapes Everything
We believe our approach will help manufacturers reimagine products, retool manufacturing, and rethink their business to overcome the limitations to bringing additive into conventional manufacturing environments. Our goal is the industrialization of additive manufacturing. To that end, we aim to delivercomprehensive end-to-end offerings that covers PLM software, integrated automation and manufacturing operations management to help establish 3D printing as an integral production process.
To transition additive manufacturing to an industrial production process, it must have digital integration between design, production and automation, and include control and monitoring of machine performance. To accomplish this, our solutions include Siemens NX software, the newly announced Simcenter portfolio, a robust suite of simulation software and test solutions, Teamcenter software, and elements of Siemens' Manufacturing Operations Management (MOM) portfolio for manufacturing automation. Our integrated solution will also use smart product models through all phases without the need for data conversion between applications or processes. This approach gives designers and engineers a new and more effective way to reimagine the next generation of product design, engineer parts with significantly increased strength/weigh ratios, apply advanced integrated simulation and analysis to predict design performance and manage the entire process from design to 3D printed finished part.
New Siemens generative design and simulation technology yields reimagined parts with topology optimized shapes for performance and weight. The part on the left is designed for conventional machining. The organic shaped part on the right has been optimized for 3D printing with reduced mass and equal strength.
Convergent modeling and topology optimization are two new technologies in the solution that enable a generative design approach that help engineers optimize part design for 3D printing, speed up the overall design process and provide scan-to-print functionality which makes reverse engineering more efficient. The key benefit convergent modeling is that it will greatly simplify the ability to work with geometry consisting of a combination of facets, surfaces and solids, without the need for time-consuming data conversion.
The first technology of its kind, Convergent Modeling allows designers to combine facets, surfaces, and solids in one model without converting data.
Topology optimization helps analysts automate the iterative process for designing and optimizing parts for multi-physics performance. These new capabilities help evaluate the design for manufacturability providing greater confidence to move forward with designs optimized for additive manufacturing.
New Siemens topology optimization technology generates light weight designs that efficiently transfer loads to achieve engineering-driven performance goals.
Siemens is also introducing a new 3D print preparation solution for both metal and plastic parts that uses the intelligent product model in an integrated and associative workflow to automate design changes and streamline the entire process. The new solution assists operators in preparing parts for powder bed and multi jet fusion printing.

For 3D printed metal parts, NX Hybrid Additive Manufacturing also provides model preparation, and laser metal deposition and NC programming. This includes simulation for the DMG MORI Lasertec machine tool series, where metal deposition is incorporated with subtractive methods in a single machine tool environment. For extruded materials like plastics and carbon fiber reinforced nylon, a new multi-axis robotic fused deposition modeling (FDM) programming technology has been developed and is being field tested. After parts are printed, the same integrated NX system is used for post-printing NC operations such as intuitively programming the removal of support structures, machining of precision surfaces and other processing and inspection operations.
Siemens' NX Hybrid Additive Manufacturing provides laser and NC programming with simulation for the DMG MORI Lasertec machine tool series where metal deposition is incorporated with machining methods on a single machine so new classes of parts with complex geometries and interior cavities can be easily manufactured in a single setup.
Read our press release to learn more.
Let me know what you think of our announcement today in the comments section below.
This article first appeared on the Siemens Digital Industries Software blog at https://blogs.sw.siemens.com/nx-manufacturing/new-end-to-end-additive-manufacturing-solutions-to-revolutionize-product-development/