NCMatic Develops Tools to Automate and Enhance Workflow for NX CAM users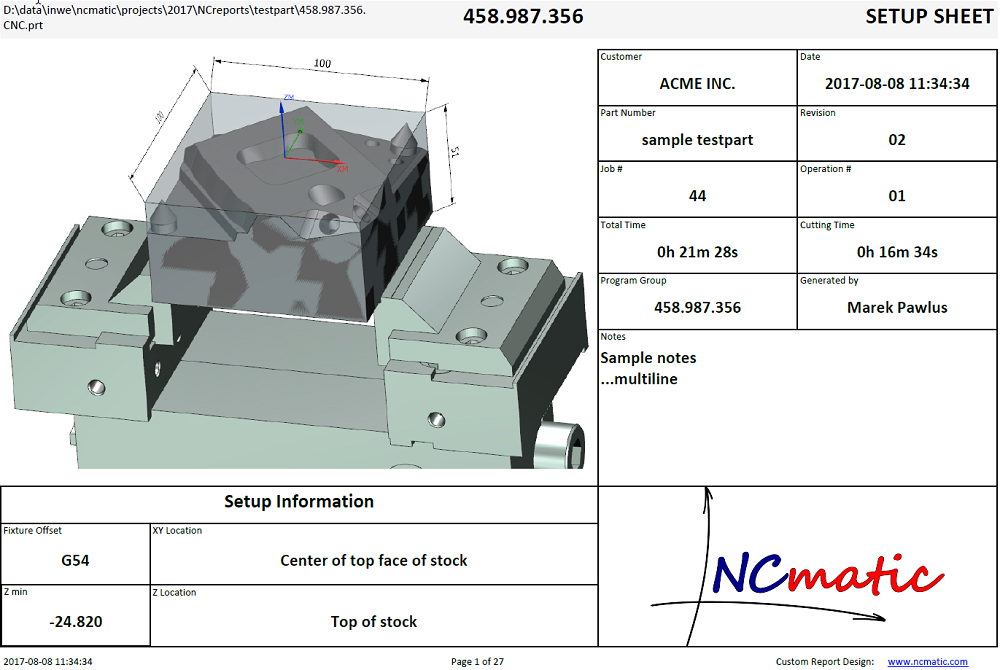 Guest blog by Marek Pawlus of NCmatic
NCmatic is a new Siemens PLM Software and Technology Partner specializing in NX CAM. Our main focus is to develop tools integrated into NX which automate and enhance the everyday workflow for CAM users. Through our new partnership with Siemens, we have full access to integration technology that allows us to develop advanced and reliable applications right inside of the NX user interface.
Our secondary service is to provide advanced CAM post processors and ISV solutions for multi axis machine tools. Although NCmatic is a startup company, we have many years of experience in implementing the most difficult post processor and simulation projects in diverse production areas. From simple 3-axis vertical mill to 5 axis simultaneous (5 axis mill or B axis style/multi turret lathe) we can handle any postprocessor or simulation requirement. Such advanced, well customized and tested postprocessor, with reliable machine tool simulation, is a foundation of successful use of CAM software for production on CNC machines.
You can find examples of postprocessors implemented by NCmatic on our web page.
You can also test some of them online with Siemens NX CAM Post Hub (beta version). More information can be found in the Siemens "Try out our new post-processer online service" blog.
NCmatic has many customers around the world who are very satisfied with our products. Feel free to reach out to us for our references and for a future quote on your next upcoming CAM project.
"Before NCmatic we had a very hard time getting advanced postprocessor and simulation kits built correctly, on time and for the quoted budget. Marek Pawlus is excellent at his skill set and provides top level support. I would recommend NCmatic to any company who uses NX and wants a kit done right," said Dennis Rathi, the General Manager at Creations Unlimited.
NCmatic Toolkit for NX
NCmatic Toolkit for NX is a set of tools, which will automate everyday tasks of NX CAM programmers. The reason for developing NCmatic Toolkit, is to make work of NX-user easier and faster and to provide additional functionalities to NX CAM. With NCmatic Toolkit you can reduce time needed to do repetitive tasks to minimum, and focus on actual programming your tool paths. Today the toolkit contains two applications: NCreports, a modern, advanced and very handy tool which allows you to generate various types of reports, and Operation Navigator Wizard, that allows you to automatically rename all operations and creates program groups for operation sets.
New tools will be announced soon.
To learn more, read Technical Tuesday with NX CAM – weekly "tips and tricks" for NX CAM series:
https://ncmatic.com/technical-tuesday/
This article first appeared on the Siemens Digital Industries Software blog at https://blogs.sw.siemens.com/nx-manufacturing/ncmatic-develops-tools-to-automate-and-enhance-workflow-for-nx-cam-users/