Products
Manufacturing work instructions make a big contribution to shop productivity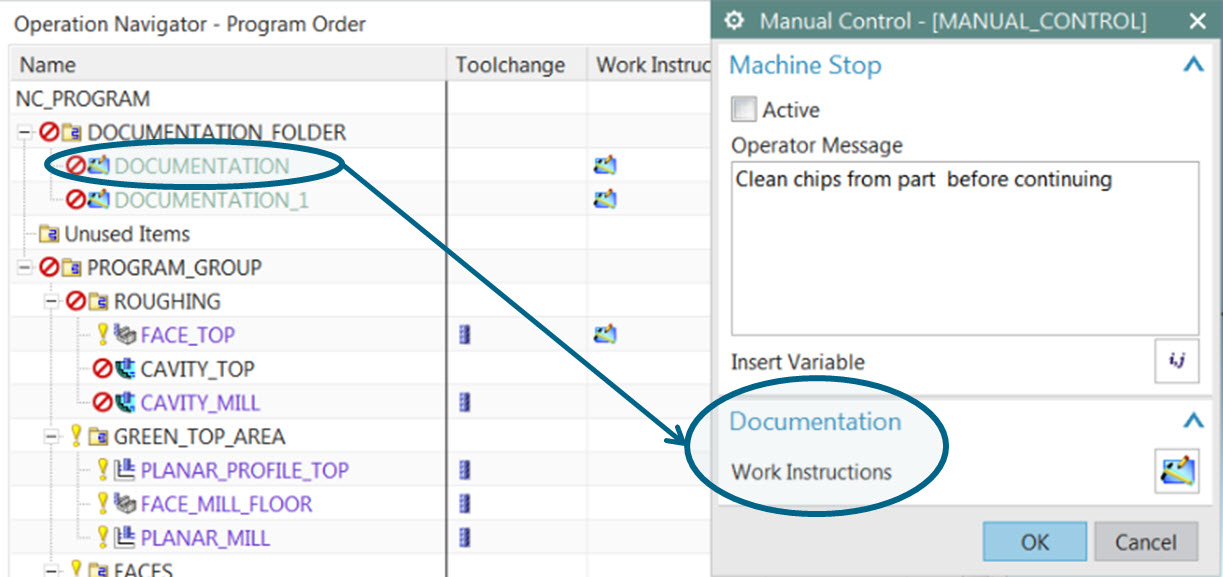 Work Instructions make a big contribution to shop productivity
Moving a manufacturing job through the shop from the initial order to the shipping dock involves a lot more than just operating the computer-aided manufacturing (CAM) system. One of the overlooked aspects of the process is the communication of manufacturing work instructions from the CNC programmer to the machine operators who setup and run his program.
Firstly, a tool table with the entire required tool data listed is needed for the tool manager to prepare and load all of the required cutting tools. If the cutting times are long enough, then perhaps multiples have to be prepared and loaded.
Second, an operation list lets the operator know what is happening and what will need his attention. Part of this is the non-cutting operations, such as chip removal or checking for gage passes, etc. A thorough operation checklist helps to eliminate oversights and errors.
Providing clear images that communicate the details of setups and in-process conditions are more effective than 1000 words, it's true. Making sure that the best images accompany the operation and tool lists can make a difficult instruction set easy.

In addition, work holding details and part datums must be easily identified.
The more detail provided, the greater the potential for time savings. And make no mistake – the time programmers save their shop floor colleagues on setup is time shaved off the total turnaround and money in the bank.
Of course there is a trade-off between level of detail and the effort it takes to create the work instructions. But the more easily an instruction set is created, the more detail can be included and the bigger benefit is provided to the shop floor personnel and to the bottom line.
Letting the CAM system provide the manufacturing work instructions is a great way to get more detail, better images, and more context included in the instruction set. Siemens' NX CAM includes a very powerful solution for work instruction authoring that brings this process inside NX™ software so that work instructions can be developed alongside the CNC program.
Like CNC programs, these instructions are associative to the design models, significantly reducing the time needed to create and update them. Configurable templates are used to define the required data and display work instruction sheets.
NX Integration
NX Work Instruction Authoring is integrated into the operation navigator of NX CAM software, unifying the machine instructions (CNC program) with human instructions. This allows the CNC programmer to focus on each operation as it is defined and to specify required work instructions while the information is fresh.
Gallery of documentation elements
NX Work Instruction Authoring allows programmers to specify powerful documentation elements so they can rapidly define manufacturing work instructions:


An associative screen capture that remembers the point of view, zoom factor, NX software view and component visibility. It can be displayed with or without the operation tool path


Capture any drawing sheet in the NX manufacturing setup


Digital images or documents from external sources


Operation-specific manufacturing operation management (MOM) variables


Rich text in all languages that NX supports


Tool lists with cutting times


Operation lists


Configurable lists of standard text for quick authoring


Preview
A dynamic what-you-see-is-what-you-get (WYSIWYG) preview shows what the current documentation sheet will look like when published. It is easy to make quick changes and updates to screen capture and text formatting parameters to ensure the instructions are easily understood on the shop floor.
Complete solution
Everything programmers need to create professional work instructions is included. There is no extra software to buy, and nothing else to learn. The integrated tools of NX Work Instruction Authoring look and act just like NX for manufacturing because it is NX.
Publish to popular formats
Once the work instructions are complete, publishing to HTML or PDF is a few clicks away. There is no need to leave NX. When publishing to PDF programmers have complete control over page size, orientation and scale factor to satisfy company requirements. All work instructions are stored in a configurable standard location, making them easy to manage.
Benefits


Create work instructions as an integral part of CNC programming with no additional software needed


Immediately visualize instruction sets with WYSIWYG preview


Document both on-machine and off-machine steps


Publish instructions directly to PDF or HTML


Update instructions 90 percent faster via associativity


Author new instructions quickly and consistently from configurable templates


Learn how to eliminate errors with better work instructions by viewing this Tech TIp video, "NX CAM Work Instruction Authoring."

This article first appeared on the Siemens Digital Industries Software blog at https://blogs.sw.siemens.com/nx-manufacturing/manufacturing-work-instructions-make-a-big-contribution-to-shop-productivity/