Products
G71 Lathe Roughing Cycle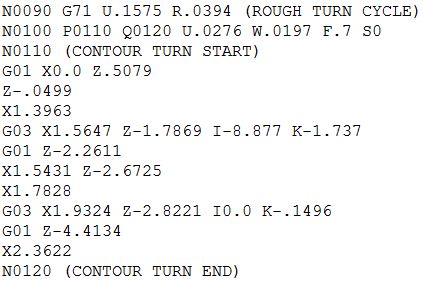 I recently received a request to demonstrate how to create a G70/71 lathe roughing cycle in our Post Builder product. Our CAM Development team created CYCLE95 (lathe roughing for Siemens controllers) support a few releases back, so I thought it would be relatively easy to copy that functionality and modify it for Fanuc controls. I sent an e-mail to some NX CAM experts to see if anyone had done that already – I thought I could shorten the learning curve for myself by examining an already-completed project. The answer that came back was "I don't know how to break this to you, Jim, but G70/71 support is already supported in Post Builder." Hey, that's terrific (and a little bit embarassing)! Now it is even easier to demonstrate how this works.

Before I go any farther, let me answer the question that is already forming in your head – "Wait, NX has been out how long and just now it can create a lathe roughing cycle?" Easy there, Tiger. The ability to create lathe roughing cycles has been available for almost as long as the software has been sold, but it did take a fairly high level of knowledge about post processing AND (here's the important part) the simulation of the tool path inside NX would not show the roughing cycle.
This video shows how to implement this new functionality.
Meanwhile, I'm going to try and stay on top of new functionality that gets added to our products.
Jim has a Master's degree in Business Administration from the University of Central Missouri. He has over 30 years of experience in the manufacturing industry, and over 25 years of experience in the CAD/CAM field. He serves as Field Support for Siemens PLM CAM products. Prior to his current role, he held stints as CNC Programmer, CAD/CAM Department Manager, CAD/CAM instructor, and Project Coordinator for Siemens PLM CAM software development. He wants a pair of those pants that the Norwegian Olympic Curling Team wore.
This article first appeared on the Siemens Digital Industries Software blog at https://blogs.sw.siemens.com/nx-manufacturing/g71-lathe-roughing-cycle/