Driving the industrialization of 3D Printing (additive manufacturing)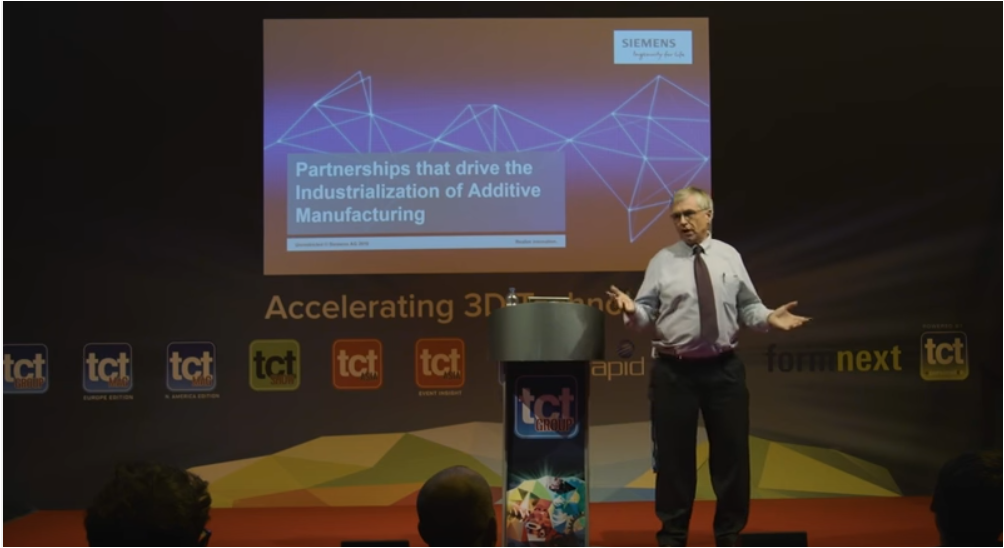 At the TCT Show 2016 Conference in September, Vynce Paradise, Head of Advanced Manufacturing at Siemens PLM Software, spoke about how partnerships are key to enabling the industrialization of 3D printing. He details how, for many manufacturers, 3D printing is still only a small part of the process, usually confined to a small area of the factory floor and reserved primarily for prototyping applications. There are also several challenges that manufacturers must first overcome to ensure that additive fits within their current processes such as repeatability, scalability, material behavior and integration. In order to do that companies need to partner together to combine expertise and develop solutions that will further the adoption of AM on real factory floors.
Vynce comments: "When it comes to this kind of equipment, it's so new, there are so many things we're both working out, that we have to partner … because we want to get tied together to build a solution and develop it together."
In this talk Vynce discusses the ways Siemens PLM is partnering with various machine manufacturers to make this happen.
Read the complete story in the TCT Magazine article, download the podcast or watch the full presentation here.
What do you think about the presentation?Let us know in the comments section below.
Vynce Paradise
This article first appeared on the Siemens Digital Industries Software blog at https://blogs.sw.siemens.com/nx-manufacturing/driving-the-industrialization-of-3d-printing-additive-manufacturing/