Case study: Accelerating time to market through digitalization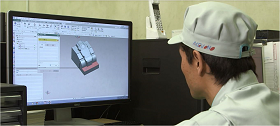 Enjoy the video version of the Akevono Kohgyo case study.  Watch and learn how Siemens' NX software enables this Japanese machining specialist to easily utilize customer data to effectively drive a wide range of CNC machine tools.
About Akevono Kohgyo:
Akevono Kohgyo Co., Ltd. specializes in machining metal and nonmetallic materials, primarily in manufacturing automobile components. The company has expanded into other fields including aircraft, industrial robots, and medical instruments, and handles the complete machining of materials from scratch. Akevono Kohgyo's distinct competitive advantage is its ability to handle a wide range of production volumes, from a oneoff prototype to mass production runs of 100,000 units per month.
Video highlights:
Rapidly put the latest machine tools into operation
Expanded orders
Reduced time to analyze and modify customer data by up to 70 percent
Faster machine setup on the shop floor by using a precise digital representation of the 3D model, fixtures and entire machine setup
Shortened operation time for the entire manufacturing process by up to 80 percent
Video transcript:
Narrated by President and Representative Director Akitaka Sugiyama
Our company primarily manufactures high-volume parts and prototypes for automotive parts. We also manufacture and cut parts for industrial machinery, including components for industrial robots and aircraft.
When we introduced new five-axis machining capabilities, we started receiving new orders. As their deadlines neared, I checked the factory, only to see that the projects were far from completion. These delays were caused by many limitations and bugs in our software systems. This led to constant errors in production that impeded the manufacturing process.
Narrated by General Manager of Technology Masayoshi Uno at the Manufacturing Department
Our cutting-edge equipment could not be programmed using the previous CAD/CAM systems. This troubling situation started causing problems with our clients. In these difficult circumstances, Siemens experts, including their sales team, worked really hard trying to solve our problems. They responded promptly to our inquiries. Thanks to the Siemens team, we were able to quickly solve the operational issues with our machines.
NX includes a feature called Synchronous Modeling. This is an extremely useful feature and one that we truly appreciate. In other CAD/CAM systems, a log, known as a "parametric," is generally used to modify the model. However, with NX, a model can be easily modified, even if it is only an interim file that does not include this log. This feature cuts the part preparation time by 70% to 80%. Another important point is that NX is highly automated and versatile software. Our company is involved in manufacturing of extremely thin components, which is a very difficult machining process. Such manufacturing requires very specific cutting methods. Most CAM manufacturers are unable to meet our needs when it comes to such manufacturing. Being able to generate a precise toolpath that can be easily adjusted is very effective in such cases.
Narrated by President and Representative Director Akitaka Sugiyama
Whenever 3D part models are supplied to us from a customer, we always need to modify the part geometry for the machining process. Using other software systems, this process is extremely labor intensive. However, by implementing NX, we are able to reduce the time required for such processes by up to 70%. There are many powerful NC programming tools in NX CAM that help us shrink the time from the start of part model modification to the start of the actual machining by up to 80%.
We have confirmed via manufacturing using point cloud data that the controls are extremely fast, which can help us further reduce machining time. We also expect to see improvements in surface roughness. Therefore, we plan to implement Siemens controllers in the future. Also, we are considering introduction of labor-saving technology such as robots. We intend to utilize NX CAM to program robots for machine tending and machining. Our goal is to drive our production using one comprehensive software system that includes various powerful tools and features, such as using robots to automate our production.
Read the case study Akevono Kohgyo here. 
This article first appeared on the Siemens Digital Industries Software blog at https://blogs.sw.siemens.com/nx-manufacturing/case-study-accelerating-time-to-market-through-digitalization/