Products
Additive Manufacturing: Our Year in Review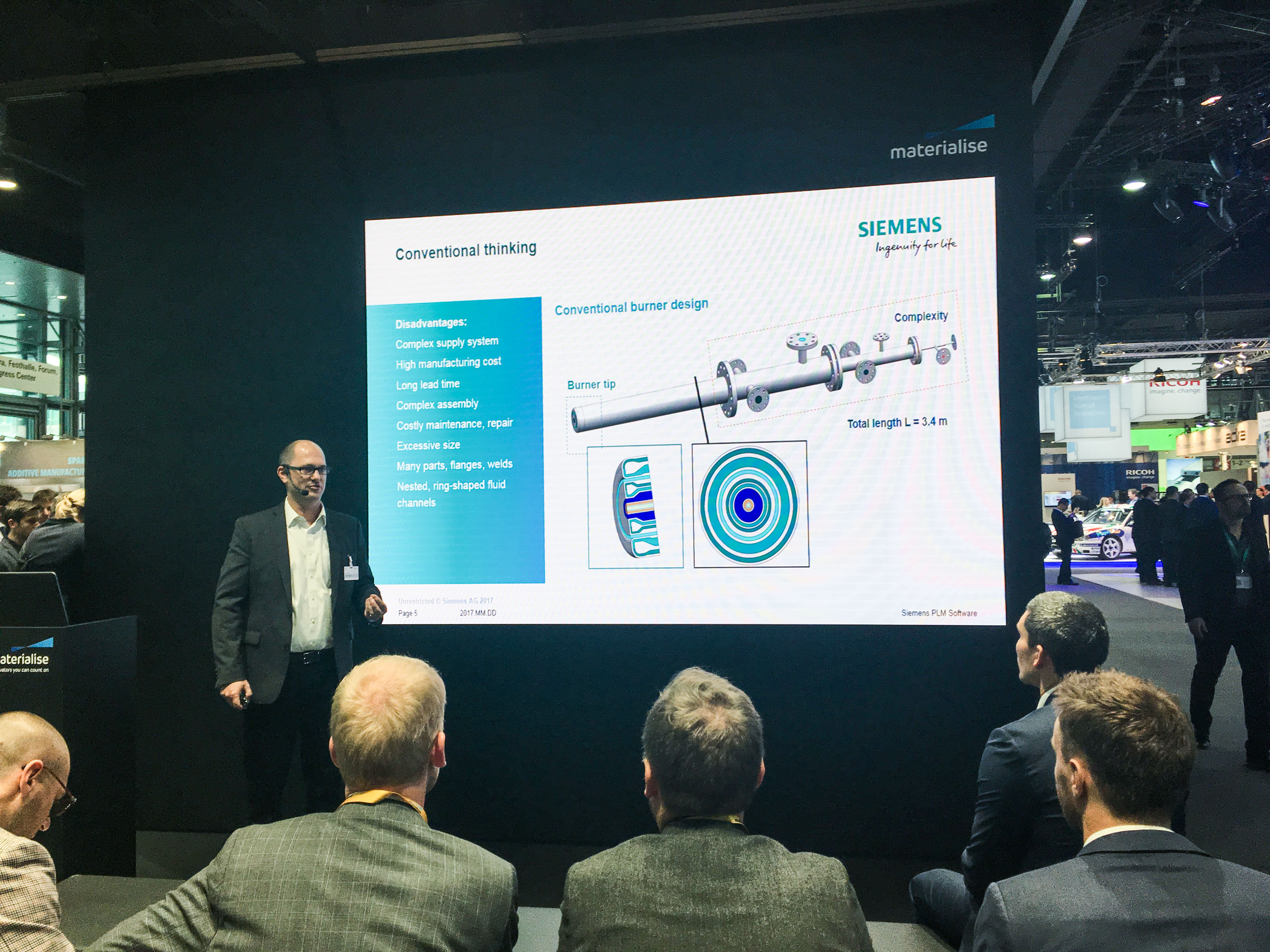 2017 has been an eventful year for additive manufacturing (AM), and Siemens has worked hard to be at the forefront of the charge. As we close out the year, I would like to look back with a little retrospective on the places we have been, and what we have accomplished. It has been a massive year for additive manufacturing, so let's dive in to the deep end.
Q1 – In the beginning…
Checking for excessive overhang in NX 11.0.1.The first quarter of the year saw the delivery of NX 11.0.1 which contained new tangible software targeted towards additive manufacturing. Highlights included validation checkers for additively manufactured parts, continued improvement of the Convergent Modeling system, and the introduction of our fixed plane additive manufacturing system for build setup and execution (powered by Materialise). These functions were to serve as the initial foundation for further additive manufacturing capabilities to come.
In the first quarter of 2017 we also shared our additive manufacturing story at the SAE 2017 Additive Manufacturing Symposium, and the Additive Manufacturing user's Group, where it was well received by the industry.
Q2 – Batting second in the order…
The second quarter was chock-full of large AM related events too. We participated at the Materialise World Summit in support of our partner, Materialise, and the largest event for Siemens globally, Hannover Messe both in April. These were quickly followed by Rapid, and our own PLM Connections conference in May.
A view of the Siemens AM booth at Hannover Fair 2017.Hannover Messe (or Hannover Fair) is hands-down the largest single event that Siemens participates in annually. Each year the Siemens booth exhibits all of the various applicable Siemens technologies, including the software that we create here in the Product Lifecycle division. This year, there was an entire section of the booth devoted to additive manufacturing and visitors got to see the entire breadth of Siemens' offerings for AM in one place. If I had to pick a single word for the Siemens display at Hannover Messe it would be, "impressive."
Our panel of experts for the AM thread at PLM Connections 2017.PLM Connections was of course a highlight for the Siemens Product Lifecycle team and we had a very successful additive manufacturing thread where members of the industry led discussions about the state of the art in additive manufacturing. Our friends from Deloitte, Stratasys, Materialise, and Caterpillar along with several Siemens employees gave incredibly informative talks that were, honestly, the best presentations I've ever seen at these conferences with regards to center-of-target, actionable information that was relayed to the participants. Furthermore, the roundtable session at the end of the day had the best discussion and trading of ideas that I have seen to-date at PLM Connections.
Q3 – On the downhill slope…
A lattice structure designed in NX 11.0.1. (Powered by Materialise)In the third quarter of 2017 we released NX 11.0.2 which included a new integrated Lattice structure creation tool (powered by Materialise), allowing our customers to create lightweight structures for additive manufacturing without resorting to the use of external applications. We also introduced a designer-level topology optimization solution, further evolving our integrated AM software suite.
In August, we were delighted to support our partners HP and Deloitte at an event where they announced their own partnership around additive manufacturing and the transformation of the manufacturing industry.
September was also another big month for trade shows and conferences as we hosted our annual Industry Analyst Conference where we take some time out to share what we've been doing and what we're working on with members of the analyst and press community. Michelle Bockman from HP and Aaron Frankel from Siemens shared the stage during this event to talk about our shared vision for industrializing additive manufacturing. It was also during this event that we announced our new NX AM for HP Multi Jet fusion package meaning that NX is now certified for use with HP's 3200 and 4200 series 3D printers.
As if that were not enough, we also sponsored a booth at the EMO show in Hannover, Germany where additive manufacturing was featured as part of the Digital Machine Shop story.
Q4 – Closing the year strong!
As 2017 began to wind down, the additive manufacturing events were not slowing down one bit. At the end of October, we released NX 12, the newest version of NX, which included further refinements of the lattice structure capabilities with the ability to create lattices that conform to an underlying surface. In the CAM software application, we also introduced the ability to create support structures within the build tray, which is useful especially for 3D printing of metal parts.
Dr. Martin Hillebrecht, EDAG Engineering GmbH (image courtesy of plmeurope.com)In October, we had our PLM Europe user's conference where Dr. Martin Hillebrecht from EDAG Engineering GmbH talked to a packed room about their work additively manufacturing parts for automobile frames.
Aaron Frankel speaking in the Materialise booth at Formnext 2017. (Image courtesy Materialise)This was followed in November by the Formnext show in Frankfurt, at which Siemens had a large booth where attendees could talk with subject matter experts about every aspect of additive manufacturing from design to printing. Our friends at Materials Solutions were there with us to talk with attendees about using their services for printing of highly complex metal parts. You may also have seen various Siemens employees (including myself) cross-pollinating with our partners throughout the hall. I staffed a special Siemens desk at the HP booth and gave a few presentations in their theater, while Aaron Frankel presented several sessions at the Materialise booth.
Looking forward…
It has been an absolutely incredible year for additive manufacturing. Just one look at the floor of Rapid or Formnext should tell you that additive is already huge with exceptional potential for growth. I am looking forward to writing this post again next year to review all of the exciting things that will happen in 2018. It is an amazing time to be working on a technology that is moving from infancy to adolescence, so buckle up. 2018 is going to be a wild ride.
What are your thoughts about the growth of additive manufacturing and its potential? Does your company have plans to introduce additive into the mix in 2018? Did you have a favorite AM event from 2017 or are you looking forward to one in 2018? Let me know in the comments section below.
This article first appeared on the Siemens Digital Industries Software blog at https://blogs.sw.siemens.com/nx-manufacturing/additive-manufacturing-our-year-in-review/