PLM World's Regional Users Group Meetings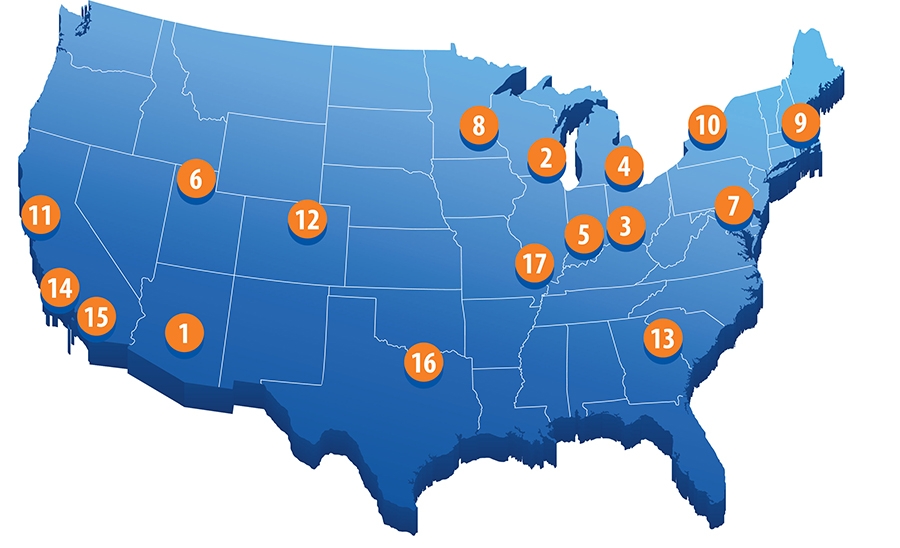 The 2018 regional user groups areupon us. This year, there are 16 events for the states planned. Scroll down to find your closest conference .
For those of you who aren't sure of what a Regional User Group is ( or R.U.G )…Regional Users Groups aim to be a local source of information and education on the usage of all Siemens PLM Software products. RUGs typically hold several meetings per year to discuss various topics of interest to their members. For instance, last year was my first time attending a RUG event. I was able to interact with many local NX users, and learn on how they're using NX to better their product. Many people come to learn, network, and enjoy the atmosphere of this event.
Here's a couple of images from last years RUG event in Cincinnati, OH from a user on snapchat:
2018 Regional Connections: PLM World Regional Users Group Meetings Information:
For more information please visit: http://www.plmworld.org/rugevents
*Scroll right on the table to find the location.
| | | | | |
| --- | --- | --- | --- | --- |
| Pin | RUG event | Website | Date | 2018 Location |
| 1 | Arizona | http://www.plmworld.org/arizonarugevent | 11/1/2018 | Tempe, AZ – Arizona State University |
| 2 | Chicago/Wisconsin | http://www.plmworld.org/caugwugrugevent | 10/16/2018 | Gurnee, IL – Holiday Inn |
| 3 | Cincinnati | http://www.plmworld.org/cincinnatirugevent | 10/23/2018 | Springboro, OH – Heatherwoode Golf Club |
| 4 | Detroit | http://www.plmworld.org/detroitrugevent | 10/11/2018 | Troy, MI – Marriott Troy Hotel |
| 5 | Indiana | http://www.plmworld.org/indianarugevent | 11/8/2018 | Indianapolis, IN – Andretti Racing |
| 6 | Intermountain | http://www.plmworld.org/intermountainrugevent | 9/25/2018 | Ogden, UT – Comfort Inn and Suites |
| 7 | Mid-Atlantic | http://www.plmworld.org/mid-atlanticrugevent | 10/18/2018 | Linthicum, MD – Maritime Institute |
| 8 | Midwest | http://www.plmworld.org/midwestrugeventp | 10/4/2018 | Maplewood, MN – 3M Corporation |
| 9 | New England | http://www.plmworld.org/new_englandrugevent | 11/6/2018 | TBD |
| 10 | New York State | http://www.plmworld.org/new_yorkrugevent | 10/2/2018 | West Henrietta, NY – RIT |
| 11 | Northern California | http://www.plmworld.org/n_californiarugevent | 10/9/2018 | Fremont, CA – Siemens office |
| 12 | Rocky Mountain | http://www.plmworld.org/rocky_mountainrugevent | 9/27/2018 | Boulder, CO – Ball Corporation |
| 13 | Southeast | http://www.plmworld.org/southeastrugevent | 9/13/2018 | Hendrick Motorsports – Charlotte, NC |
| 14-15 | SoCal – Los Angeles/San Diego | http://www.plmworld.org/socalLArugevent | 10/31/2018 | Cypress, CA – Siemens office |
| 16 | Southwest | CANCELLED | CANCELLED | CANCELLED |
| 17 | St. Louis | http://www.plmworld.org/stlouisrugevent | 11/15/2018 | Emerson Corporate Office |
This article first appeared on the Siemens Digital Industries Software blog at https://blogs.sw.siemens.com/nx-design/plm-worlds-regional-users-group-meetings/