NX Openness – Introduction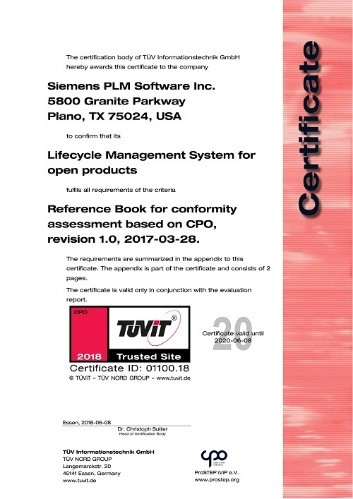 Customers value openness, and for many years Siemens PLM Software has demonstrated a commitment to openness in terms of the way we do business and develop technology. But what exactly is openness and how can customers measure it?
Historically, we have described openness in terms of 4 key business and technology areas:
Open data – customers should own the data that they generate and be free to share it among different software applications.
Open products – customers should be able to integrate software as seamlessly as possible with other enterprise systems, and customize software for their specific needs.
Open business model – vendors should be approachable and engage with partners as well as customers, offering partner programs and licensing technologies to other software vendors.
Open communities –vendors should support open communities to give customers a voice, and participate in interest groups and steering committees to drive customer-focussed innovation.
We have followed this model for many years and the benefits to customers should be clear. But how do we achieve a much broader consensus on what openness means, and how do customers assess and compare the openness of different software vendors?
The Code of PLM Openness
In recent years, an international Code of PLM Openness has been developed under the auspices of ProSTEP iViP, an international association committed to solving problems and developing modern standards for the manufacturing industry, with the participation of manufacturers and their suppliers.
The CPO initiative has matured into an effective organization for agreeing a mutual understanding of the importance of openness among software customers like Toyota, Airbus, Ford, Daimler, together with software vendors like Siemens PLM Software, Dassault Sytèmes and PTC.
The CPO documents around 50 openness criteria which vendors should satisfy if they are to make a legitimate claim to openness. CPO classifies these criteria into 7 themes:
Given our prior commitment to openness, and the parity between CPO and our own model for openness, it was a natural step for Siemens PLM to become one of the founding members of the CPO.
It's important to note that CPO does not place any legal obligation on a software vendor to comply with all the openness criteria that the code describes. Rather, software vendors self-certify their openness in accordance with the CPO. It may come as no surprise that software customers began to press for a more rigorous and independent assessment of vendor openness.
CPO Certification
More recently, ProSTEP iViP developed a certification for the Code of PLM Openness. This impartial and comprehensive assessment has been supported by the German Federal Ministry of Economics and Energy. In the light of Industry 4.0, the German Government has taken a serious interest in promoting interoperability among the wide range of solutions that large enterprises need to integrate across product design, analysis and manufacturing. The certification assesses a vendor's compliance with the CPO criteria in the context of organizational characteristics such as management culture and transparency, quality management, support for standards and customer focus
In June 2018, Siemens' Product Engineering Software (NX) group was among the first organizations to be certified in accordance with the Code of PLM Openness. Read the full announcement here.
This is the first in a series of articles that will explore NX Openness in more detail, reflecting on how NX performs with respect to the seven CPO themes described above. The next article in this series will focus on Interoperability and explore how NX succeeds in meeting customer expectations in this area
This article first appeared on the Siemens Digital Industries Software blog at https://blogs.sw.siemens.com/nx-design/nx-openness-introduction/