Migrating to NX – A Two-Step Process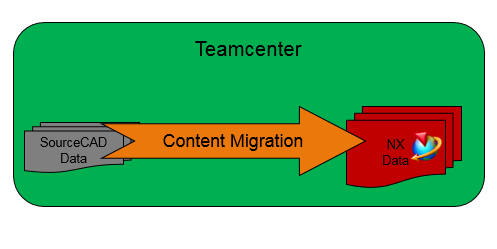 Migrating to NX
A Two-step Process
When we discuss migration, it is commonly only thought about in terms of moving from CAD "A" to CAD "B." In reality though, migration is normally a two-step process that involves first migrating the SourceCAD metadata and associated files from the original PDM system into Teamcenter. This Step 1 Migration, as we call it, is just as important as the CAD-to-CAD migration that comes later, which we refer to as Step 2.
Moving the SourceCAD data into Teamcenter is important for the following reasons.It must be done properly in order to preserve the association between CAD files. The metadata associated to the SourceCAD files in the legacy PDM system includes data such as creation dates, versioning/revisioning information, last modification dates, owning users, and likely release or engineering statuses that correspond with development milestones; all of this information must be preserved. Another item to consider at this point in the process is how many versions of each CAD file will be moved from the legacy system into Teamcenter. Generally customers opt to bring only the latest version into Teamcenter. Migrating the latest version into Teamcenter allows for faster and simpler migration as the older versions are not being moved and managed.
During the process of moving from any SourceCAD to NX, time must be allotted for Step 1 Migration. Overlooking this critical step in the planning phases will delay the move to NX. The image below illustrates Step 1 Migration.
Step 1 Migration
The second step of migration is what everyone tends to focus on. This is the actual CAD-to-CAD migration, or Content Migration, meaning that the content of the CAD files is being moved to NX. This is accomplished with the Siemens PLM software product Content Migration Manager (CMM). CMM supports several methods of migrating data. These methods include Part B-Rep or Part Features, Assembly Structure and Constraints, and Associative Drawings. To determine the best approach to suit your company, it is recommended to engage the Siemens PLM Software Migration Lab and Services Team for an Initial Audit and Training. The image below illustrates Step 2 Migration, also called Content Migration.
Step 2 Migration
In summary, the process of migrating from any SourceCAD to NX should be divided into two unique steps as discussed. Both the metadata and content migration are equally as important and consideration needs to be given to both during the development of a Migration Plan to ensure a successful transition to NX.
This article first appeared on the Siemens Digital Industries Software blog at https://blogs.sw.siemens.com/nx-design/migrating-to-nx-a-two-step-process/