Electronics Integration: Bringing the two worlds together with ELMA.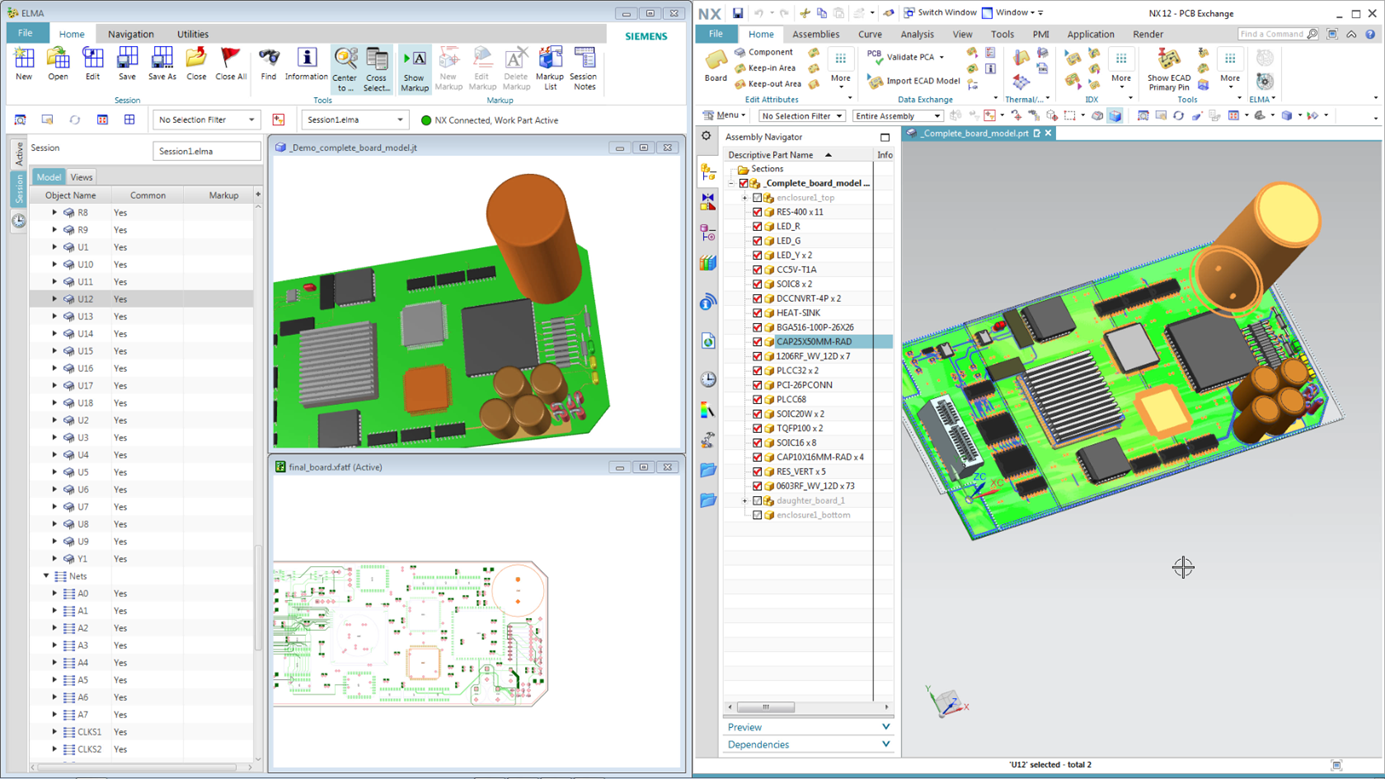 There was always that situation where the mechanical design was progressing nicely and the PCB board outline, keep-in keep-out zones and height limit constraints were 'thrown over the fence' to the Electronic CAD guys so they could design the PCB. All was fine until that day when the response would come back "we've done the layout now, here's the final design".
The moment of trepidation after weeks of waiting for the import to load, the engineer would call the team over to gather round the dimly lit CRT monitor and see, hopefully, a perfect solution. Of course that rarely happened, the list of issues comes across on email (scribbled on a post it note in my day) of where the design would not fit and further mechanical changes were necessary.
Then ensued the discussion where the entire team would pressure the engineer to "resolve the issues" and "let me know when it's sorted".
Of course, time moves on and we now have more robust methods for data exchange using standard protocols such as IDX (think of JT or DXF for electronics). This is fine for the guys using the CAD tools but what about the rest of the team? How does the design manager, manufacturing engineer and test specialist review progress? Do they still need to adopt the 'peering over the shoulder' pose?
Not any longer.
ELMA (Electrical Logical Mechanical Application) is a standalone lightweight visualization tool for Schematic, PCB layout and 3D CAD with full cross-probing and mark-up that is easy to use and available to all stakeholders in the design process.
With ELMA, you can now participate in the design review and monitor progress without the traditional 'huddle' approach. So what can you actually do with ELMA?


Load PCB schematic and PCB layout files from any ECAD system (using a neutral file format)


Load 3D mechanical designs from NX (using PCB Exchange JT file creator)


Perform bi-directional cross-selection and highlighting between all views of the design, electronic and mechanical for components and traces (nets)


Run comparisons between MCAD and ECAD for components, nets and primary pin locations


Execute a design review from a checklist loaded from your company process


Create mark-up comments and share throughout the team


So ELMA is extremely easy to use for those team members less familiar with (or no access to) NX and the ECAD authoring tools without the burden on the engineers. Any good concurrent process in a company normally contains release gates/status for reviews, so ELMA should fit right in.
And that's not all!
For the mechanical engineer, ELMA can be used alongside NX and supports full bi-directional cross-selection and highlighting for a more detailed review such as assembly clearance analysis.
So ELMA helps eliminate synchronicity errors between ECAD & MCAD designs, improves efficiency when comparing design iterations and integrates team members less familiar with the authoring tools in your process.
For a more in depth look, visit the Siemens booth 221 at PLM Connections in Phoenix June 2018.
This article first appeared on the Siemens Digital Industries Software blog at https://blogs.sw.siemens.com/nx-design/electronics-integration-bringing-the-two-worlds-together-with-elma/