Corporate
Producing Food and Beverages in the Digital Age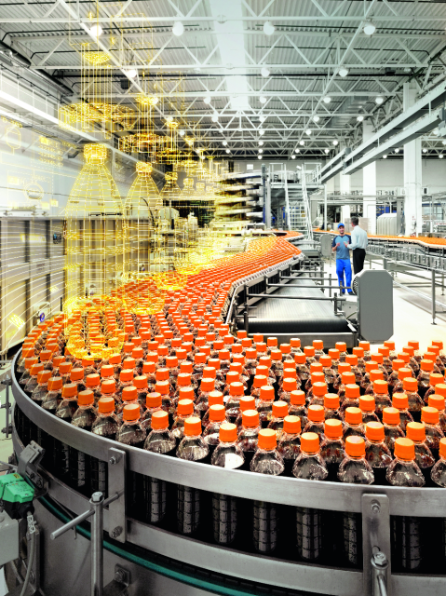 Digitalization Overview
My earlier post, Surviving the New Competitive Landscape in Food and Beverage, introduces the need for companies to leverage digitalization to compete in today's rapidly evolving industry. The post explains that the market is changing, challenging the status quo as barriers to competition drop and small, innovative companies begin to take hard-earned market share away from traditional leaders.
What are these innovative companies doing to disrupt the industry? They're leveraging the digital enterprise to redefine the rules of competition. They're able to identify and react to changes in market and consumer needs by launching innovative new products across their global supply chains with unprecedented speed and quality. They're also using digitalization to drive productivity throughout their operations from R&D to the plant, and turning knowledge into a competitive weapon by harnessing data to develop unique insights to drive further innovation and improvement.
How can companies compete with these innovative challengers? We've identified three primary initiatives food and beverage companies can pursue to take advantage of the digital enterprise opportunity:
Producing Food and Beverage in the Digital Age
Each of these can provide significant value and bring a company closer creating a complete digital thread and become a digital enterprise. The combination of these three initiatives promises to provide even greater competitive value. This post focuses on the key role that Manufacturing must play by delivering on innovation. Digitalizing manufacturing drives speed, quality, and efficiency into plants and supply chains to help companies compete in the new market reality. Let's take a look!
Bottling in a beverage plantProducing F&B in the Digital Age
What does "digital" manufacturing look like? Digitalized plants are agile, and operate at very high levels of productivity. They can respond quickly to changes in demand, new products, and increased levels of product personalization. While variability and change traditionally drive inefficiency, the digital plant adapts while maintaining the high productivity, quality, and low cost demanded by tight consumer markets.
Beyond high manufacturing performance, the digital production enterprise provides a much higher level of transparency and traceability. They leverage new sources of data like the Industrial Internet of Things (IIoT) to gain new insights into products and production. This helps improve customer satisfaction by offering increased visibility into the source of the products people consume. It also provides the enterprise with detailed visibility into operations and performance across the manufacturing network and the supply chain. This information, particularly coupled with advanced analytics, helps companies continuously improve performance, drive higher levels of consumer satisfaction, and enhance corporate profitability.
Manufacturing Transformation
Manufacturing needs to embrace the digital enterprise. Many companies have already invested in operational improvements over the past decade. But competition today demands a level of agility and productivity that goes beyond the capabilities of automation. Increasing automation, while valuable, will no longer be enough to compete in the digital age.
Bakery plant
The keys to digital manufacturing are digital product and production models. Complete, digital product definitions provide the ability to model production on a digital twin of production facilities and equipment. Through digital modeling and optimization, manufacturing can develop, validate, and optimize production processes in the digital realm before deploying to the shop floor to build in productivity, flexibility, and quality.
Beyond modeling in the digital world, the digital manufacturer can virtually commission production on automated equipment by transferring the digital model to production control systems. This provides speed and agility to produce small batches of customized products without compromising efficiency. Digitally monitoring and tracking production also provides the ability to not only detect and correct issues in process, and even learn to predict and correct them before they occur. Digitalization can also help create a learning organizations that leverages data to improve quality and productivity at the line, plant, and manufacturing network levels over time. Let's look at some key aspects of the digital food and beverage manufacturer.
Focus: Digital Products for Digital Plants
One of the primary ways digital plants are different is their ability to accept a digital product model and rapidly transform it for local production. Digital production planning can receive an R&D recipe, perhaps in the form of an S88 (ANSI/ASI-88) General Recipe, and easily expand the model with the necessary site and equipment specific information needed for execution. This provides a level of efficiency that lets plants optimize formulas to accommodate raw ingredient variability and introduce new or tailored products at a remarkable pace.
Focus: Digital Process Design and Validation
Developing a digital model of the plant, lines, and equipment provides value in multiple ways. Cohesive, integrated modeling bridges the gap between R&D and the plant and facilitates collaboration between manufacturing and R&D. As new products are developed, process engineers can simulate production of the digital product on a digital model of the plant to identify potential issues in advance, ensure quality, and drive high levels of productivity.
Digitalization also allows the plant to rapidly evaluate, simulate, and optimize product introductions or changes with the confidence that all impacts are identified in advance. This allows companies the business agility to incorporate productivity, quality, and cost improvements more rapidly and with fewer unintended disruptions.
Focus: Digitally Designing Plants, Lines, Equipment
Digitalization also helps manufacturers design optimal production facilities and lines in the first place. Today's digital tools allow manufacturers to model plant layouts, material flows, and individual lines. Then, they can run simulations to optimize productivity in the digital environment before committing to procuring and installing equipment. As the plant is designed, engineers can design in agility through automation. The results include both more efficient design and optimal production capabilities.
The modern digital twin of the factory goes beyond the physical aspects of the plant. Digital models can incorporate all aspects of lines and equipment, including mechanical, electrical, IT, and controls. Cohesive production modeling supports collaboration and co-design between engineers of different disciplines such as IT, manufacturing, and logistics. Today's models can also simulate and optimize sustainability and cost factors in advance, including utilization of resources such as operators, energy, water, and more. Engineers can even model and simulate equipment data streams to support process control, analytics, IIoT, predictive maintenance, and other functions.
Focus: Operating in a Digitalized Environment
Bottling LineThe digital plant operates with unprecedented levels of speed, agility, quality, and productivity. Digitalized plants can accept demand signals from the supply chain to closely synchronize production with demand. They can digitally plan and optimize batches and batch sequencing, and make fast changeovers. They operate at digital speed.
Digitalization also provides accurate, timely data so the plant can monitor and control production to quickly isolate and correct out of spec conditions. With IIoT and machine learning, these issues can be predicted based on past performance. Digital plants enjoy a short feedback loop instead of learning of problems after it's too late to react. The information stream also results in electronic batch records that automatically capture critical production history in an integrated digital thread.
Beyond real-time monitoring, plants can capture data and analyze metrics across batches to create a feedback loop to continuously improve, feeding information back to engineers, operators, R&D, and others so they can drive quality and cost improvements. The data can also be used for more, for example allowing companies to identify potential cross contamination of allergens or other compliance-related issues while there is still time to address them. Data captured from the plant and the IIoT can also be used to monitor equipment for potential issues and shift to predictive maintenance to increase uptime and utilization.
Other Potential Uses
The opportunities available to digital manufacturers are extensive. Some examples of advanced opportunities for higher maturity companies include:
Digitally receiving inbound ingredient information from suppliers, reducing duplicate data entry and making formula adjustments before materials hit the dock
Monitor and track CO2 production or energy usage to drive cost and sustainability improvements
Go beyond tracking KPIs for a single plant and benchmark facilities and equipment across the enterprise
Benchmark production equipment with equipment supplier data to see how productivity compares to other companies to learn from others and improve performance
Learn from issues in equipment outside of your business to make proactive adjustments to prevent failures and downtime
Feed real equipment data back into the digital twin / modeling environment to improve the accuracy of simulations for better optimization
Digitalization provides a foundation to expand on to create new value, opening up the opportunity for these kinds of initiatives and more.
Enabling Digitalization in Manufacturing
Transforming manufacturing to the digital enterprise requires more than plant automation and controls. It requires a platform of solutions that integrates processes from product modeling through the plant. It starts with a cohesive modeling environment that incorporates the full product definition and the ability to accept and transform R&D formulations without recreating data.
But the supporting solutions shouldn't be limited to the product. They should allow manufacturing to model and simulate product, equipment, and controls together to design optimal production facilities and rapidly deploy new, improved, or customized products directly to the plant.
One of the most important supporting capabilities is the ability to model, capture, and share information on a single data backbone. This requires a comprehensive data model that integrates everything from product requirements through lab test data. The data must be coupled with integrated workflows that create a comprehensive digital thread from design through production for transparency and traceability. This also creates the right data for analytics spanning designs, plans, and production results to discover improvement opportunities.
The Digitalization Payoff in Manufacturing
As the Surviving the New Competitive Landscape in Food and Beverage post concludes, digital enterprise techniques provide the ability to significantly improve plant design, commissioning, and operations. The digital manufacturing enterprise is different. It can efficiently react to changing requirements and demand by rolling out recipes to flexible, smart plant equipment. This makes the digital manufacturer agile, fast, and highly productive.
Manufacturing in the food and beverage industry must raise the bar. Far beyond the paper processes of the past, they need to automate and digitalize in order to compete with new companies that are natively adopting a digital mindset. How will your manufacturing operations transform?
Jim Brown is the President of Tech-Clarity, an independent research firm focused on how manufacturers use best practice processes and software to drive operational improvement and business value. www.tech-clarity.com
This article first appeared on the Siemens Digital Industries Software blog at https://blogs.sw.siemens.com/news/producing-food-and-beverages-in-the-digital-age/