Corporate
Moving Product Innovation and Engineering to the Cloud – What's Your Plan?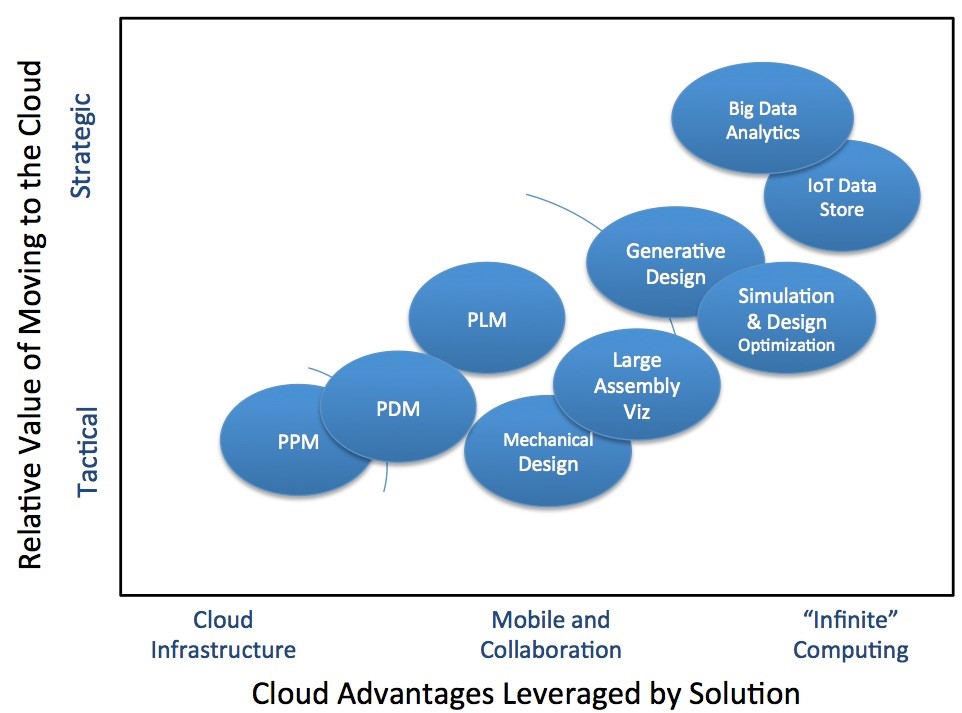 Moving Product Innovation and Engineering to the Cloud – What's Your Plan?
by Jim Brown, President, Tech-Clarity
The Cloud is Calling
The cloud holds a lot of promise to help manufacturers reduce the total cost of ownership (TCO) of their enterprise applications and engineering tools. It lets them take advantage of economies of scale and shifts costs from capital expenditures to more manageable, operational expense items. It also reduces the load on the internal IT team.
But there's more to the benefits cloud computing offers than cost and resource savings. Web-based services offer the potential for better performance than most companies can achieve on their own. They also reduce business risk through more flexible licensing strategies like subscription pricing (although there are other ways to achieve this) and allow companies to take advantage of new releases more rapidly. Our research even shows Top Performers (companies with better revenue growth, margin expansion, innovation, and cost reduction) are more likely to use cloud solutions.1
Is it Time to Answer the Call?
So it's time to turn to the cloud for product innovation, product development, and engineering software, right? Maybe, but it's not that simple of a decision. Is it ever? First, it's time to develop a strategy. As our recent Exploring Cloud Options for Product Innovation and Development eBook concludes "The time is right to take advantage of the cloud, but it's not a trivial decision or transition for product innovation, product development, and engineering software."
It's important to realize that moving to the cloud isn't a "one and done" operation when you decide when and how to leverage cloud applications. The cloud isn't an "all or nothing" proposition, it typically happens in stages. That relieves a lot of pressure because you don't have to find a cloud solution that fits all of your needs at once. Companies have the opportunity to pick and choose which capabilities should reside in the cloud, and when.

Source: Exploring Cloud Options for Product Innovation and Development eBook
What Should You Move to the Cloud?
Companies have to do some work to decide what to move to the cloud, when to make the change, and what deployment options work best for them. That's a lot to consider! To state the obvious, deciding what application to moves to the cloud shouldn't put cost as an overriding factor over functionality. Low TCO on the wrong solution may reduce the investment, but doesn't create compelling business benefits. So make sure you know your functional requirements before getting too enamored with technology options.
But where should you look first? TCO reduction applies across the board, from enterprise solutions like PLM to design tools. Not all cloud opportunities, however, offer the same benefits. Some areas offer more strategic value on the cloud than others (see graphic). For example, IoT and big data analytics solutions require cloud-level computing resources to be effective. Most companies don't have the resources to do that internally.
But some applications could be run inside the business or out. Some key examples are simulation and generative design. Running these solutions in the cloud offers significant benefits by tapping the elastic, infinite capacity of the cloud. So prioritizing these applications to improve performance in addition to recognizing cost savings is a valid strategy.

Source: Exploring Cloud Options for Product Innovation and Development eBook
When Should We Move to the Cloud?
The other major decision to make is "when" is the right time to move to the cloud. The decision can have a lot to do with company readiness to adopt the cloud and/or company policy. It typically requires some prioritization and tradeoffs. There may be very good reasons to prioritize changes to fill current gaps. Or your company may have pressing needs, like creating a new joint venture or losing support for an old package. These create business-oriented drivers for cloud timing.
One of the key factors for most companies is what cloud offerings and plans are available from current software vendors. There's an compounding relationship between the risk of changing technologies and the risk of changing the cloud delivery option. Specifically:


Upgrading an existing solution with the same cloud deployment option is relatively low risk, but probably carries a lower benefit.


Changing applications at the same time you change your cloud deployment option, on the other hand, drives high change risk.


This leads many companies to change only one of these factors at a time. For this reason, you may choose to wait for your existing solution to be deployed in a cloud environment that meets your needs. That may turn out to be a great factor in determining transition timing and approach than any preconceived "ideal" scenario.
Know Your Options
So what options are available today? The eBook describes a series of options, including:


Cloud SaaS (multitenant) – Software natively architected for the web, shares software and databases across customers


Cloud SaaS (single tenant) – Software delivered as a service on the web, typically shares software across customers


Managed Service – Software deployed on the cloud and managed on behalf of the customer, allowing customization for unique needs


Infrastructure as a Service (IaaS) / Hosted – Traditional deployment but using servers in the cloud


Private Cloud / On Premise – Traditional deployment on company servers


Each has plusses and minuses to consider. But remember, most companies aren't starting from scratch. This is not an "assemble to order" process where you order from a menu of options, such as "I'd like FEA on Cloud SaaS please." It's important to understand what's available. One good place to start is to understand and align with vendors' timelines, and check what options are available from both your vendors and their partners.
The decision-making process will vary for every company, but there are some commonalities that can be helpful. The eBook offers a sample decision-making framework for companies to follow based on current application maturity, existing solutions, requirements, timelines, company policies, and their vendors' current offerings and cloud strategies.
The Bottom Line
The decision to move engineering and innovation software to the cloud is not a simple one. It requires self-reflection and analysis to find the right capabilities to move and when to make the transition. Most companies will have to pick and choose, and their strategy will likely look more like an evolution than a revolution. The resulting initiatives frequently result in hybrid solutions with a phased transition over time. It's time to know your requirements, understand the cloud options, recognize that some solutions gain extra power from the cloud, and put forth a transition that aligns with your needs, policies, and your vendors' strategies.
1Source: Product Lifecycle Management Beyond Managing CAD
Read the eBook to learn more about Product Innovation and Engineering cloud options and how to develop a strategy for your company.
Jim Brown is the founder and President of independent research firm Tech-Clarity. Jim is a recognized expert in software solutions for manufacturers, with over 25 years of experience in application software, management consulting, and research. He has extensive knowledge about how manufacturers use Product Lifecycle Management (PLM) and other enterprise applications to improve business performance.
This article first appeared on the Siemens Digital Industries Software blog at https://blogs.sw.siemens.com/news/moving-product-innovation-and-engineering-to-the-cloud-whats-your-plan/