Products
Vixel's Virtual Reality Solution for 3D building projects leverages JT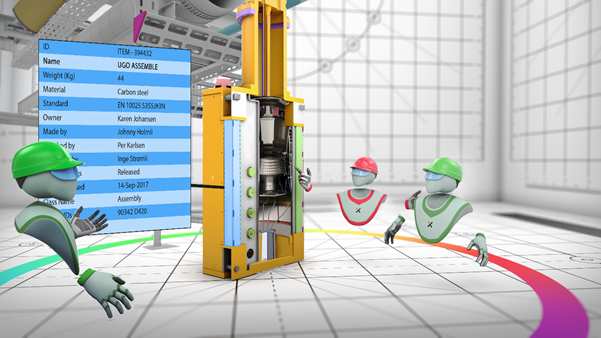 Vrex is where your whole project comes together, in AEC, PEC, Civil Engineering, offshore, industrial application and other cross-diciplinary projects.
2020 was the year that kickstarted remote working across the world. – More people are working digitally than ever before, and they are quickly discovering the limitations of traditional methods for discussing complex engineering problems and constructions. – This is where Virtual Reality (VR) comes in. – Vrex, created by Vixel, lets you work remotely inside your project surrounded by your data in a 1:1 scale. Just as it should be, with no file-sharing required. It just works.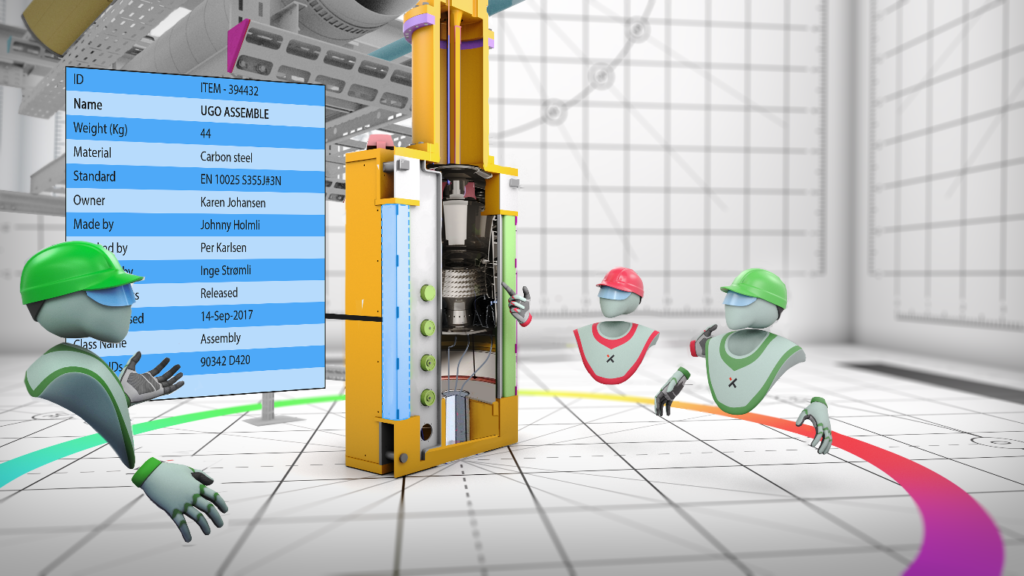 Vrex + JT from Siemens makes Vrex one of the most powerful VR applications on the market for complex project coordination in VR, using off the shelf available hardware.
Effective sharing of data across software-platforms in multi-disciplinary teams is key to successful collaboration in the age of Industry 4.0, which is transforming traditional manufacturing with a host of smart technologies such as sensor data analytics, automation, machine learning, cloud computing and AI. Unlike some of these technologies which may take time to implement, Virtual Reality can be deployed in your projects today, fully automated with minimal effort.
Vrex works with open formats to seamlessly and automatically bring 3D models and information from any CAD system into Virtual Reality, and to facilitate team discussions and remote collaboration.
One such format is JT, the open and published data format that has been accepted by ISO as an International Standard for 3D visualization. JT is developed by Siemens Digital Industries Software and is offered as part of the company's open and flexible ecosystem. JT enables Vrex to bring users accurate 3D data and information in real-time, for better decision making. Vixel used the JT Open Toolkit to develop access to JT file content quickly and easily. A 60 day free trial of the JT Open Toolkit is available here.
Construction companies, infrastructure owners and the energy sector are early adopters of Vrex technology who enjoy great savings in construction of production units and assets. Vrex delivers significant time and cost savings, including:
1. Identification of challenges and potential problems early in the design phase
2. Fewer mistakes and reduced travel through remote collaboration
3. Reduced need for on-site rework by harnessing the right global resources simultaneously and rapidly fixing issues during design and engineering.
A 3D-model viewed on a 2D-screen will never give a true representation of your engineering plans, and results in confusing phone-calls and chaotic video-meetings using slow CAD-viewers that take too long to load.
With Vrex you are instantly inside your project with your team. No confusion, no misunderstandings. Just clear effective communication.
Benefits from working in VR:
Reduced risks in projects through clear communication and confident decision-making
Shorter decision times as all stakeholders can participate in VR to view and discuss instantly
Fewer mistakes arising in FEED and Detail Design phases
Costly rework reduced by early detection of challenges and mistakes
More effective remote collaboration in teams
Lower carbon footprint from reduced traveling
If you are interested you can try a free trial on the Vrex Website HERE.
This article first appeared on the Siemens Digital Industries Software blog at https://blogs.sw.siemens.com/jt-open/vixels-virtual-reality-solution-for-3d-building-projects-leverages-jt/