My principal hobby is photography and has been for many years. Despite my unwillingness to be an expert in anything, I have been endeavoring to attain a photographic qualification: Associateship of the Royal Photographic Society [ARPS]. This has proved rather challenging – I wrote about my most recent lack of success [better words than "failure" 🙂] here. I was wondering what to do next, when an idea was suggested to me …
Having failed to impress the ARPS assessors 3 times, I figured that there were about 3 ways forward:
Give up. As someone put it: make a suitable hand-gesture to the RPS.
Try again with a modified or completely new set of images.
Do something different.
(1) is not really my style. I was not keen on (2), as, having had 3 attempts, I was weary of the process. So, (3) seemed attractive.
There are various other, similar qualifications that I could endeavor to attain. A possibility, suggested by a well-respected photographic friend, was Associateship of the Irish equivalent or the RPS, the Irish Photographic Federation. This has very similar entry requirements to the ARPS and is considered to be of much the same stature. So, I decided to give it a go.
Like the ARPS, I needed to submit a panel of 15 images with a "statement of intent". I decided to update my ARPS panel a little – taking into account the RPS feedback needed slight reworking of 2 images. This was fine, but I ran into a small problem. The RPS allow a panel to be displayed [as I recall] on 1, 2, 3 or 4 rows; so 15 images in 3 rows of 5 images works nicely. The IPF require the images in 2 rows – no more, no less. This needed a slight rethink.
I looked at my set of images with a view to making two, balanced rows, with some particular strength in the top row. I came up with this: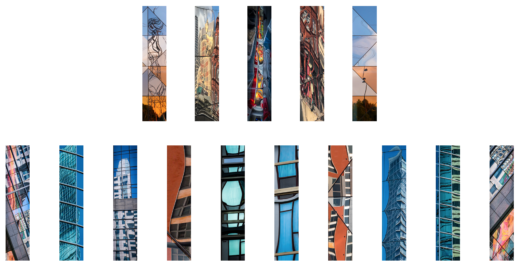 I felt that this worked well and I even preferred it to my original 3-row format. It is is interesting that a problem/challenge can yield an improved result. I decided to leave my Statement of Intent unchanged:
I enjoy the use of indirect imaging – silhouettes, shadows and reflections – particularly to depict a mood or an atmosphere. Reflections are the most expressive. The ubiquitous utilization of glass in modern cities means that reflections are many and varied. I have applied them to illustrate the vibrance and vitality – verging on chaos – of the urban environment, using a series of individual images with a common aspect ratio that depicts a sense of scale, and a presentation that complements the reflections.
It was my original intention to take my set of pictures to Ireland in person for the assessment session on 29 February and perhaps extend the trip to explore a part of the country that I had not previously visited. In the end, it proved too logistically challenging and rather expensive, so I packed up the pictures and shipped them. I heard that they had arrived safely and then nervously awaited the result …
On the following Monday, I got a short email, which included the key information: "Your panel was successful on Saturday. Very well received by the assessors." Phew! I am now entitled to put the letters AIPF after my name. I am also entitled to apply for an ARPS without the inconvenience of having my work assessed. And I might just do that!
Otherwise, I guess the way forward is to apply for a Fellowship of one kind or another. That may take a while …
This article first appeared on the Siemens Digital Industries Software blog at https://blogs.sw.siemens.com/embedded-software/2020/03/05/aipf/