Thought Leadership
A cozy chat with over 2,000 people
I have quite a busy life, as, apart from my work, I have a great many other interests and activities in which I participate. I am not complaining – I like it that way. However, sometimes we over-do it. Recently, there was an 8-day period when I was busy every evening: 3 movies, a wine tasting, a presentation at my camera club and 3 musical performances. One of these performances was on Monday evening, which, with the following day being work, I would not normally travel to anything. But this evening was special …
We were going to see Nick Cave. We are big fans of his and we have seen him before, but that was a music festival, where he was performing with his band, The Bad Seeds. But Monday evening was different. It was billed as "A conversation with Nick Cave". I had rather assumed that the conversation would be between him and an [unnamed] interviewer, with some music interspersed. It was not like that. The conversation was with the audience.

The show was at the Birmingham Symphony Hall, which is a great venue that we always enjoy visiting. As we took our seats, I looked around and it appeared to be just about full; the venue has a capacity in excess of 2000. On the stage was a piano, stool, mike etc., but also a number of small tables at which about 50 people were sitting. They seemed to be members of the audience – maybe they paid extra to get close up and personal with Mr. Cave. It is a big stage, so it did not look cramped. Above and behind the stage was some more seating, which was full. These people were looking out on to the main audience and down onto the stage. I have never noticed these seats before.
At the appointed start time, the house lights went down, so we were in almost total darkness. A recording of Nick Cave reciting some lyrics [he is a poet at heart] played. As it drew to a close, we could just see a figure walking across the stage to sit at the piano. He struck a single note, which triggered a stage light shining on him and Nick Cave sang his first song of the evening. After the song, he stood up and outlined the plan for the evening.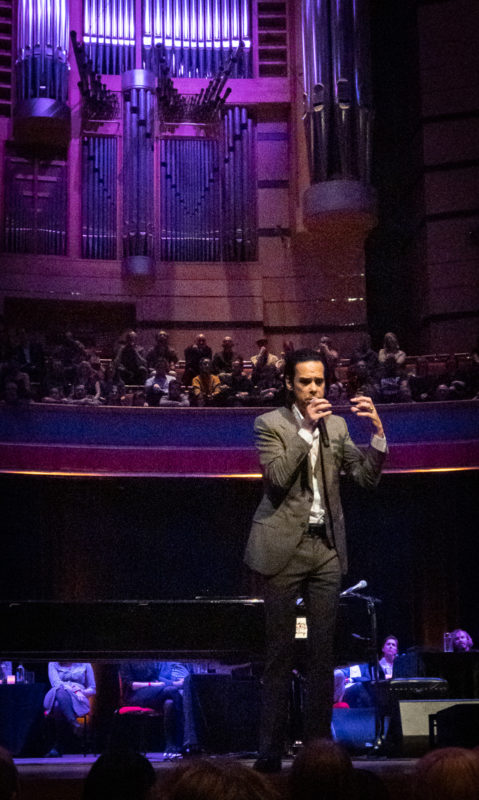 Nick explained that he wanted to have a conversation with us, primarily driven by our questions. Anyone in the audience could ask any question, no matter how trivial or profound or general or personal, and he would take a crack at responding. He admitted that he was terrified, as he had no idea what would happen. He said that he would play a song from time to time, as much for his good as ours.
And that is what he did for the next two and a half hours, with no interval. At the end, he got a spontaneous standing ovation. I, for one, was glad to stand up after such a long time sitting. ?
Keeping such a large audience entertained for so long, without a break, and making the environment feel so intimate, despite it being a huge hall, requires a very unusual talent. Nick Cave has such a strong presence that he could carry it off. If I were cynical, I might say that this is a great way to create a show at low cost: just get the audience to do loads of the work. However, there was something very genuine about Cave's desire to connect. This made the evening very emotional, sometimes slightly uncomfortable, but certainly a unique experience that I will not forget in a hurry. And worth turning out for on a Monday evening.
This article first appeared on the Siemens Digital Industries Software blog at https://blogs.sw.siemens.com/embedded-software/2019/06/20/a-cozy-chat-with-over-2000-people/