I am a bit of a language nerd. Although I only dabble in languages other than English, I find my mother tongue fascinating and I am very grateful for having the good fortune to be born to it. I have commonly said that I am bi-lingual. I speak English and gibberish – or, more likely, English English and American English. I have always enjoyed the description of the UK/US as "Two great countries divided by a common language", which is usually attributed to George Bernard Shaw. I have been reminded of this recently …
Last week, we attended some of the Hay Literary Festival, which takes place annually at Hay-on-Wye, only about 75 minutes drive from our home. We always regret not participating in the event, so I included it as one of my 12 Things for 2019 – I have checked that box now. I attended a number of very interesting talks, including one titled "The Future of Englishes" by David Crystal, who is a renowned expert in English.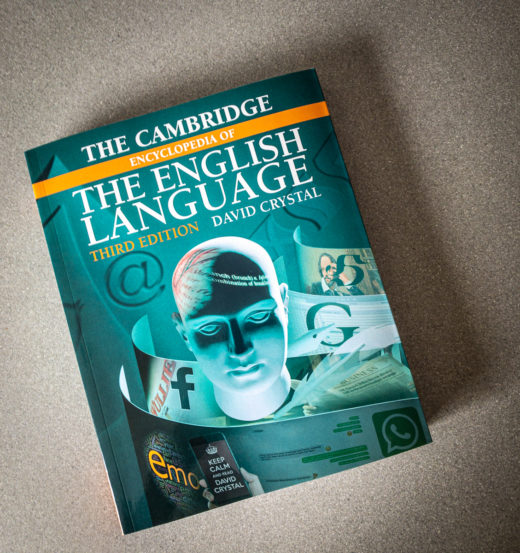 The key message of David Crystal's talk was that English is now very far from a single language – it is more of an adaptable communications tool. I take his point entirely and have long since given up thinking that there is a "proper" English and everything else is inferior. He observed that many facets of English variants are driven by local cultural references. As an example, he described the guy who introduced the talk as "The festival organizer who refreshes the parts that other festival organizers cannot reach". He observed that most of the audience understood the joke/allusion. Those people were British and over 40. This turn of phrase originated in a series of beer advertisements that last ran in the 1990s. He went on to quote other examples, from both sides of the Pond, where having a good command of English language is not enough to understand what someone is talking about.
This brought to mind a recent Facebook conversation that I had with an American friend. She had posted some pictures headed "NHS Induction". I had no idea what they were about, as, to me, "NHS" means "National Health Service". I enquired:
Me: "For the benefit of ignorant non-Americans, could you explain NHS please."
Her: "Requirements for the XXX High School National Honor Society are as follows: Sophomores, juniors, and seniors who have a 3.5 unweighted GPA are invited to apply at the end of the first semester each year. No B, C, or D discipline referrals. Three service contacts, one of which must be from school."
Although her answer was clearly written in English and I do not doubt that it was accurate, the only thing that I learnt was what "NHS" stands for in her world. I was left with more questions:
what is an Honor Society?
what are sophomores, juniors and seniors?
what is a "3.5 unweighted GPA"?
what is a semester? and when does it end?
what is a "discipline referral"?
what are "service contacts"?
I decided to not pursue the my enquiries, just accepting that this was all good news for one of her kids.
This article first appeared on the Siemens Digital Industries Software blog at https://blogs.sw.siemens.com/embedded-software/2019/06/06/two-great-nations/