I reported before on my plan to pursue 12 "goals" for 2019, where one of those goals was to have a meat-free month and that this month was going to be March. The month of March is nearly over. How have we fared? …
We had made it slightly easier on ourselves by not being truly vegetarian – we are allowed fish – or vegan – eggs and dairy are OK. However, I was very aware of many people's perceptions/attitudes to vegetarian food:
it is boring
you need to have cheese with everything
something is missing
you will have a craving for meat
it is not filling
The reality is that any food can be boring if you want it to be. Removing the meat from being the "main event" means that the onus is on the veg to be interesting. This focus has changed my approach to cooking a bit. For example, a few days ago I prepared some fairly plain fish with 2 vegetables:
zucchini [courgettes] sautéed with some finely chopped red pepper in garlic-infused olive oil
calabrese [broccoli] steamed and served in a satay [peanut etc.] sauce
This meal was definitely not boring! And there was no cheese.
Meat eaters generally feel that every meal needs to have some meat, so a vegetarian meal has, by definition, something missing. Putting aside the fish issue, I have not felt that my meals have been incomplete. I have also not been dreaming about meat. The only time that I feel at all constrained is, for example, when I go shopping to find myself some lunch, when some products are off-limits; but they are in a minority.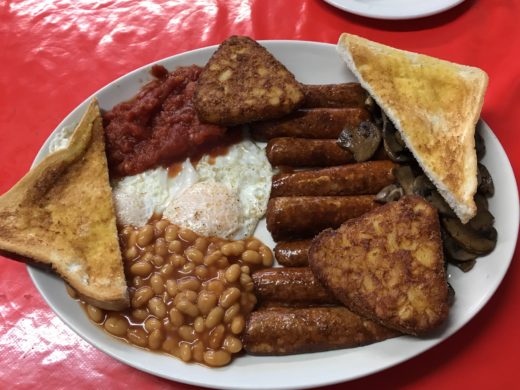 I was concerned that I might find non-meat food unsatisfying – I would not feel full enough. I have not experienced this. But I put the idea to the test in an extreme way. I have a favorite breakfast venue – a diner in an industrial area near my home. They do very large cooked breakfasts and I indulge myself there about once a month. I went there a few days ago and requested a "big breakfast", modified to be meat free. They seemed to rise to the challenge and were very keen to accommodate my needs. The bacon, sausages and black pudding had to go. But this left eggs, mushrooms, baked beans, tomatoes and toast. They added in hash browns and 4 vegetarian sausages [that turned out very palatable]. It was very good and, at the end, I was stuffed.
At the beginning of the month we decided on a course of action if we deviated from the meat-free plan during the month. We would simply add extra days on at the end. It turned out that we did deviate one day at the start of the month. We made a mistake and booked a restaurant [paying a deposit] that had a fixed menu that contained meat. So, our meat-free month will not finish until 2 April. Just 4 days to go …
This article first appeared on the Siemens Digital Industries Software blog at https://blogs.sw.siemens.com/embedded-software/2019/03/28/the-non-meat-month/