Thought Leadership
Signs of the times
First off, New Year greetings to everyone! Let's make 2019 a good one.
In the UK, it is somewhat traditional to have quite a long break over the Christmas and New Year period. I have just returned from mine, which extended rather further into the new year as my wife, Libby, has her birthday on 2 January and I always try to avoid it being lost in other celebrations. So, after various family-oriented Christmas celebrations, we had a few days away over the New Year period …
Months ago, we decided to book a cottage on the Eastern side of England for a few nights over the New Year. We knew that we liked the area and could explore some more and meet up with some family as well. We wanted a place with a private hot tub. What better way to see the New Year in than up to your neck in hot water? Libby found a nice place – a barn conversion on a farm that had the required facilities.
Over the years, we have rented quite a few houses for vacations in the UK and elsewhere. So, we know how it works. As expected, a couple of weeks before our stay, we received some documentation: directions, access information and some notes on the use of the property in general and the hot tub in particular. There were many pages of information. The rules and instructions for the hot tub alone ran to about 4 pages! I like feeling informed and concluded that the owners obviously wanted to be thorough.
We arrived at the property late afternoon on Sunday – taking care not to show up before the specified arrival time. I keyed in the magic number [apparently different for each lot of guests] into the keypad by the gate, which opened for us. At the house, another code was needed to retrieve the keys. I wonder why they could not make them the same code …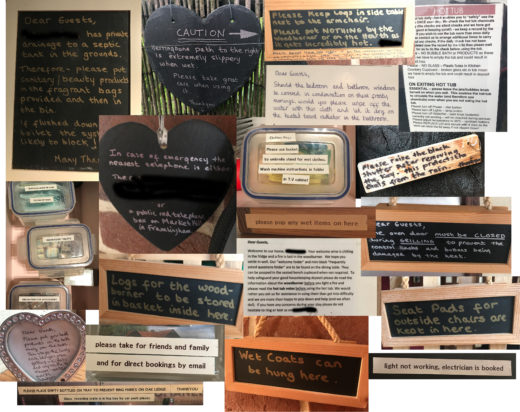 Our first impressions of the place were very positive. It was very nicely fitted out and comprehensively equipped, with everything a high standard. There was a folder of instructions, much like what we had received in advance, but with much more detail and more information. Again, I liked to feel informed, but was beginning to be concerned that we might transgress something in the small print and forfeit our deposit money.
Overall, we enjoyed staying in the house, which suited our needs perfectly. But I was increasingly disconcerted by the signs. Everywhere I looked there was a little notice telling me about an item or forbidding me from doing something. After a while, I was so bemused that I started to snap them and count how many there were; I have 19 photos, some of which include more than one sign!
The effect of all these signs was to make the stay less relaxing – never being quite sure when an instruction might be issued. There was also a dissonance. The place was styled and fitted out like a good hotel suite, but the profusion of notices gave it the air of a cheap B&B with a bossy landlady. What I found frustrating was that quite a few instructions were a clash between form and function – something that I try to avoid in my life. For example, there were a few shelves make from light oak, which looked very nice. Instructions told us of limitations on what we could put on these shelves. To me, a shelf has one purpose in life: to have things put on it!
There was a sad irony. On our last day, Libby had a small accident: she slipped on the decking by the hot tub. Only her pride was significantly hurt. But this raised a question: why was there no sign warning us of the hazard?
This article first appeared on the Siemens Digital Industries Software blog at https://blogs.sw.siemens.com/embedded-software/2019/01/10/signs-of-the-times-2/