Thought Leadership
Just have to scoot
My first visit to California – first trip to the US – was in 1986. My culture shock was immense. I expected to be in a country that spoke my language and was only a bit different because they had strange money and drove on the wrong side of the road. I was very wrong in so many ways. As soon as I had some free time, I drove into San Francisco to see the Golden Gate Bridge. It felt urgent, as I had no idea whether I would have another chance …
As it happens, I have been to the US countless – certainly more than 50 – times since. On quite a few occasions, I have taken in The City by the Bay [nice article on SF's nicknames here] – there is something special about the place. My feeling of culture shock has lessened and I adapt. I have learned to say certain words [like "tomato"] the American way simply to be understood. I cheerfully request a coffee "to go" and mostly remember to tip anyone who provides me with any kind of service [even though I regard this custom as ridiculous].
Last week, I was back in California – San Jose to be precise – for the first time in about four years. I have visited other US cities in the meantime, but Silicon Valley seems to have been getting on just fine without me. However, there have been some changes …
Traveling to the US was not much different from my past experience, except that, nowadays, I tend to fly via Dublin, Ireland and I can clear US Immigration there. A few years back, this made the process much faster; now it still seems to be a 2-hour process, but that is easier to bear before a long flight than after. It is good to arrive at SFO and get off the plane and be away. Flights are much cheaper to SFO instead of direct to San Jose, but this means that I have to travel by road for the last bit. I normally rent a car, as this is cheaper and more flexible than a taxi. Although someone mentioned that an Uber may have been an economic choice – next time perhaps.
The collection process for the car was similar to usual, but differed in two respects. First, the initial paperwork took very little time; in the past there seemed to be interminable typing and head scratching, but not now. When I went to collect the car, I was pointed to a line of vehicles and invited to take whichever one a I wanted. I chose a red one – as it was not white, black or silver! The drive down was hard work – driving a strange car in rush hour with 8 hours of jet lag! Two different things about the roads. The freeway speed limit is 65mph. In the past, most people adhered to this. Now it seems more the norm to do 75-80. I also observed a lot of zero-emission cars around.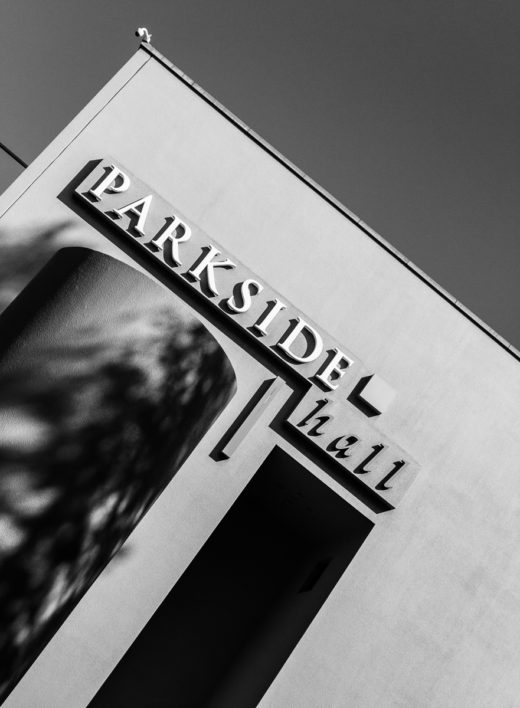 When I got to the hotel, where I have stayed quite a few times, nothing much had changed. This is partly a shame, as the hotel, while far from shabby, is looking rather dated and tired. I know the area around the hotel quite well and an early morning stroll is the common result of jet lag. Quite a few shops and restaurants have disappeared and others taken their place. No real surprises. I was quite shocked by how many homeless people were around – many of them looking quite respectable. It was while walking that I spotted one of the biggest changes …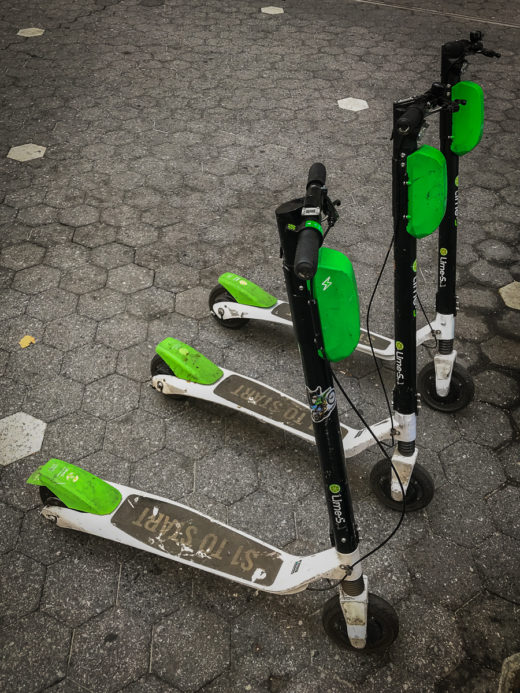 Wherever I went while strolling around downtown San Jose, there was an item of "street furniture" that I had not seen before: electric scooters. They seemed to be everywhere. Sometimes the odd one by a tree; others in little lines by the roadside. I took a look at one and read the instructions. You just need to have the appropriate app, open an account and you are all set. It is just a matter of finding a scooter, unlocking it with the app, scooting where you want to go [being charged a small fee per minute], and dumping the scooter in a sensible place, not forgetting to lock it with the app. I really liked the idea, as it seems the ideal way to cover a distance which is too far to walk, but not enough to warrant a taxi. Also, maybe shorter distances when you are in a hurry. Although tempted to try, I really never had the need or the spare time to play.
I wondered how these scooters got recharged. I soon found out the ingenious business model. Anyone can sign up with the scooter companies to become a "charger" [known colloquially as "juicers"]. You just need to drive around your neighborhood in the evening, collecting up scooters. Take them home and charge them overnight. Then deposit them in suitable locations the following morning. The scooter companies pay a sensible fee for each charge and send the money on a daily basis. This is a very flexible way for people to earn a little extra money. I was impressed by the creative business model. All the scooter companies have to do is the initial supply [and occasional top up] of scooters and run the IT systems – ultimately very little infrastructure. It seems that the scooters have been around about a year now and I saw them being quite widely used, so the novelty has not yet worn off. I wonder how it will pan out long term?
Back at the airport, on my way home, again, nothing had really changed. That was until I started idly perusing the shops etc. on the airside of the international terminal. Many were the same as they have been for years and others had disappeared and been replaced. The interesting thing was that, as far as I could tell, there was nowhere to buy a book or a newspaper. I hate being bored, so I take everything I need onto a long flight. As I read almost exclusively using my Kindle, I was well equipped. Likewise, I read news online and do not need a newspaper. But I am sure that there are some passengers who are less organized. What do they do? Or has the world changed in some subtle way and left me behind?
This article first appeared on the Siemens Digital Industries Software blog at https://blogs.sw.siemens.com/embedded-software/2018/10/25/just-have-to-scoot/