It is nearly 8 years since I moved to my house. I was moving from Cirencester to Malvern, where Libby lived. We had become tired of the one-hour drive between our homes, so I made the move to see how things might work out. We married about 2 years later, so you can draw your own conclusions. I was planning to down-size somewhat, as I really needed a house that would accommodate just me full-time and my 2 daughters from time to time. The idea was that Libby and I might later sell both our houses and get a place together. It did not work out quite as I had planned, as this house is somewhat bigger than the last one! It has proved to be ideal for our continuing needs, as it has the space that the two of us need, but with more bedrooms etc. that can accommodate guests [like our total of 4 children, with spouses/partners and 2 [soon 3] grandchildren].
We recently concluded that the house did not fully meet our needs …
There were a number of reasons why I bought this house. Obviously it started with the number of rooms and the price and that was all fine. I was also attracted by having a house with a little history and this house has a few stories. It was built in 1889 and I have never owned a house older than me before. There were two other criteria for me, when looking for a house. First, I needed to have a view of the Malvern Hills, as what is the point of living in Malvern without such a view? From my office, I have a great view. I also wanted a kitchen/diner big enough that entertaining a party of [say] 8 would be feasible and the house delivered.
You only really appreciate the attributes of a house by living in it for a while. We soon learned that the location was useful – plenty of shops, train station etc. As I said before, the combination of bedrooms etc. has worked very well. We also frequently socialize with a meal, so our big dining table is well used. In fact, we spend a very large amount of our time in the kitchen area, particularly in the winter, as we have a very nice wood burning stove.
We have been discussing the future and considering the pros and cons of this house compared with other options. Mostly the positive features make us feel that we should stay here, but, surprisingly, the kitchen etc. is what made us consider other options. Although it is spacious, it is not quite spacious enough. When the table is full, it feels a little cramped. Even getting to the fridge or the coffee machine is challenging. Also, the food preparation and cooking facilities are non-ideal. There is not enough work surface or storage and the cooker is not very good. We decided that we should either invest in changing this house or move quite soon.
We did not know how the house could be changed, so we invited an architect [who came recommended, as he is working on some friends' house] to take a look. In a few minutes, he had ideas that had never occurred to us. He has the ability to "see" [imagine] in 3 dimensions, that we lack. What he suggested was that we reconfigure the rooms a bit. The house originally had a kitchen and a scullery that had been made into a single room. There was also a separate dining room along a corridor [which we rarely used for anything]. When the house was built, the owners would have their food brought to them along the corridor by their staff and their guests need never see the working areas of the house. That was the 19th Century; in the 21st Century, it is hard to get good staff. ? The architects suggestion was to remove the wall between the kitchen and dining room and eliminate the corridor to make more space. He assured me that the right piece of steel would hold up the house! The result is a wonderfully open space that feels very contemporary. The architect refused to bill me, as he said he spent very little time and did not need to draw any plans. I gave him a case of wine as a thank you present.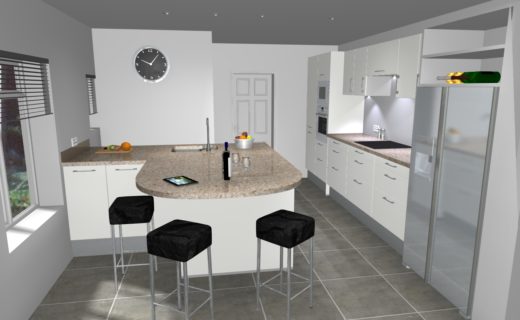 The next step was to have the kitchen remodeled and we found a local company with enough vision to come up with an innovative design. There has since been much deliberation over the details and the price is creeping up. But, as I will most likely never have a kitchen done the way I want again, that is mostly OK. Apart from the units offering plenty of storage, there will be lots of worktop made from an almost indestructible material. The appliances are mostly new. There will be an additional fridge, a tap that can deliver truly boiling water, an induction hob and two ovens – a big "normal" one and a smaller one can that can also function as a steam oven or microwave and there is a warming drawer. I am excited about the induction hob, as everyone told me that it is the way to go. I have been practicing with a small stand-alone unit and it is very good to work with.
All being well, installation should take place in the first half of September. There will be much disruption before then, but I look forward to using the new facilities in the last months of the year. Now we just need to stay here for another 10 years [at least!] to make it all worthwhile.
This article first appeared on the Siemens Digital Industries Software blog at https://blogs.sw.siemens.com/embedded-software/2018/08/02/the-hub-of-our-house/